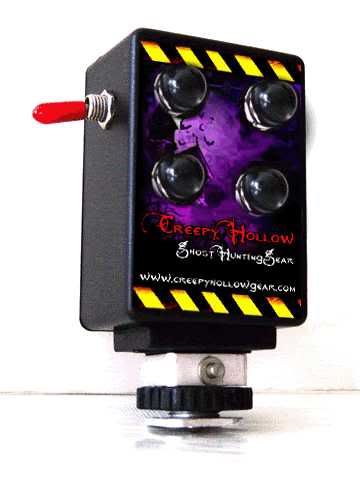 IR illumination (and full spectrum illumination) these days is critical to video if you wish to film at night. I have heard of the Creepy Hollow Gear infrared illuminator for awhile now, but never got the chance to put one through it's paces until recently. Designed and built by Paul Bradford of GHI, this little jewel provides strong infrared light on just one 9v battery (and lasts for hours). Such a simple, yet proven design that receives praise from all investigators who have the chance to use them. At the heart of the system are the triple-chip 10MM IR led's (850nm range). These Led's are workhorses that, in this configuration, only sip power from the 9v.
I bought a clone of this design on ebay awhile back (although at the time I didn't know it was a clone, I thought it was used CHG so buyer beware). Although it did its job, the spacing of the led's combined with shoddy construction left me wanting more. I did emulate the design and build a few of my own, but they were not of CHG quality.
About quality. My first impression upon receiving the CHG illuminator was that it was built like a tank. The enclosure is heartier than those from radio shack, and the whole case has little flexure. The Led's are arranged in more of a spot pattern than the clone I bought or the ones that I later built. The unit is attached to a universal hot-shoe mount and it is very sturdy. Paul included an external battery housing, so the unit does not need to be opened to swap out batteries.
What about performance? When placed side by side with the Sony HVL-IRM several things become apparent. The harsh, "tunnel vision" effect of the IRM's is a lot less pronounced on the CHG unit. The light covers a wider FOV and is a bit softer (not less intense, just softer). More of the image is illuminated with the CHG unit, and it seems to be the perfect amount of light as not to oversaturate indoors (hence no need for the dimmer as in the HVL-IRM's that can heavily oversaturate smaller areas). As with any single-point illuminator, it is a given that the center of the screen or image will receive more illumination than the edges. This is much more tolerable with the CHG unit than the HVL-IRM. You can always get two units, but I have found one to be sufficient for most shooting situations. The broader FOV of the CHG unit means one can be used in place of 2 (narrow fov) HVL-IRM's.
I am very pleased with this unit. It is a robust and simple design that does what it is meant to, and does it well. It is available at a substantial savings over the Sony HVL-IRM, which it outperforms with little effort (batt. life and FOV). If you plan to shoot IR photography or video at night, imho several of these should be in your toolbox. It is an exciting time right now as several companies are throwing their designs into the mix, and all have something to offer. I am also excited to get to test out other designs, but make no mistake, the CHG illuminator has earned it's place in my equipment arsenal. I am very impressed.
I have been informed that Paul will be offering a limited number of UV illuminators using a similar design in the near future. I look forward to their release!
Regards,
Andy