Dear Ghostvillagers,
October. It's a month I think about all year long because through a strange series of events, synchronicities, and contacts, my passion and my occupation have been surrounded by ghosts for more than 20 years.
20 years. Two decades. It was exactly that long ago that Ghostvillage.com began as an experiment. Just eight little Web pages back in 1999. A home for a couple of paranormal articles I had written years earlier. On the home page I put a link: Tell me about your ghost experiences.
Every few weeks an email would come in, and I would post the experience. Then there were more articles, more encounters, message boards, photos, book reviews, and before I realized what was happening, a community was forming. A village of people all trying to make sense of it all.
Together we've watched the subject of ghosts grow from some Web sites to countless books, Internet radio shows, podcasts, dozens of television series that have come and gone (and in some cases come back), and now, just this past week, ghosts hit what I believe to be the pinnacle of pop-culture achievement.
Elvis Presley, Nat King Cole, Neil Armstrong, Abraham Lincoln, Ella Fitzgerald, Bette Davis, and ghosts. What do they all have in common? As of October 11, 2019, they've all been featured on a US Postal Service stamp.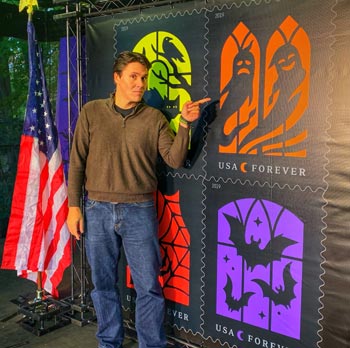 This past Friday, I was asked by the US Postal Service to offer the keynote address at their First Day of Issue stamp launch in Milford, New Hampshire. I was asked to help unveil this year's Halloween stamp, and give a four-minute speech at the end to sum up the day. You can watch the entire 26-minute ceremony here: "https://ghostvillage.com/ghostvillage-com-founder-jeff-belanger-unveils-halloween-2019-forever-stamps-for-the-u-s-postal-service/
I can't say enough about how significant this moment is in popular cultural. As I spoke to some of the people at the event who came up from the USPS headquarters in Washington DC, I mentioned this was the first time in history that a ghost has been placed on a USPS stamp.
This is only the second year the USPS has issued a Halloween stamp (last year they had jack-o-lanterns). This year there are four stamps in their "Spooky Silhouettes": a black cat, some bats, a black spider, and the ghosts. I noted the headline from their press release and the signage they had on display at the event: "Cats, Bats and Spiders, Oh My!" Notice how they named three out of the four stamps? Did you already figure out which stamp was NOT mentioned?
Ghosts. The word is powerful. It has weight to it. I'm guessing it was intentionally left off of the press release headline, and I'm also guessing it's almost a miracle the images are included in this year's design. Believe me, I'm all for it. I get it. Ghosts are a connection to our past, to our history, and they're part of the fabric of our communities. They connect us to each other. The same way a stamp can connect you to someone on the other side of the country.
When I saw those ghosts on a US Postal stamp, and when I realized the US Postal Service asked me to introduce it, I reflected for just a moment on the last 20 years of my own journey and could come up with only one thought: We made it.
Happy Halloween!
Supernaturally yours,
Jeff Belanger
Mayor of Ghostvillage.com
Twitter: @THEJeffBelanger
Facebook: Jeff Belanger
YouTube: www.youtube.com/legendtripping
Instagram: www.instagram.com/exploringlegends/