Dear Ghostvillagers,
Technology is so omnipresent today that we sometimes don't even see it. Yesterday I was walking back to my house after dropping my daughter off at the bus stop, and I was thinking about all of the signals swirling around me and through me at that very instant: wifi, cell phones, cameras, bluetooth, radios, television, cable, CBs (remember them?), and much more. Each have signals traversing the electromagnetic spectrum and filling our world with unfathomable amounts of data and information 24x7. We can't see it, but check your smartphone and you know it's there.
In paranormal research, we use all of the tools at our disposal. We always have. So it's no surprise we're creating and adapting technology daily to try and communicate with whatever kind of intelligent energies might be hovering around us. Though I've worked with many different tools and gadgets, I'm the first to admit that I don't fully understand what is coming through. Yes, I've listened to devices that scan through radio waves at quick intervals and heard what sounded like words, but to my skeptical mind it just feels like I'm trying to make order out of chaos. I'm not sold.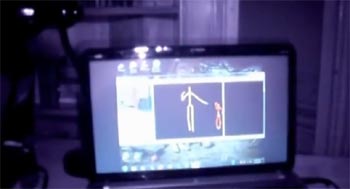 Then there are other devices that intrigue me. For the last year I've been experimenting with Digital Dowsing's Kinect camera. This camera is designed to look for human movement and map it into software. I understand this a little better because I own an Xbox Kinect and have played games with my daughter where the camera maps us into the game so we can interact.
So when this camera maps a figure into the software that I don't see with my eye… I suddenly get very curious. In a year of using it at over a dozen locations, only twice has something been captured. Is this proof? No, it's not. But some of this technology is making the evidence a lot more compelling.
This month we're going to explore some of the paranormal technology that's been developed and used for spirit contact. We'd love to have you weigh in in our message board of the month!
Supernaturally yours,
Jeff Belanger
Mayor of Ghostvillage.com
Twitter: @THEJeffBelanger
Facebook: Jeff Belanger
YouTube: www.youtube.com/legendtripping