Dear Ghostvillagers,
When you stick around the paranormal world for a while, chances are you're going to see some weird stuff… please don't be offended by the word "weird." Weird is good. Weird is different. It's beyond the everyday. There are times when I'm on an investigation looking at the ways people are trying to make contact and I can't help but think we're all weird. Very, very weird.
What makes us think that if there are spirits, they can communicate? What makes us think we're interpreting the message if they are sending one? And how could we prove this to anyone else? Shoot, how can we prove this to ourselves?
I've said many times that you can't remove "belief" from the equation. That's why I don't believe the paranormal will ever be considered science. That doesn't make it less real. That doesn't mean it's not there. We just can't count on it.
Which brings me to Instrumental Transcommunication, or ITC. The idea is to use electronic devices to try and interface in some way with spirit energies. This makes sense to some degree: if the electromagnetic spectrum is being manipulated by some intelligent force, then we should be able to "tune in," the same way you tune in to a radio signal. If you know the frequency, then you can hear the latest Miley Cyrus song… then you can change the station and tune into something good.
What started with talking boards, automatic writing, and mediums has turned to EVP, EMF meters, night vision cameras, and other devices even more intricate. Many of us suspect that there's something out there. So we turn to these devices for validation. And in some cases, we get profound results that make even hardened skeptics scratch their heads.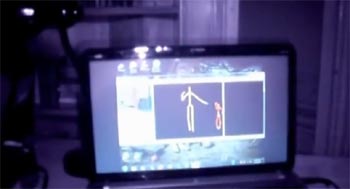 A few months ago, I started experimenting with one of Bill Chappell's modified Microsoft Kinect cameras. Bill's company, Digital Dowsing, has been making devices like the Ovilus, Paranormal Puck, and EM pump for the last several years. But this camera, for me anyway, brings things to a new level.
If you've ever seen someone play X-Box Kinect, you might know the camera. It reads your body motion and then the player in the game makes the same movements. The camera was developed for game play and custom animations. It's built to recognize and interpret human movement and points on the human body. When it finds those points, it maps the person. So here's the kicker… sometimes this modified camera is finding figures that aren't there.
I was using this camera at a haunt back in November. While I was standing in front of the camera, I could see on the monitor that the software had mapped my body and turned it into a stick figure. Then suddenly, another stick figure was standing next to me. And it turns out that this figure was standing right in front of what was once a doorway.
Though the event lasted only a few seconds, my mind was blown. Had this camera peered into the infrared part of the spectrum and discovered what it interpreted to be a human standing next to me? All of this deserves further study. It's an exciting time to be in the paranormal.
As we welcome in 2014, I'm looking forward to a new year filled with exciting events, adventures, learning, and growing. I wish the same for you!
Supernaturally yours,

Jeff Belanger
Mayor of Ghostvillage.com
Twitter: @THEJeffBelanger
Facebook: Jeff Belanger
YouTube: www.youtube.com/legendtripping