Dear Ghostvillagers,
We are inundated with technology today. Our phones are mini supercomputers promising us everything from phone calls to navigation, romantic encounters, podcasts (like my New England Legends podcast… just sayin'), to a mighty oracle ready to answer any of your vexing questions like, "Who played Colt Stevens in The Fall Guy?" (it was Lee Majors).
Our cars are now more computers than carburetors, our refrigerators will tell us when we're low on eggs (meaning if the computer in the fridge breaks down, we may starve), and every other electronic device is getting to the point where it's interconnected via the Internet.
We live in an incredible time where technology is solving (and creating) problems never before imagined by humankind. So why not use technology to try and bridge the gap between the world of the living and the world of the dead?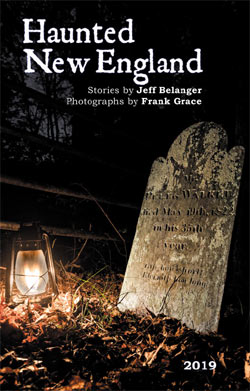 Using tech to try and communicate with those on the other side is not a new idea. The daguerreotype camera was the first widely available camera that made picture-taking available to the masses. This camera came on the scene in 1839 and was not without its limitations. Still, it was a technical marvel. By the 1850s, there were already reports of strange apparitions showing up in photographs. Though one could attribute some of these ghostly manifestations to light leaks or intentional double exposures, there was enough there that made people wonder if maybe the camera could see more than the eye—another realm that's flitting around us at every moment.
By the time audio recording devices were getting reasonably portable in the early twentieth century, soon strange, unplanned sounds and voices started appearing on tape, leaving listeners to wonder if this was some anomaly or direct communication from something unseen.
Decades later, the television and then video camera came about, leading intrepid electronic mediums to use the camera to try and capture what our normal eyesight may miss.
Every time we have found a way to communicate with the living, someone has tried to adapt it for the dead. What we're seeing today is an explosion in technology, which means there's a lot of noise when it comes to paranormal evidence. EMF meters flash, smartphone apps spit out words and syllables, and night vision cameras peer beyond what our human eyes can see. We're seeing more anomalies now than ever before, but we have a much lower understanding of what we're actually seeing and hearing.
How do we rule out results that are beyond chance? While I can tell you countless normal occurrences that will make an EMF meter flash from a nearby cell phone receiving a text message, to a shift in the earth's magnetic field, to walking too close to an electrical outlet, what I can't do is tell you how an apparition can form in front of you and then vanish. The apparition is a rare occurrence; an EMF flash happens all the time every day.
This isn't a rant suggesting we should not use tech when investigating the paranormal, but we should understand that the tech offers us a tiny piece of information, not the whole picture.
This month we'll explore the tech a little deeper in the Ghostvillage.com forums.
Since October first, I've had the chance to meet thousands of people during my fall story tour. Thank you to everyone who came out to share the legends and ghost lore! In the coming month, I'm about to switch gears to my Creepy Christmas program where we'll share the ghosts and monsters of the darkest time of the year.
Speaking of seasons and months changing… we still have a few of my 2019 Haunted New England calendars left featuring the spooky photography of Frank Grace. These calendars make great holiday gifts for the ghostly person in your life. But once we run out, we're not making more. Get your limited edition calendar here: https://www.jeffbela...ngland-2019.php
Supernaturally yours,
Jeff Belanger
Mayor of Ghostvillage.com
Twitter: @THEJeffBelanger
Facebook: Jeff Belanger
YouTube: www.youtube.com/legendtripping