Dear Ghostvillagers,
The holidays are here again! 'Tis the season for joy, legends, and ghost stories. You already know about Santa Claus, but there are other legendary yuletide figures that don't get nearly enough attention. I thought we'd tip our hats this month to Krampus and the Belsnickel -- both are from the Alpine region of Europe and are a counterpart to Santa.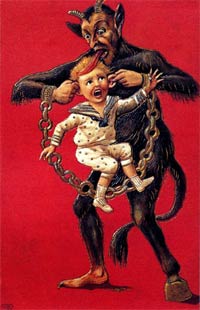 Let's start with Krampus. Krampus is a beastly creature. He's tall, thin, and covered with hair. From his head, black horns sprout like dark fountains. His long, red tongue hangs from his mouth like a panting dog. Around his body there are chains; from shoulder to shoulder and around his waist. His long tail swishes back and forth like a snake ready to strike. One of his feet is hairy, the other is a cloven hoof. Over his shoulder, the creature carries a scratchy burlap sack that he fills with naughty children. Krampus comes around each December 5th, which is the eve of Saint Nicholas' day. He gathers up all of the bad children and takes them back to his lair where he eats them!
Santa is then free to deliver toys and goodies to all of the good children. Krampus was most popular in the second half of the nineteenth century, but in more modern times, he's faded into the background. Though it would appear he's poised for a comeback these days. Forget warning your kids about lumps of coal… Krampus is much worse.
Krampus's methods may be the most extreme, but he's not alone. There's also the Belsnickel. Der Belsnickel hails from southwestern Germany. The Belsnickel is a crotchety old man who dresses in furs, rags, and wears a mask. He carries a stick in his hand… what for? To whip bad children. The Belsnickel shows up a week or two before Christmas to help spot the bad children. In some versions of the story, he may come into your home and toss some candy on the floor. If your children are greedy and jump for the treats, they get whipped with the switch. If they're good children and ask first, they're spared the beating.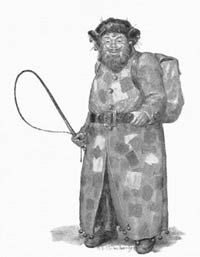 Unlike Krampus, the Belsnickel offers redemption. Bad kids are whipped and warned to correct their ways so Santa can bring them presents on Christmas.
Krampus and the Belsnickel aren't the enemies of Santa. Far from it. They both serve their purpose: a warning that there are consequences for bad behavior.
Just like Santa, we define all yuletide figures. These creatures are based on stories that have been passed around, supplemented, and augmented. They're a reflection of who we are. I love that these legends connect us not only with each other, but with our ancestors, our distant relatives from lands far away, and with history.
There was a time not so long ago when Christmas meant ghost stories. You may recall the line from the song "It's the Most Wonderful Time of the Year," that goes: "There'll be scary ghost stories and tales of the glories of Christmases long, long ago." Don't waste the opportunity to share these stories with your families and friends.
Connecting with people is a beautiful thing. There's a spirit of place. I believe there are spirits of people. But there's also a spirit of season. It possesses us each year and can make us work miracles.
From my family to yours, here's wishing you a safe and warm holiday season, and a great 2014!
Supernaturally yours,
Jeff Belanger
Mayor of Ghostvillage.com
Twitter:
@THEJeffBelanger
Facebook:
Jeff Belanger
YouTube:
www.youtube.com/legendtripping