Dear Ghostvillagers,
The holiday people often associate with me (and Ghostvillage) is Halloween. And why not? It's the time when the veil between the world of the living and world of the dead is at its thinnest. It's a time for ghosts and hauntings. The world takes delight in the fright. But please allow me to introduce you to a holiday that makes Halloween quake with fear in its pointy-toed boots. A holiday born from fear itself. A holiday not only filled with ghosts, but monsters who take pleasure in killing and eating us and our children. That holiday is, of course, Christmas.
This month I'm proud to introduce you to my very first televised holiday special: A New England Legends Creepy Christmas: Exploring the Haunted History of Santa, Krampus, Belsnickel, and More. It's available right now streaming on Amazon Prime Video: https://www.amazon.com/dp/B07215SKYX/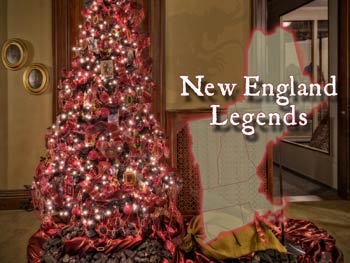 The roots of Christmas date back over two millennia to the Roman festival of Saturnalia -- a six-day party that always takes place around the winter solstice. It's a time for gift-giving, a time when society is turned upside-down so masters serve the servants and servants become the masters, if only for a few days. It's a time for feasts, drinking, and making merry, because winter lies ahead… and winter can kill you.
Head further north to the Nordic region of the world where they celebrate Yule on the winter solstice. The Nordic people gaze at the frozen landscape and see that winter kills everything. It kills flowers and grass, it kills the trees, bugs disappear, other animals seem to vanish, it's a time to be very afraid. Do I have enough food for the winter? Will my roof hold up under the snow? Will I keep my sanity in the isolation? And the sun? What's happening to the sun? It's so weak that it barely rises above the horizon. Will it ever return?
The wind. Oh, the wind, how it howls. It doesn't sound like that in the other seasons. Is it just wind whipping through naked, boney trees, or is it the cries of ghosts shrieking out in agony? The Nordic people observed there are a few trees that can stand up to winter's fury: the evergreens and the holly bush. These trees must be imbibed with some kind of magical qualities. To protect themselves, they clipped the branches to hang over doors and windows in the hopes the prickly needles will keep the bad spirits outside, and the good cheer inside.
From Germany, Yuletide creatures like Krampus came down from the mountains in order to deal with the naughty children. Krampus has cloven hooves for feet, the body of a man, horns like the devil, and a long, forked tongue. He's wrapped in chains and carries a basket to stuff in the bad girls and boys so Saint Nicholas is free to deliver toys to good girls and boys (because that's all that are left).
Germany also gave us the Belsnickel, or "Nicholas in furs." The Belsnickel shows up a few weeks before Christmas to hit the bad kids with a switch of sticks so they learn some discipline in time for Christmas.
There are many monsters and magical beings who dwell during the winter solstice because they remind us there's a consequence for bad behavior. We have to remember they actually serve a noble purpose because ultimately they're here to redeem us.
Then there's the most famous ghost story in our modern era: that of the ghosts who haunted Ebenezer Scrooge one Christmas Eve back in 1843. We've been talking about that haunting ever since. Charles Dickens penned a masterpiece, one we can relate to because we realize that we're Scrooge. We get older and more cranky each year. We lose some of the Christmas magic, and we sour. But through a good scare, by facing our past and our ghosts, we can be redeemed in a single night. That's the promise of the holiday.
In "Creepy Christmas" we get to explore the holiday, meet some fascinating characters, and learn that the darker side of Christmas is making a comeback. These creatures are coming back because collectively we've decided we need them, and the lessons they can teach us.
I invite you to make "Creepy Christmas" a new part of your holiday tradition: https://www.amazon.com/dp/B07215SKYX/. It's time to celebrate the ghosts and monsters of this frightful time of year once again, because in doing so, we can find redemption. We can be reminded to appreciate all of the truly wonderful things in our lives: our families, our homes, our friendships, our coworkers, our neighbors, our communities, our countries, our planet, and all of the people who make up the rich tapestry of our lives.
No matter what you celebrate, I wish you a creepy Christmas to all, and to all a good night.
Happy New Year too! See you in 2020!
Supernaturally yours,
Jeff Belanger
Mayor of Ghostvillage.com
Twitter: @THEJeffBelanger
Facebook: Jeff Belanger
YouTube: www.youtube.com/legendtripping
Instagram: www.instagram.com/exploringlegends/