Dear Ghostvillagers,
A few weeks ago, I was working on a project that brought me to the cemetery displaying a stone honoring the victims of the Deerfield, Massachusetts, massacre of 1704. After clicking a few pictures, I wandered through the rest of the boneyard to admire some of the incredible old headstone art dating back centuries.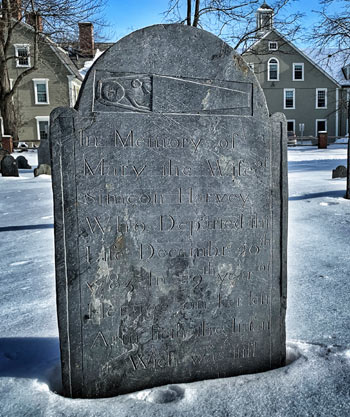 While walking by one of the headstones protruding above the crisp, snowy ground, I caught the engraving of a woman in an open casket with an infant in her arm. It was unlike anything I had seen on other headstones. The epitaph reads:
"In memory of Mary, the wife of Simeon Harvey, who departed this life December 20th 1783 in [the] 39th year of her age. On her left arm lieth the infant which was still."
Though it was already a cold day, a deeper chill ran from my head, down my back, and out my leg, like lightning trying to find its way below ground.
Here I am in a place surrounded by hundreds of dead bodies at my feet, I should already have the heebie jeebies, but decades of looking into haunts and legends has mostly cured me of that affliction. But this one headstone froze me in my tracks. First, losing a child must be the most horrific event a person could ever endure. Losing your wife and child at the same time is unimaginable. I can see this family's horrible personal tragedy staring back at me. It doesn't matter that this event occurred more than two centuries ago; the pain of the moment passes through the ages, right through that stone, and right into my heart as I gaze at this grave representing a person whose only voice is now an engraving stuck in the ground.
That's the power of cemeteries. If I zoom out and pan my vision over a lake of headstones with corpses lying underneath, it's faceless, nameless, and just numbers. Numbers and statistics are cold. But focus in on one individual, and suddenly the gravity of this place hits me. I feel my own mortality, and the frailty of my family and friends.
There but for the grace of God go I.
No wonder so many cemeteries garner a haunted reputation. We're just a little bit afraid because we know our own destiny lies just beneath our feet. We tune in to the subtlety because we can't help ourselves, and sometimes we connect with a single headstone that might demand more attention than all the others. Suddenly, we find ourselves exploring the haunts of a boneyard.
This month on Ghostvillage.com, we're going to dig deeper into the haunts of cemeteries. I invite you to share your own stories of strange run-ins among the headstones in our Encounters section: https://ghostvillage...your-encounter/
Supernaturally yours,
Jeff Belanger
Mayor of Ghostvillage.com
Twitter: @THEJeffBelanger
Facebook: Jeff Belanger
YouTube: www.youtube.com/legendtripping
Instagram: www.instagram.com/exploringlegends/