Dear Ghostvillagers,
325 years ago this summer in the area of modern-day, Salem, Massachusetts, something horrible happened. An atrocity. Accusations flew, a kangaroo court assembled, and by the Autumn, 20 innocent people were executed and five more died in prison awaiting their fate.
It's easy to blame the witch hysteria on some Puritans who let their religious views get the better of their sensibilities. But that's not telling the whole story. In 1675, in New England, a brutal war was waged between the Native Americans and the growing number of colonists. It still holds the record of being the bloodiest war in British (because this area was technically England then) or even American history per capita. By some estimates, King Philip's War took out upwards of 75% of the Native population, as well as a large percentage of colonists. Fighting was savage and guerilla-style, terror tactics were the order of the day. During some raids, colonial children and women were targeted and slaughtered. And the colonists weren't any kinder to the Indians who they deemed as savages—folks in league with the devil. The point is, everyone is on edge during the latter half of the 1600s because the fear of attack at any time and from any direction was very real. So when someone starts accusing people of witchcraft, it was easy to get worked up. For the colonists, the devil had made his presence known for decades now. He was a real threat that lurked behind every tree, and he and his "minions" left people dead and villages burned.
The Native Americans weren't evil, of course. They were fighting for their homes and land. But the colonists didn't see it that way. When fighting a war, it's important to say (and believe) that God is on your side and the devil is pulling for your enemy.
In 1692 Salem, what began as children pointing fingers devolved into adults guiding the accusers to help remove others with differing politics or social standing. If they're convicted of witchcraft, they lose their land. Suddenly, there's an opportunity to easily remove your social and political enemies with a few simple witch accusations. The onus isn't on the accuser, it's up to those charged to prove they're not a Witch. Allow "spectral evidence," and now there's no way to successfully defend yourself.
Evil had already shown its face in the region through the King Philip's War, and now locals were looking for people they already didn't like as a scapegoat for their fears and frustrations.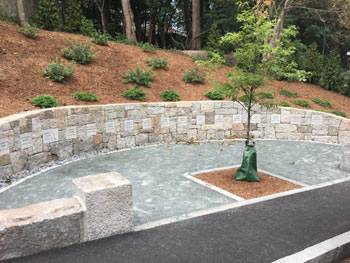 Last month, a new memorial was erected in Salem at the spot where the actual hangings took place. For years it was believed the spot was near Proctor's Ledge, and recent historical findings confirmed the location. Now the monument stands with stones marking each of the 19 people hanged here between June and September of 1692. Bridget Bishop (executed June 10, 1692), Rebecca Nurse (July 19, 1692), Sarah Good (July 19, 1692), Elizabeth Howe (July 19, 1692), Susannah Martin (July 19, 1692), Sarah Wildes (July 19, 1692), Rev. George Burroughs (August 19, 1692), George Jacobs, Sr. (August 19, 1692), Martha Carrier (August 19, 1692), John Proctor (August 19, 1692), John Willard (August 19, 1692), Martha Corey (September 22, 1692), Mary Eastey (September 22, 1692), Mary Parker (September 22, 1692), Alice Parker (September 22, 1692), Ann Pudeator (September 22, 1692), Wilmot Redd (September 22, 1692), Margaret Scott (September 22, 1692), and Samuel Wardwell, Sr. (September 22, 1692). Giles Corey was the 20th person, though he wasn't hanged here, he was pressed to death with stones. Remember their names. Read them aloud. Let them haunt you.
Today, through a series of many different events, Salem is Mecca for Witches. Witch shops, Witch festivals, even a witch riding a broomstick on the side of Salem police cars. Still, the town has a love/hate relationship with its past. An atrocity took place here. It should be remembered in a somber and respectful way. I believe the two memorials in town accomplish that. Some folks are offended by all of the Witch shops and circus-like atmosphere because they see it as some kind of affront to the memory, while others recognize Witches bring in a lot of visitors and revenue for the town.
This past week I was in Salem working on a new project. We were documenting the stories and talking to Witches. Given our nation's current political climate, I can't help but think remembering and retelling the story of the 1692 witch trials is more important than ever before. Both the quick and the dead of Salem's past have something to teach us if we listen. Because dear God, there's not a lot of listening going on right now in the news, in government, and in social media. Just a lot of talking, a lot of accusations, and a whole lot of fear. Maybe if we pause and ponder Salem for a bit, if we let those 20 falsely accused people cast their spell on us, if we let Salem haunt us, maybe there's the slightest chance that history won't repeat again.
Supernaturally yours,

Jeff Belanger
Mayor of Ghostvillage.com
Twitter: @THEJeffBelanger
Facebook: Jeff Belanger
YouTube: www.youtube.com/legendtripping

P.S. You may notice I sometimes spelled "Witch" with a capital letter, and sometimes not. When referring to the concept, I use the lowercase. When referring to people who self-identify as "Witch," I use the capital the same as I would if someone self-identified as a Christian, Muslim, Jew, Hindu, etc.