Dear Ghostvillagers,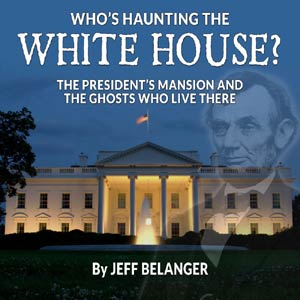 If you've followed my work for a while, you know one of my all-time favorite haunts is the White House in Washington, DC. From the colorful and sometimes dark history that was forged in and around this building, to the decisions made inside that helped shape the world, this building has seen and made history.
Some of the presidents paid the ultimate sacrifice for the office, while others seemed to pass through barely making a footnote in the history books. There have been deaths and funerals in the White House, and there've been countless stories of supernatural activity inside this majestic home.
This month I'm pleased to announce the release of my first audiobook: Who's Haunting the White House? The President's Mansion and the Ghosts Who Live There. The book is available from Audible.com, iTunes, and Amazon and will run you less than $5. It's like buying me a beer while I tell you all about the history and haunts. If you enjoy my books, my podcasts, or my lectures, then you'll love this audio production featuring voice actors and sound effects.
Ghostly legends in the White House date back to its earliest days and continue through present times. Witnesses include presidents, First Family members, staff, and distinguished guests. What I love about the accounts of hauntings that have come out of here is that everything that goes on in the White House is so well documented. That includes ghost sightings! I'd really appreciate your support on this project.
I'd also like to thank all of you who have been listening to my weekly podcast, New England Legends. These short productions take you into a legend each week, exploring ghosts, monsters, aliens, and more. This week we're also launching a new feature: The Legend Line. You can call us at 617-444-9683 and share your own paranormal encounter or your favorite legend on our voicemail. Some of these messages may even end up in future podcast episodes! My goal with New England Legends is to build a community of people who are passionate about history, legends, and lore. I feel like our society is so divided these days--that maybe if we get back to how we connected with each other long ago--sharing stories and experiences--perhaps we'll once again realize we all have a lot more in common than not.
So gimme a call sometime and tell your story!
All of you Ghostvillagers near eastern Pennsylvania… this Saturday I'll be offering two programs in the town of White Haven: Spirit Communication and A Supernatural Evening. If you're nearby, come join us! The evening program includes dinner!
Supernaturally yours,
Jeff Belanger
Mayor of Ghostvillage.com
Twitter: @THEJeffBelanger
Facebook: Jeff Belanger
YouTube: www.youtube.com/legendtripping