Dear Ghostvillagers,
If you've read me before, or followed my work, you've no doubt heard me say, "I'm not psychic at all." "I'm what they call 'insensitive'," I've quipped. In truth, I have gut feelings, instincts, impulses, and felt the gnaw of my own intuition in certain situations. If you want to label those things in the psychic realm, I accept that.
This month I want to talk to my fellow non-psychics and those of low sensitivity. Have you ever had an experience that bordered on the psychic? I've been investigating and legend tripping through countless old, creepy, and abandoned buildings all over the world. Usually I feel a sense of excitement, even wonder, and if I feel fear it has more to do with the structural integrity of the building around me or that some drug-addled street gang is using said building as their clubhouse. But once in a while, something happens that makes me question my own insensitivity.
A few years ago, I was part of an event at Eastern State Penitentiary in Philadelphia, Pennsylvania. ESP (the prison, not the psychic ability) dates back to 1822 when construction began. The concept was to have 250 cells -- an entire prison for solitary confinement. This was a new concept at the time. Inmates would have no human contact. If they had to be transferred somewhere, their heads were covered in a bag so they couldn't see anyone. They were meant to be alone, and feel sorry -- or "penitent" for their crimes. This is where the word "penitentiary" comes from.
From 1829 until 1970, ESP housed the worst of the worse. There were riots, murders, suicides, illness, and death from natural causes. Countless went through this system, though not all made it out alive. With a back-story like this, combined with its decrepit look today, it's no wonder the place has a haunted reputation.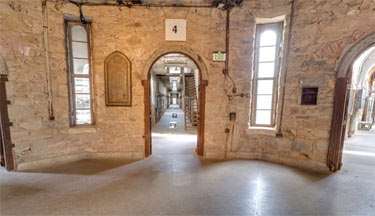 There I am one Spring night with about 100 people in the dark prison. We're checking out cells and cell blocks. It's dark, a bit dank, and mostly quiet. The cell blocks all come outward like a wagon wheel from the central rotunda. It's a genius design because from the middle, just a few guards can stand with their backs to each other and look all the way to the end of each cell block. As I'm walking around checking on my group, I hear and then see the flutter of batwings as the nocturnal flying mammals hunt for food. I don't use a flashlight because there's just enough ambient light coming through the windows that I can see once my eyes adjust.
I'm walking through cells and cellblocks, and I feel nothing at all… until I walk down Cellblock 4. There's no one in there when I first walk in. It's dark and still. I'm aware there are plaques mounted to the floor in the middle, so I stay to the left so I don't slam my shins into the metal signs. About halfway down the cellblock, I stop. I'm petrified. I don't know why, either. I'm suddenly really scared. Folks, this ain't my first rodeo here. I've done events like this plenty. But right now in this moment, I'm really scared. I didn't hear any strange noise, I didn't see anything, I just feel fear.
I even got objective about the whole thing. I turned around and walked back to the central rotunda. Once in the round room, I took a breath. Nothing. No fear. I'm fine. So I turned around again and marched back into Cellblock 4. Sure enough, around the middle I felt that primal panic once again. Needing no further evidence, I turned around again and stayed out of that cellblock the rest of the night.
Is it possible I picked up on some emotion of an inmate long gone? Did I sense a sinister force lying in wait? I don't know, but I do acknowledge that there was no external cause for my fear. It was all inside of me.
This month, tell us about your brush with the psychic. Did you have an even more profound experience? Maybe even what you believed to be communication or some other kind of impression? Submit your encounter and let us know!
This month I'd also like to thank all of the people who watched my New England Legends series on Amazon Prime! I appreciate all of the views and feedback already. If you're a Prime subscriber, you can stream the series for free anytime. They also have my documentary, An Evening of Ghost Stories and New England Legends -- the stage show documentary. Be sure to add them to your watchlist today!
Supernaturally yours,

Jeff Belanger
Mayor of Ghostvillage.com
Twitter: @THEJeffBelanger
Facebook: Jeff Belanger
YouTube: www.youtube.com/legendtripping