Dear Ghostvillagers,
Sacred sites fascinate me. There is a power to them that can't be denied. But how did it start? Like any legend, there's a backstory. While there's no doubt a structure like the Great Pyramids of Giza were impressive the first day they were completed, the true power of the location would take generations and centuries to materialize. That power comes from one person telling another and then another. The location becomes a celebrity, in a way.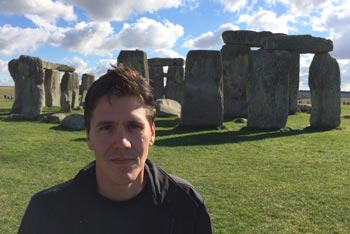 I recall this past Fall, the first time I saw Stonehenge in person. A friend drove me there before I caught my flight back home. As we're driving along the A303 in southern England, we're in this wide-open countryside. We crest a small hill in the road, and suddenly there it is just a short way from the highway! I was giddy, like meeting a celebrity. I squealed like a tween in the car. We paid our ticket price and then took the bus to the walkway leading up to the site.
As I drew closer, I could feel the power of Stonehenge. I don't mean in some New Age way. If being there aligned my chakras or something, I wouldn't know it. I'm talking about the true awe-inspiring power of this sacred site. That's what hit me. There were at least a few hundred people visiting that day, and if one was keeping tally of visitors since the site was first erected over 4,000 years ago, it's safe to say my number would be in the millions.
 
No, I'm not the first, nor will I be the last. But still, to stand in its presence, I can understand how early visitors must have felt, and then add the millennia of legend and mystery, and the place truly has a force. And that force isn't getting any smaller.
 
When legends don't go away, they can transform into something bigger. I believe this doesn't happen by accident. This happens because there's a thing there. Some power that resonates with people enough that they want to become part of the story. The same way a haunted building earns its reputation by something unexplained happening to a credible witness, a sacred site starts the same way.
 
Now that's it's 2017, I'm looking forward to a year of new adventures. In just two months, I leave for Tanzania and will climb Mt. Kilimanjaro. Preparing for this climb has already been a transformative experience both literally and spiritually. I've been hiking and climbing a lot. My calves have grown to the point where one pair of jeans I have won't fit over them anymore. I'm also learning a lot about myself. I'm learning to smell more roses along the journey, and to pace myself better. This doesn't just apply to the mountain, but also to life. Sometimes we have to get out there and struggle to grow. I'm doing that.
As of today I've raised almost $12,000 for the Leukemia and Lymphoma Society, but I'd love your help in raising more. Let's show them what the paranormal community can do when we band together. You can make a tax-deductible donation here: http://pages.teamint...mjr16/JBelanger
If you're in the New England area and want to join me for a very weird and UN-Valentine good time, we're holding a Zombie Prom on Saturday, February 4th with all proceeds going to the Leukemia & Lymphoma Society. You can get those tickets directly from them here: http://events.lls.or...a/C2CZombieProm
Supernaturally yours,

Jeff Belanger
Mayor of Ghostvillage.com
Twitter: @THEJeffBelanger
Facebook: Jeff Belanger
YouTube: www.youtube.com/legendtripping