Dear Ghostvillagers,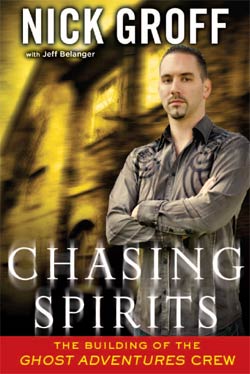 There are many reasons why we approach the paranormal table. Some of us had a profound experience that drew us into the unexplained and forced us to keep searching for answers. Others are compelled to investigate what others scoff because we want to find out for ourselves whether this stuff is real or not. Eventually you find yourself deep down the rabbit hole in places you never imagined.

As many of you know, I work for the Ghost Adventures show on the Travel Channel as their researcher and writer. It's been an amazing job for me! I'm grateful to those involved and those who watch the show. Over the past four years of working on that show, I've gained some perspective on myself, on the paranormal, and on Zak, Nick, and Aaron -- you know -- the guys on TV. This month I'm proud to share with you Nick Groff's story. I helped Nick write his brand-new biography: Chasing Spirits: The Building of the Ghost Adventures Crew. This book traces Nick's earliest paranormal experience -- his near-death experience -- and shows how one television ghost investigator was formed. Unlike other paranormal shows, these guys weren't casted. They set out to document the paranormal, they edited their own footage, and through hard work and a lot of determination, they were able to turn their investigations into a documentary and then into a successful television series.

Chasing Spirits is an amazing story and a detailed look behind the scenes of how Ghost Adventures came together. This is a book for fans of the show, but it's also for people who are fans of the paranormal. The book officially goes on sale October 2nd. Please pre-order it right now! This book has a great chance at becoming a New York Times best-seller with your help!
This month tell us what got you started chasing spirits.
Supernaturally yours,
Jeff Belanger
Mayor of Ghostvillage.com