Dear Ghostvillagers,
Many of us believe a person has a spirit—some intangible thing inside of us that contains the essence of who we are, a thing that doesn't die when our physical bodies do. It's not that far of a leap to suggest that animals have the same thing inside of them. Perhaps anywhere there is life, there is also some form of spirit. But what about a place? A location?
A haunted building immediately comes to mind. Though it's easy to assume that we're really talking about the spirit of a person who's lingering in a location, does the building not have something to do with it? I've heard thousands of accounts from people who experienced a spirit only in one specific location. If that "spirit" also has free will, why wouldn't it haunt lots of places? Why wouldn't it check out the new football stadium built last year? Or that new theater over on Elm Street?
There seems to be some mixture of person and location to a haunt. In the past, I've explored the notion of sacred places. How a location gains so much attention over time that it moves from being famous, to legendary, to mythic, to sacred. That process happens because of the feelings living people have for that place.
Since I wrote you last, I have returned from climbing Mt. Kilimanjaro in Tanzania. That mountain is a special place with its own spirit. It called to me for years, and last month I finally answered.
The experience was transformative and profound. The first time I saw the summit from my hotel rooftop, my stomach did flips, and I let out a giddy giggle. It was like realizing you're in the same room as your favorite celebrity. The mountain has had songs written about it. It's world famous, not just as the tallest peak on the African continent, but as a magical place. It's had that reputation and has held it for centuries.
The Maasai people call the summit "Ngaje Ngai," which translates to the House of God. Maybe they call it that because the top is often snow-covered, cold, and a radically different world than the temperate climate at the base. Or maybe they recognize that from the summit, one could see all of the surrounding land.
That mountain tested me both physically and mentally like nothing has before. After six days of climbing, we were making our way to the summit. We left Barafu Base Camp around midnight with only headlamps to light our way. Though I was wearing many layers of gear, I still felt the biting chill. I could only see for a yard or two around my feet. The mountain was nothing but a sea of blackness. Around 3:30 AM, in the darkest and coldest part of the night, I faltered. I couldn't breathe because the air was so thin. I was dizzy, and every muscle was sore. I wanted to turn back.
Still, I kept my head down, and continued following the feet in front of me, breathing as deeply as I could to get enough air. At this point, my journey in this sacred place turned inward. My body was doing all it could, I needed something bigger than me to keep going.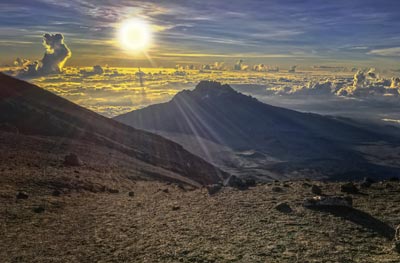 Something magical happened around 5:30 AM around the 18,500-foot mark on the mountain, just below Stella Point. The sky behind me started turning purple. Then the purples turned to shades of orange, yellow, and reds. I kept climbing, and kept looking back. Soon the purple was turning blue, and I could see around me for the first time that night. As the sun cracked the horizon, I felt everything warm up. I had hope. I stopped to click this picture. It was the moment I knew I'd reach the summit. There was still another half a mile to go, but reach it I did at 7:45 AM.
Mt. Kilimanjaro is sacred because I left so much emotion on that mountain, as have countless others over the years. We have infused that place with power, and that's a big reason why it's world famous today. There's a spirit to that place that runs through every rock on that dormant volcano.
The same can be said of Stonehenge in England, those great old churches, temples, and mosques, and even cities, battlefields, and haunted homes. There is a spirit of a place that hovers all around a location. Sometimes we only need to look for it to find it.
I wrote a longer article about my Mt. Kilimanjaro experience on my personal Web site here: http://www.jeffbelan...ro-the-journey/
With your help, I was also able to raise over $17,000 for the Leukemia and Lymphoma Society. Asante sana (thank you very much) from the bottom of my heart.
Supernaturally yours,

Jeff Belanger
Mayor of Ghostvillage.com
Twitter: @THEJeffBelanger
Facebook: Jeff Belanger
YouTube: www.youtube.com/legendtripping