Dear Ghostvillagers,
I'm not psychic. I can't communicate with your dead grandma. I don't know the future. However, I do have more than my share of empathy. I'm hyper-aware of the feelings of other people, likely to a fault. I try to put myself into the shoes of others and walk around a little bit before I consider my position on something. It's one of the ways I connect with my fellow humans.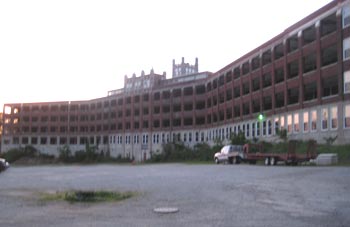 When I walk into a building—especially one with a haunted reputation—I'm also trying to connect. The first time I investigated Waverly Hills Sanatorium in Louisville, Kentucky, I stood in awe of the sheer size of the building. This former TB hospital stands with outstretched arms, hundreds of now-empty rooms sit inside. Walking into the building I imagined what patients must have been feeling decades ago as they suffered with tuberculosis. What thoughts went through their heads as they approached this imposing building? "Will this be the last place I ever live?" "Will I get better?" "Can my family survive without me?" "Will they find a cure?" "Can I make others sick?"
As I walked inside the now-abandoned hospital, my first thought was, "Oh man, this place is haunted." While you might think in my line of work that's not unusual for me, you'd be wrong. Those aren't my usual feelings. Inside Waverly it felt like dozens of unseen eyes were watching me walk through those hallways. The building felt electrically charged that night.
On the third floor, I was walking the hallways by the old patient rooms and I imagined what it must have been like to hear coughing coming from every room around me, 24 hours per day. Coughing, as patients struggle for breath between tumors slowly eating their lungs. That would chip away at your sanity.
It was around 1:00 in the morning when four of us were standing at a bend in the hallway where we could see far in both directions. Suddenly, we all stopped talking at the same time.
"Did you just see that?" I asked.
"You mean the guy who just stepped out of the doorway down there on the left?" one of the other investigators answered.
"Yeah."
We raced to the door where this man stepped out, and then walked back in. I expected to find someone either playing a prank on us, or a person who decided to make this room his shelter for the night. Instead, we found nothing. If this were a living person, he would have had to either come out into the hallway where we were standing, or jump out of the third-story window. Instead there was nothing.
Empathy, it would seem, can apply just as easily to people who were here before us as much as it applies to living folks in our lives. Empathy is about the connection to the emotions of others, Maybe time and space don't matter as much as the connection does. I believe my empathy led to a ghost experience that night in Waverly Hills.
November is a month for gratitude here at the Ghostvillage.com world headquarters. It's almost Thanksgiving, and then the busy holiday season is here. Recently a British clothing company contacted me for a blog they're writing. The objective of the piece is to explain to a Brit living in the United States what to expect from this uniquely American holiday. So they asked me to answer questions about how to be a good guest, what to wear, what to do if you're hosting, and what the holiday means. Though they were looking for some sentences to answer those various questions, I went overboard and wound up writing an entire essay. They're going to use parts of my essay in their blog, but I wanted you to see the article in its entirety.
Click here to read the rest on my Web site. Feel free to share the link with others if this hits a nerve for you.
Also, if you're interested in my 2020 Haunted New England wall calendar, we only have a few left. They will be sold out in the next couple of weeks. They make a great holiday gift for the ghostly person in your life! https://www.jeffbela...ngland-2020.php
Thank you for your support over the past 20 years of Ghostvillage life, and thank you for sharing your empathy with as many people in your life as you can. We need it. And maybe spreading that empathy will help you also connect with something more spiritual.
Supernaturally yours,
Jeff Belanger
Mayor of Ghostvillage.com
Twitter: @THEJeffBelanger
Facebook: Jeff Belanger
YouTube: www.youtube.com/legendtripping
Instagram: www.instagram.com/exploringlegends/