Dear Ghostvillagers,
In these troubled times, I think it's important that we talk about vampires. Not the sparkly, attractive teenager kind, and not the kind that turn into bats, not even the Nosferatu kind with the creepy claw-like hands and pointy ears. I mean the vampires of folklore. The type that have been around for centuries before Bram Stoker ever received his first paper cut and sucked the fresh blood from his finger to stop the bleeding. These are the vampires who show up during plagues.
Though COVID-19 aka the Coronavirus is new (the "19" refers to the year it showed up – late 2019 in Wuhan, China – something I didn't know until I looked it up this morning), plagues are not new. They come up again and again throughout human history. Some are wide-spread and well-known, like the Black Plague that wiped out 20 million people, or roughly one-third of Europe's population during the 1300s. There's the Spanish Influenza pandemic of 1918 that infected 27% of the world's population and killed 50 million people worldwide. And then there's Consumption, which is where I'd like to focus today.
Consumption, better known today as tuberculosis, is still a widespread killer in under-developed countries where vaccines aren't available, but there was a time in the late 1800s when Consumption killed one out of every seven people in the United States and Europe. The illness killed by attacking the lungs and wasting away its victims. Consumption could kill you in a matter of a couple of weeks, other cases could kill you in the span of months or years, and some people lived with the nagging cough and depleted lungs for the rest of their lives.
When plagues hit, humans turn primal. We lose our ability to reason because we're always afraid. If we can't find a rational explanation, we turn to the supernatural. We can't help it. Put yourself in the shoes of a good, church-going family in Rhode Island circa 1885. The mother, Mary, dies from Consumption. Then the oldest daughter Mary Olive. Then your son, Edwin takes ill. Then another daughter, Mercy dies. Just down the street, another family, not nearly as righteous or church-going as you have no illness at all. Clearly God favors one family over another. Or something sinister is attacking one family more than the other.
The 1890s were not the dark ages. Everyday people already understood contagion. Shoot, one person in the family catches a cold, then others in the house also get it. You don't need a medical degree to figure out that the virus spreads even if you don't understand the specific mechanics. But Consumption seemed to be a different animal. We're not talking about a runny nose, we're talking about a trip to the grave.
When medical science can't offer a cure or explanation that sits right with you, folklore can: Vampires.
Imagine your loved one is sick with consumption. You walk into their bedroom in the morning to check on them and find blood on the corner of their mouths, and also running down their chins and necks. Were they attacked by some creature in the night? Or did their profuse coughing break blood vessels in their lungs causing them to cough up their own blood?
Each day your loved one gets worse. Then someone whispers to you that your loved one could be the victim of a vampire. A vampire is a person who feeds on the life force of other people. And blood is life. They're not pretty, in fact, they're walking corpses. When people go looking locally for their vampires, they usually start in the boneyard. Who died recently with connections to the still-living victims?
If my hypothetical description of a family sounds familiar to you, it's because this story is pulled right out of history. This is the story of Mercy Brown, the Rhode Island vampire. You can hear the whole story in Episode 84 of my New England Legends podcast: https://ournewenglan...island-vampire/.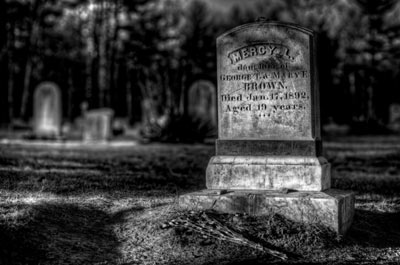 Mercy died of Consumption January 17, 1892. Her body was placed in a stone keep for the winter because the ground was frozen. Three months later on March 17, Mercy's father, George made the difficult decision to pull his daughter's corpse from the keep because his son, Edwin was dying from tuberculosis, and he was desperate. Upon examination, it was discovered that Mercy's body had moved! There was really no decomposition of the body. And there was liquid blood in her heart! Clearly this was proof she was the vampire! Her heart was surgically cut from her body, burned on a nearby rock, and the ashes mixed into an elixir and fed to her dying brother in an effort to break the vampire spell.
A few months later, Edwin died. And today we scoff at the notion. Today we understand that Mercy's body had basically been on ice for three months and decomposition would have slowed. Her blood would have congealed and liquefied several times, and corpses can sit up, move, and do all kinds of things when they're not embalmed as the process of decomposition works its way through the system.
Still, Mercy's father was desperate. Even if there was one chance in a million to save his dying son, he had to know he tried everything, rational or not.
We survived Consumption. We survived the Black Plague. We survived Spanish Influenza. Each was worse than Coronavirus.
In the media we're seeing some frightening and horrible acts by scared people. Hoarding toilet paper, guns, and food. Some are fighting with each other, though there's really nothing to fight about at this point as we all try to figure out not only what's best for ourselves and our families, but what's best for all of our neighbors and communities.
I'll leave you with this. My friend Dr. Michael Bell who wrote the classic book Food for the Dead about New England vampires, recently posted a quote on his Facebook page from some of his research for an upcoming book. The quote is from Moncure D. Conway's 1879 book Demonology and Devil-Lore. The line comes from the opening paragraph on Conway's chapter on disease.
"A familiar fable in the East tells of one who met a fearful phantom, which in reply to his questioning answered – 'I am Plague: I have come from yon city where ten thousand lie dead: one thousand were slain by me, the rest by fear.'"
In these troubled times, some people lose their humanity, while others are finding it. Please be kind and try and be part of the latter group. We'll survive and come out stronger, but only together.
Supernaturally yours,
Jeff Belanger
Mayor of Ghostvillage.com
Twitter: @THEJeffBelanger
Facebook: Jeff Belanger
YouTube: www.youtube.com/legendtripping
Instagram: www.instagram.com/exploringlegends/