Dear Ghostvillagers,
Here at the Ghostvillage.com world headquarters, the autumnal equinox is upon us. The changing of the seasons has been significant throughout human history, though today it seems to pass with a lot less fanfare than a few centuries ago. Today we only make note that our calendars tell us it's now Autumn, but the day itself… at least for most… doesn't feel any different than the day before or after.
Autumn isn't some arbitrary date that's thrown out there to help divide summer and winter, it's an actual observable celestial event. It occurs when the sun is exactly above the earth's equator and the day and night are of equal length. It's the exact moment that the sun's ecliptic path and the celestial equator intersect, which is why we know for example, that here Autumn begins this Saturday at 9:54 PM. It's a specific instant. For our ancestors, it's a sacred moment. It marks harvest time, a period of celebration, and a period of planning for the long winter ahead.
This past summer I had the opportunity to visit the Gungywamp site in Groton, Connecticut. It's this stone village out in the woods that's full of Colonial cellar holes, but also other structures that lead us to believe it could be millennia older than Colonial times.
There's a particular stone chamber at this site that's built into a hill. At the top of the chamber is a small opening. That opening is at your ankle level if you're standing on top of the hill. This chamber isn't very large. Maybe five or six people could stand inside at one time. But near the entrance, right at your feet, there's a smaller chamber carved into the right-side of this man-made cave. It's about the size of a cooler you might take to the beach. It's a curious feature of this chamber. It begs the question: Why is it here? It turns out that this smaller chamber is naturally illuminated by the sun piercing through that opening only two times per year: once during the vernal or spring equinox, and once during the autumnal equinox.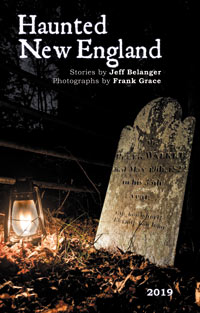 Our ancestors took the time to design and build this chamber because this date and time were significant. The sun and stars above dictated this moment, so we shouldn't take it lightly. While I'm not suggesting we all go Pagan and live in the forest (though if that's your bag, go for it… just bring your smart phone with you so you can still get our newsletters), I am suggesting we honor the moment that is part of a much bigger design. There's something sacred about it.
This month I'm proud to announce the release of my 2019 Haunted New England calendar featuring the eerie photography of Frank Grace! This is our fifth calendar together, and just like previous years, it's a limited edition. We only printed 350, and once they're gone, they're gone. Each month features a location, its history and ghosts, written by me, and Frank's stunning photography. Gungywamp is one of the locations we cover in this year's calendar. If you purchased our 2018 calendar, I can tell you there are no repeated locations from last year. We've been busy! I think you'll love this one as much as I do. You can only buy the calendar online here: https://www.jeffbela...ngland-2019.php or you can get them from me at some of my upcoming events and shows.
For me, Autumn also marks the start of my busy season. My speaking tour kicked off last night to a full house in Tewksbury, Massachusetts, and will continue all the way through December. The theme of this year's program is: Fear. I hope you'll come by and see the show!
Wishing you all the pumpkin-spiced blessings Fall can bring!
Supernaturally yours,
Jeff Belanger
Mayor of Ghostvillage.com
Twitter: @THEJeffBelanger
Facebook: Jeff Belanger
YouTube: www.youtube.com/legendtripping