Dear Ghostvillagers,
The holiday season is here again. The days are growing short, the nights long, and somehow darker than those of summer, and we're about to settle in for a hibernating season. But something is lurking in the shadows of this holiday. And I confess it has possessed me on more than a few occasions. It's the spirit of bad cheer. It's the Scrooginess that can seep into all of us as we get older, carry more responsibilities, and scoff at how commercialized this time of year has become.
Then I started researching the history of this holiday and I found salvation, in the most unlikely of places: a ghost story.
First, I learned that our Nordic ancestors noticed something about the winter. It. Kills. Everything. Winter kills the grass, the flowers, and even the trees who lose all of their leaves when the temperatures turn frigid. But our ancestors also noticed there was one tree that didn't lose its color or leaves: the mighty evergreen. Clearly this tree has some magical power that enables it to stand up to winter.
Plus, that sound... That shrieking sound ripping through the trees outside. Is it the wind whistling through naked branches, or is the cries of spirits in agony? The Nordic people wanted to protect themselves, so they would cut down boughs of evergreens and place them over their doors and windows hoping those green, prickly needles would ward off evil spirits.
When I hang my wreath on my front door now, I think about the same thing. Not that I'm afraid of the wind, but I do hope to ward off the dark spirits that can kill my mood and good cheer this time of year.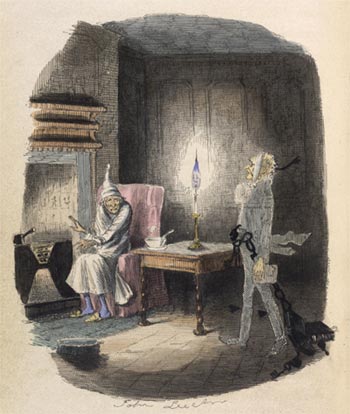 The roots of this holiday also include monsters. Almost too many to count. But, I do want to invite you to check out my Facebook and Twitter. Each day I've been posting an image of a Yule Lad from Iceland. There are 13 in all. These pranksters invade your home during the Christmas season. If you saw my "Creepy Christmas" program this fall, you already know about the Yule Lads. If not, I invite you to watch each day. My wife drew them, and I'm posting them so you can print them out and color them. People have been posting their masterpieces to my page. Check 'em out!
That ghost story? The one that saved me? And not just me, but untold millions of others? It's a simple story about a tight-fisted old miser named Scrooge who finds redemption after being haunted by his former business partner, then visited by three spirits: the ghost of Christmas Past, Christmas Present, and Christmas Yet to Come. When Charles Dickens published this masterpiece in December of 1843, it was a time when nobody cared much about this holiday. It was a day for drinking and making merry, sure, but little else.
A Christmas Carol and its spirits transformed this holiday. It took me to adulthood to realize what the book was really about. Scrooge is me. He's you. He's all of us. He's the dark, selfish, self-absorbed side that resides in all of us. The dark presence that needs reminding that we're all fellow passengers to the grave, and that mankind is our business. This story propelled charitable giving, it reminded people to make merry if they wish, but also to look out for one another, which is at the heart of this holiday's roots.
A ghost story changed everything.
A ghost experience changes everything for those who go through it. It reminds us there are bigger forces in the universe than we can even comprehend. It reminds us to consider the legacy we wish to leave behind. Ghosts remind us that the story may still be written, even after the last chapter is closed.
I welcome all of it. I wish you all to get possessed by the best possible spirit of the holidays. And may you keep out those darker forces that bring us all down. I hope you also look out for each other. There's always someone you can help. And helping one person can change the world.
So with that, thank you for all of the support and sharing in 2018. I can't wait to see what the new year brings!
Supernaturally yours,
Jeff Belanger
Mayor of Ghostvillage.com
Twitter: @THEJeffBelanger
Facebook: Jeff Belanger
YouTube: www.youtube.com/legendtripping