I am new here and I hope I am posting this in the correct area. Recently I have been thinking about the house I lived in before moving to our current home. I wonder about the experiances we shared as a family there- Could we have imagined everything?
A lot of strange things happened in this house. Lights turned on and off by them selves. Electronic toys would talk at night always 3 a.m and say things they usually wouldn't. Shadow figures and voices were seen and heard. Children refused to sleep in their beds. House was always dark even in the middle of the day. It was not a nice place. A lot of bad things happened to us while we lived there.My father in law was struck sick the day we moved in. He was painting and had to be brought to the er b/c of chest pain. He was found to have a nodule in his lung and died from cancer 6 months later.This was a healthy 60 year old man. We lost our business, fought all the time...Eventually we let the house go in the bankruptcy.We walked away from it- abandoned it a year ago-it is still vacant waiting to go through foreclosure. The final straw for my husband was when he and the kids returned to the house at dusk one day. He opened the door and turned to my older son (who is 6) and said "we're home" and a voice inside the house answered him in a low gravely voice "yessss". He and the kids hightailed it out of there and went to his moms. I felt like it was a negative force in our life.Doors would slam, again always in the middle of the night. My middle son was chronically sick-asthma had pneumonia twice, bronchitis. He was the most affected. This is him in the picture. He is looking at the couch. If you look closely you will see a man with a mustache and a child next to him. There are a few orbs in the picture as well.It was taken on his 2nd birthday-it was strange because instead of blowing out his birthday candles and showing interest in his gifts he kept staring out into the living room. I took this picture and when I put it on my computer I thought I saw people on the couch.
Since we moved 10 months ago, the kids sleep in their own rooms and middle son has had no symptoms of asthma. I also am not afraid to go to the bathroom at night-lol!
I don't have a copy of it without the circles, I apologize.I had uploaded it to photobucket years ago and the computer this was stored on has long since crashed. I look at it sometimes and wonder -is it matrixing or more?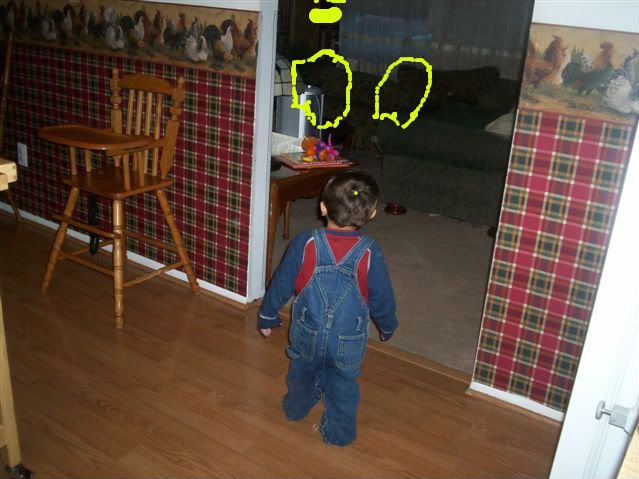 I promise you this is the Gods honest truth. we had a lot more experiances in that house and around the property. While I was living there I was really afraid. I didn't even realize how much I was though, until we moved out. My husband and I were talking about it and now that we are'nt there we wonder how we lasted almost 6 years there. We left a lot of things behind in that house but neither of us want to go back there. There is just this feeling of dread about that place. I have not experianced any of those feelings since we left there.