Dear Ghostvillagers,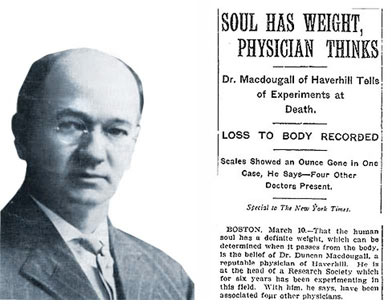 In 1901, Dr. Duncan MacDougall of Haverhill, Massachusetts, worked in a tuberculosis sanatorium. The devout Roman Catholic had a hunch: he believed that humans had a soul and that he could prove it. He hypothesized that if the soul is a real thing, it must be comprised of matter, and thus it has weight. If he could weigh people as they die, he should be able to record if there was a difference.
Dr. MacDougall approached his patients in their dying days and said that when they were in their last hours, he wanted to move them to a cot on a gurney attached to a sensitive scale system. This scale could measure to the gram. He found six patients who agreed to this rather unethical experiment, and MacDougall noted they lost an average of 21 grams at the time of death. You may recall the 2003 film 21 Grams that ran with this idea. The notion all comes from the work of Dr. MacDougall.
Here's where it gets uglier. Dr. MacDougall needed a control group to prove his theory. So he euthanized dogs on the same system and saw that they lost no weight. So he determined that humans have a soul, and animals (or at least dogs…), do not.
Please don't shoot the messenger! I agree the entire experiment was awful, and if you read further into the details, you'll see the experiment was flawed even with the human test subjects. But no matter, the legend of 21 grams was born and still lives today.
But it got me thinking about animals and pets. There's no question that our pets are family. Often they're better than family. Pets don't talk back, they're grateful for us, and love us unconditionally. When they pass on, the heartbreak can be almost unbearable. We shouldn't be surprised that animal ghosts are reported quite often. It doesn't matter what Dr. MacDougall believed, people have their own experiences to draw from when it comes to animal spirits.
I recall interviewing a woman several years ago for one of my books. She was telling me that her beloved cat died early in December. As she and her husband put up their Christmas tree, they realized this was the first year in almost a decade that they could place ornaments on the bottom branches because they no longer had a cat to bat them off. As they stood back to admire their tree with a mix of emotions, her jaw dropped as she watched an unseen force knock some of the low-hanging decorations from the bottom of the tree. Her response was both tears and laughter. She and her husband knew their cat's spirit was paying them a visit.
There are countless other examples of animal spirits both in the home and in the wild. People have seen invisible paw prints pressing into a bedspread, folks have heard horse hooves clomping along outside, though no animal is anywhere to be seen, and I've heard reports of people feeling something soft and furry rubbing against their lower legs as they walk through certain haunts. The reports are endless, and they lead me to believe that something is going on.
This month we're going to delve into animal ghost stories a little deeper in our message board of the month.
Supernaturally yours,
Jeff Belanger
Mayor of Ghostvillage.com
Twitter: @THEJeffBelanger
Facebook: Jeff Belanger
YouTube: www.youtube.com/legendtripping