Dear Ghostvillagers,
What is it about the sea that lends itself to so many haunting tales? I think we understand the ocean is both beautiful and dangerous. On a calm day, the sea is a beautiful place, the backdrop of our most idyllic vacations. But on a bad day, the waters can surge and take every life in its path. Boats that dare to venture across don't always reach their destinations, and of course there be monsters in those waters.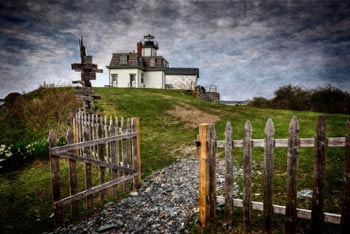 In my New England Legends series, one of the stories we covered in our "Maritime Mysteries" episode was that of Rose Island Lighthouse in Newport Harbor, Rhode Island. Back in 1798, the United States government began construction of Fort Hamilton on Rose Island, but the much larger Fort Adams just across the harbor soon made Fort Hamilton extraneous. But that doesn't mean it wasn't without some use. During a cholera outbreak in 1823, the old barracks on Rose Island were used as a quarantine hospital. Many people gasped their last breath inside this building, and their remains are buried in some unknown spot on the island.
Then there's the lighthouse itself. Built in 1879, the quaint New England structure sits atop Fort Hamilton's former southern battery. The haunt in this building seems focused around former lighthouse keeper Charles Curtis who served here from 1887 until 1918. He and his family lived on the island and had but one task: keep the light lit in bad weather and at night. The job is mundane, but also a matter of life and death. Countless ships, cargo, and souls passed safely through these waters because Charles Curtis made his way up those stairs each day to light the beacon.
Having been on the island, I can imagine how lonely that life must be. Particularly there in Newport Harbor. Just across the water is a bustling town—especially in the summer when America's wealthiest families come here to play. And you're stuck on this island with nothing but time. In the winter, with no cover of trees or buildings, the whipping wind must have been frigid.
For almost 20 years, Charles Curtis tended to his duties, and some say he's still tending to them which is one reason why the lighthouse is haunted today—one of many seaside haunting tales.
Speaking of "Maritime Mysteries," I have a gift for you. My entire New England Legends series from PBS is now available on Amazon Prime video! If you're an Amazon Prime subscriber, you can watch the entire series for free. If you're not, you can buy episodes for only .99 cents each and stream them anytime. After you get done watching all five episodes of New England Legends, you can also watch our documentary: An Evening of Ghost Stories and New England Legends featuring the eerie photography of Frank Grace. This documentary features stage show performances from myself, Carl Johnson, Andrew Lake, and Tim Weisberg, plus a look behind the scenes at how the whole show came together. Please do check them out!
Thank you to everyone who shared their stories of dream encounters this past month. We posted several in our Encounters section. If you have a haunting seaside tale to tell, please report it and we'll post them throughout this month!
Supernaturally yours,

Jeff Belanger
Mayor of Ghostvillage.com
Twitter: @THEJeffBelanger
Facebook: Jeff Belanger
YouTube: www.youtube.com/legendtripping