Dear Ghostvillagers,
It's back-to-school time for a whole bunch of us. My daughter is getting ready to go to a new school, and she has some fears. That's normal. I remember being scared of a new building where I didn't know where anything was. And of course there were the rumors… people talked about certain teachers who liked to beat the kids… or monsters that lurked in the basement… or maybe a certain bathroom was haunted by that girl who killed herself in there back in the 1950s. Most of these stories are just that: stories. But they add a layer of tension to an already-tense place where young people go through all of those awkward stages that we all must go through. But these stories turn up so often and in so many places, it begs us to ask more questions.
It seems there are countless schools--from elementary to college--with a haunted reputation. Sure, in some schools there were tragedies. And maybe that has left some kind of mark. But in many, there is nothing in the history that we can point to as the source of a haunting. But that doesn't mean students and faculty aren't experiencing something.
In the past, we've discussed the Stone Tape Theory--the idea that a building or environment can record events in a similar way that magnetic tape can record video in a camera, or a silicon chip in our phone. Perhaps those raging emotions of our kids leave an energetic impression on the walls of their schools. As they sit down those first days of a new school year, they sense the fear of former students--like a ghost from the past. I recall friends living in haunted dormitories in college, and I've received tons of emails from high schoolers who believe there's something more to their hallways than lockers and hall-monitors. Something is going on indeed.
About three years ago, I received an alarmed email from a high school teacher who said her classroom is haunted. She said the cabinet doors would open by themselves on occasion, but the real reason she was emailing me now was because of a photo one of her students took with his phone. The photo showed a corner of the classroom with a dark, shadowy, semi-transparent girl (who looked like she was right out of the horror movie The Ring). I mean the photo was TOO perfect. When I saw the "ghost," I laughed. I knew immediately this was an insert-a-ghost app for the phone that allows you to put that "ghost" or any number of other examples into any photo you take. I sent this frightened teacher a link to the app so she could see for herself. The teacher quickly replied to my email and thanked me for solving one of her "ghost" problems. She informed me that she had a student who would be getting a detention for duping her.
The reason this fake spooky photo had such an effect is because the school is simply the right context for a haunting. We're more inclined to believe in a building like that.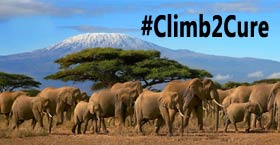 It's back-to-school for my daughter, and it's back-to-training for me. This month I'm thrilled to announce that I'll be climbing Mt. Kilimanjaro in Tanzania in March of 2017. At 19,341 feet, it's the tallest peak in Africa. I'm climbing to raise money for the Leukemia & Lymphoma Society, but before I climb this mountain, I must climb a financial one. My goal is to raise $25,000 for the foundation, and I can only do it with your help. If every subscriber of the newsletter donated just $1, I'd reach my goal before dinner tonight. But I know not every subscriber can afford to or will, so I'm asking you for $19.34. That would be one penny for every ten feet that I have to climb. To make a tax-deductible donation, please visit my Leukemia and Lymphoma Society page here: http://pages.teamint...undraising-Page -- any donation helps!
Supernaturally yours,

Jeff Belanger
Mayor of Ghostvillage.com
Twitter: @THEJeffBelanger
Facebook: Jeff Belanger
YouTube: www.youtube.com/legendtripping
Periscope: https://www.periscop...THEJeffBelanger