Dear Ghostvillagers,
What is it about New England? I grew up here, so it's easy for me to take it for granted. But when I travel and tell people where I'm from, I often hear, "Man, you're lucky! You guys have all of the best haunts." While there are truly great haunts all over the world, I understand what they mean. New Englanders tend to embrace our old buildings, our history, and even our ghosts.
We're a bit more matter-of-fact about hauntings in these parts. "Yes, the house was constructed in 1820, and I've heard it's haunted," you might hear someone say. We don't even whisper such things. Head over to Europe where a house built in 1820 is considered a baby, and you might hear, "Of course it's haunted! It's 400 years old!"
New England. So much history and legend, from Native American tales that go back thousands of years, to the first shots fired in the Revolutionary War. Our mountains, rivers, lakes, buildings, and ocean set a rich tapestry and stage for both the quick and the dead. Being autumn, we get the best of that tapestry. We get the harvest of the land like crisp apples off the tree, and the harvest of the sea as shellfish and other sea creatures start to fatten up for the winter. And right in the middle of all of this autumn calendar is Halloween.
For the last year or so, I've turned a lot of my attention toward home. Earlier this year I announced my 2014 Haunted New England Wall Calendar, and last month I gave you a sneak peek at my new PBS project: New England Legends. DVDs are now available for sale on our Web site. My goal is to take you into the history and legends like never before. These legends define us as much as our ancestors did, and as much as the landscape. I hope you'll support me in this project by buying the DVDs. We're shipping them out daily, so you'll get them soon if you order today!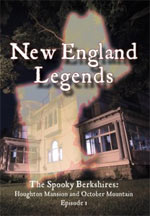 Being November, we're also knocking on the holiday season. Last week I finished my last event for the year. I've met thousands of new people this fall, investigated new locations, and enriched my life in doing so. Thank you to everyone who came out to see me. Now that winter is coming, it's time for me to go back to the lab and work on a bunch of new material for next year.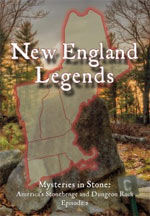 One of those projects includes my book on time travel. I'm now focusing a lot more attention on that subject. I'm still actively seeking people who believe they have had some kind of time slip or time travel experience. What makes a time slip experience different than a ghost experience is this: With a ghost experience, the "ghost" is out of place in our time and space. For example, you're in a restaurant, there are electric lights on the wall, flat-screen TVs hanging behind the bar, etc. and a woman in Victorian dress floats by and disappears. In that case, the "ghost" was out of place. With a time slip, you are out of place. Taking that same example, you walk into that same restaurant, and suddenly you see people in Victorian dress, no electric lights, no TVs, no modern anything. The entire scene is from a different time period. It may last only a second or two, or the experience may go on for what seems like minutes before you're returned to modern time.
If you've had a time slip experience, I'd appreciate hearing from you!
Supernaturally yours,

Jeff Belanger
Mayor of Ghostvillage.com