Dear Ghostvillagers,
The storyteller in me is always looking for the beginning of any tale. If I can get close enough to the beginning, I'll learn something about the world around me and myself.
Ironically, no story starts at the very beginning -- they jump in at some point in time -- kind of like life. But that doesn't mean there isn't a back story. George Lucas understood that, which is why three very successful movies were created to tell us what happened before there was Luke Skywalker and Princess Leia.
When I study a legend, whether it's a modern ghost encounter or something more ancient, I go back as far as I can. Then I keep digging. Recently I've been looking into the Thunderbird from Native American folklore. They describe a creature that's man-like but with great wings. It's called a Thunderbird because the flying creature's flapping wings causes thunder-like booms.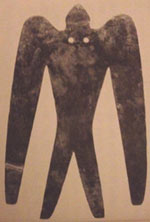 When you read about the 1966-1967 Mothman sightings in Point Pleasant, West Virginia, the creature's description sounds a lot like a Thunderbird. In New England, the local Native Americans also believed in a Thunderbird. While digging through an old book of Native American Indians, I saw this artifact of a bird-like man that was fashioned out of copper. It's centuries old and was found in a grave near the modern-day city of Manchester, New Hampshire. I'm planning a trip to the museum to see the actual piece.
Either the people of Point Pleasant were really well-versed in Native American lore, or they saw something, described it as best they could, and gave it a name that stuck: Mothman.
The reason legends spread is because in some cases they've been around for thousands of years. And please understand that just because I call something a legend doesn't mean I think it's a made-up story. Quite the opposite, actually. I believe there is something profound behind these stories, otherwise they wouldn't captivate us the way they do, nor would they last as long as some of them have.
When we speak of aboriginal people, we're talking about the folks who were here before modern settlers. In some countries, we're talking about tens of thousands of years of human history that are almost completely lost, but some of their myths and stories survive. Which begs the question: Is it the stories that survive or are there some entities that make their presence known and we search through our collective consciousness to put a label onto the things? Maybe even a label that's been used before.
"Ancient Indian Burial Ground" is a paranormal cliché today. It's like a default reason for a haunting when you can come up with no other. But perhaps there's some wisdom in looking back further than building records and town hall notices. If you think about an area like New England, there were people living and dying here 12,000 to 14,000 years ago. Then some Europeans came along a mere 400 years ago and that's as far back as we tend to look.
History is a ghost story. We need to be willing to look back as far as the ghosts take us.
Supernaturally yours,
Jeff Belanger
Mayor of Ghostvillage.com
Twitter: @THEJeffBelanger
Facebook: Jeff Belanger
YouTube: www.youtube.com/legendtripping