Dear Ghostvillagers,
A few days ago, on May 13th, the paranormal community lost an icon. Stanton Friedman passed away at the age of 84. Friedman is best known in the world of UFOlogy. The nuclear physicist worked on classified government projects and was exposed to information that he believed didn't add up. In short, he suspected there has been alien contact before, and he made a career out of trying to prove it. He wrote books, published papers, lectured on the subject all over the world, and for many years, if you were watching a UFO documentary, there was a high probability that Stanton Friedman was in it.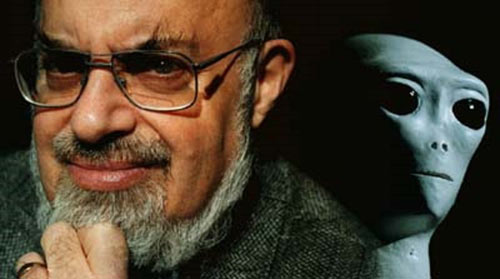 I had the privilege of interviewing Stanton on my old 30 Odd Minutes show, and I've met him on multiple occasions when we were speaking at the same conference. What struck me about him was his genuine nature. He loved the subject he explored, he took it seriously, but he also had a sense of humor about the whole thing. He brought so much credibility to his work, it was difficult not to listen when he spoke.
I know this is GHOSTvillage. We're a ghost community not an alien community, but permit me this indulgence this one month in memory of Stanton. First, Stanton was a fellow seeker of the strange and unexplained. He's a kindred spirit even if we focus on different topics. Second, I wonder how much of this can come down to labels. One person's grey alien is another person's demon. One person's UFO spaceship is another's vision from God.
What Stanton did was ask the question humans have been asking for many thousands of years: Are we alone in the universe?
What does it all mean? How does this all work? That's what we explore when we delve into topics labeled "paranormal," or "fringe." We know it's there. Maybe it scares us a little bit. Many choose not to pay attention, and that's their prerogative. But some of us do pay attention. We look closer, gazing deep into the abyss looking for answers. I get it. Stanton Friedman got it too.
Since we're on the subject of UFOs and aliens, allow me to share a UFO encounter I experienced when I was ten years old back on May 26, 1985 around 10 PM. This occurred outside my home in Sandy Hook, Connecticut. I was in bed and my dad had just gone to the backyard to close the gate to our fence. He started screaming bloody murder, "Jeff get outside right now!!" (My dad is not the scream-bloody-murder type.) I ran to the back door, opened it, and asked my dad what was up. He said, "There's a UFO right there!" I told him he was out of his mind, then started walking up the hill in our back yard. I turned around and my jaw dropped. There was a giant ring of lights in the sky. It was a completely overcast night, and this craft was below the clouds. It moved in near silence except for a very low hum over our next-door neighbor's house. We watched this thing for about two minutes until it passed over the tree line behind us and out of sight.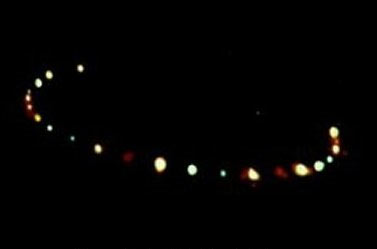 The next day the UFO story was on the front page of the Danbury News Times newspaper. The local police had over 100 phone calls about these lights in the sky. So dad and I weren't crazy. Tons of people saw it. The article said it was a group of Cessnas flying in formation as a prank. These Cessnas were (allegedly) single-engine airplanes flying overhead. A Cessna is basically a lawnmower with wings. It's loud. It's obvious. My dad flew recon planes in Vietnam—he knows what airplanes look like. In my first ten years I'd seen and heard a million Cessnas day and night. This was no group of Cessnas. Years later, I found a photo of what we saw. The picture was taken by Randy Etting.
I can't promise you there were little green men inside the craft we saw that day. But I can promise you with certainty that what I saw that night (and what you see in this photo) is NOT a group of Cessnas. In this case, the official explanation added more credence to the paranormal theory.
This childhood experience, combined with my friends telling me about their haunted houses, influenced me at a young age. It helped set me on the course I'm on now. For that, I'm grateful. And I'm grateful to Stanton Friedman, and other seekers like him, because they search for truth, they put their necks way out there even though they face ridicule, and especially in Stanton's case, he did the work in the most credible of ways.
Rest in peace, and God speed, Stanton Friedman. When I gaze up at a starry night sky now, I can't help but wonder if you're looking back down from somewhere up there.
Supernaturally yours,
Jeff Belanger
Mayor of Ghostvillage.com
Twitter: @THEJeffBelanger
Facebook: Jeff Belanger
YouTube: www.youtube.com/legendtripping
Instagram: www.instagram.com/exploringlegends/