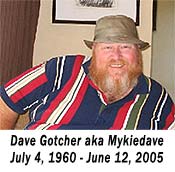 Dear Ghostvillagers,
It's with a heavy heart that I need to report that one of our own has passed on. Dave Gotcher, better known to us all as Mykiedave, passed away on Sunday, June 12th from complications related to diabetes.
Please watch tomorrow's newsletter and this thread for more on this great guy. Dave was a storyteller, a writer, an entertainer, and a man who knew magic was real. He will be missed, but I know if there's an Internet connection in the afterlife, he'll be checking in on us and smiling.
Please join me in supporting Mykiedave's wife, and your fellow Ghostvillager, Holly. She needs our thoughts, prayers, and good energy sent her way right now.
If you'd like to share your own Mykiedave story, please feel free to add to this thread. I'll be adding my own story tomorrow afternoon.
Thank you, Mykiedave for being a Ghostvillager and a friend. And I know I speak for more than 8,000 Ghostvillagers when I say we're here for you, Holly.
-Jeff