GHOSTVILLAGE.COM NEWSLETTER #56 - April 17, 2006

The World's Most Haunted Places | Communicating With the Dead | The Encyclopedia of Haunted Places | The Nightmare Encyclopedia

Be sure to forward this on to your friends who are interested in the supernatural!

Ghost, UFOs, Unexplained Mysteries. Exclusive 24-hour paranormal news feed. Videos and trip reports from The Whaley House, The Queen Mary, Borley Rectory, Area 51, Alcatraz, Roswell, The Jamaica Inn, Berry Pomeroy Castle, and more. Forums, photo gallery, and coming soon, our Paranormal Friend Finder. "Check your watch, the chase has begun."
http://www.chasingmidnight.com/
---
You are receiving this email because you or a friend signed you up at http://www.ghostvillage.com. If you would like to be removed from this mailing list, please see the instructions at the bottom.
View this newsletter online at: http://www.ghostvillage.com/newsletters/Apr17_06.htm
---
Dear Ghostvillagers,

Have we been here before? Ever experience déjà vu? Have you had past lives? It's an interesting concept and is even one of the basic tenets of some belief systems. The idea is that when we pass on we come back again -- maybe as a new human being, perhaps as an animal. Reincarnation is the subject we'll be exploring more in-depth during the next month here at Ghostvillage.com.

You know the concept of the "old soul" -- those people you meet who seem wise beyond their years, or somehow a little more comfortable in their own skin than the rest of us? Maybe these old souls are more comfortable because they've had a few more go-arounds than the rest of us and are getting closer to what our Hindu friends call enlightenment. Enlightenment is the the place we all aspire to get to, where we have all the answers and no longer need to reincarnate.

Science tells us that matter can neither be created nor destroyed -- meaning all of the material that makes up the trees, rocks, the air, and us have always been here and always will be. We're breathing the air Shakespeare, Jesus, and Tutankhamun once breathed. We're still influenced by some of our ancestors because word of their works spread far beyond their mortal lives. Is there a piece of Shakespeare in a young aspiring playwright who just saw her first performance of Hamlet? You bet. Will we inspire future generations in some way -- that's the goal -- and our ideas, our selves will be born again. Read more about reincarnation in this month's feature article, an interview with Dr. John Gilbert. Or discuss the topic further in our message board of the month.

I see by the Supernatural Calendar that many conferences are coming up in the next two months. I hope you'll have the opportunity to attend some of these great events. I'll be speaking at several of them over the next several weeks including conferences in New Jersey, Massachusetts, and Connecticut, so if you're in the neighborhood, definitely come by and say hello. It's always a pleasure to meet a fellow Ghostvillager. Also, I'm trying to get in touch with people who have had ghost encounters at the sites of military battles and conflicts. If you've seen a ghost of war, please send me an email -- I'd love to hear more about it. Enjoy the rest of the newsletter below.

Supernaturally yours,

Jeff Belanger
info@ghostvillage.com
Mayor of Ghostvillage.com


Congratulations to Shauna Vandermyn of Westfield, Massachusetts; Ronald Todys of Cleveland, Ohio; and Rebecca Buchanan of San Francisco, California, who were last month's winners of autographed, collector's edition copies of the new DVD Woodland Haunting 2, a Ghostvillage.com window sticker, and a Ghostvillage.com t-shirt!

This month, we're doing the contest again, but we ask that you first click this link: http://www.ghostvillage.com/index.shtml#winner. If it says, "The search is on" then we don't have a winner yet and go ahead and send in your answer. If you see today's date and "We have a winner!" that means you weren't the first to email us. Sorry, please try again next month.

On to this month's question: This question can be answered by reading a page on Ghostvillage.com. The first person to reply to this email with the correct answer will win this month's prize.

What was the first music album author Dr. G. Michael Vasey ever bought?

Once we have our winner, we will announce them on our home page as soon as possible. Good luck! (Only Ghostvillagers who have not won a prize from us in the last year are eligible.)



This month's prize: We're giving away an autographed copy of Jeff Belanger's book, Encyclopedia of Haunted Places: Ghostly Locales From Around the World, a Ghostvillage.com window sticker, and a Ghostvillage.com t-shirt!


Didn't win? Want to buy a copy? Click on the graphic.



The Supernatural Calendar is the place where thousands will learn about your events of interest to the supernatural world. The service is only available to registered members of the message boards, and it's free! Very soon, Ghostvillage.com will begin syndicating our calendar of events so other Web sites can display these supernatural happenings. Adding your own local events to our calendar is more important than ever!

April 19: Jeff Belanger on Chronicle TV - Boston, MA
April 21: BOOt Camp Ghost Hunters Intensive Training & Expo
April 22: New Jersey Ghost Conference 2006 - Jeff Belanger will be speaking at this event, 2006 Paranormal Conference - Jefferson, Texas, IL - Paranormal Gathering @ Ashbary Coffee House
April 28: 2006 California Ghost Hunters Conference
April 29: Supernatural Summit - Rochester, New York
April 30: Bachelor's Grove - Outing
May 6: Eastern Massachusetts Paranormal Conference - Jeff Belanger will be speaking at this event
May 13: CPRI's 1st Annual Paranormal Conference
May 14: Paraquest Paranormal Conference 2006 - England
May 19-20: Jeff Belanger at Book Expo America - Washington DC
May 20: First Annual Ghost Conference - New London, Connecticut
June 16: 8th Annual SGRA Paranormal Conference, Milford, Connecticut - Jeff Belanger will be speaking at this event



Who's Who in the Town Square?

Get to know some of your fellow Ghostvillagers.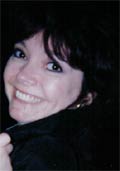 >>spelling<< - member since February 3, 2006

What is your name?
Judy Papesh

How old are you?
46

Where do you live?
Northeastern Ohio

What do you do for a living?
Independent hairstylist consultant.

What got you interested in ghosts and the supernatural?
I have always been interested in the paranormal as far back as I can remember. I became more curious as more people I knew passed on. I knew they had to go somewhere, right?

What is the most compelling piece of evidence for the existence of life after death?
I have had a few experiences from time-to-time. The one experience that confirmed things for me was when I had a ghost in my yard. I tracked down the origin of the ghost and it turned out to be a friend from school who was killed about a block away from where I live. I have since confirmed a few details that convinced me, and I have also communicated with her since.

What's your favorite junk food?
Pizza.




Last Month's Theme - Featured Content

Our last month's theme was Celtics and Druids. We had a great number of articles and thoughts on the subject, and we definitely learned a few things about this enigmatic group. Here's what you missed if you haven't checked in since last month:

Feature: The Mysteries of Druidry Book Excerpt Part 4 of 4
Feature: The Mysteries of Druidry Book Excerpt Part 3 of 4
Feature: The Mysteries of Druidry Book Excerpt Part 2 of 4
Column: The Witchcraft Connection - Celtic This, Druid That, Saint Patrick Hit Me With a Wiffle-Ball Bat - by Marcus Foxglove Griffin
Author Interview: John Michael Greer and The Druidry Handbook - by Lee Prosser
From the Archives: Druids - by Lee Prosser
Feature: The Mysteries of Druidry Book Excerpt Part 1 of 4 - This month's feature article by Dr. Brendan Cathbad Myers


Ghostvillage.com's book reviewer, Lee Prosser and the staff have brought you several new book reviews and author interviews since our last newsletter.


This past month's Library additions:

Shamanic Christianity by Bradford Keeney

The Spiritual Practices of the Ninja by Ross Heaven

Trigger Point Therapy

The Enchanted Cat by Ellen Dugan

Chinese Home Remedies by Lihua Wang

The Ibis Western Mystery Tradition Series

Pagan Spirituality by Joyce and River Higginbotham

Inner Journeys by Dr. G. Michael Vasey [AUTHOR INTERVIEW]

Encyclopedia of the Undead by Dr. Bob Curran

Oracles of the Dead by Robert Temple

Witch in the Boardroom by Stacey Demarco

The Druidry Handbook by John Michael Greer [AUTHOR INTERVIEW]

The Cherokee Herbal by J. T. Garrett


A big thank-you to those who sent in a donation last month! Ghostvillage.com is the Web's largest supernatural community, the central place where people come to share their experiences, thoughts, and research. Running this site not only requires a great deal of time, but money as well. Here are ways you can help us continue to grow:

-Consider donating a dollar (or more if you can) to us through PayPal. Think of it as an incredibly inexpensive subscription to a great newsletter and Web site!
-Buy a copy of The World's Most Haunted Places, Communicating With the Dead, The Encyclopedia of Haunted Places, or The Nightmare Encyclopedia.
-Buy a Ghostvillage.com t-shirt.
-Advertise your business or service with us. Ghostvillage.com reaches tens of thousands people interested in the paranormal and New Age markets.

Every little bit helps run our servers and helps the site get bigger and better! Please also click on our banner ads and support our advertisers -- when you do business with someone who advertises with Ghostvillage.com, let them know you saw their ad with us and thank them for the support.

Please email us anytime at info@ghostvillage.com. Your comments, questions, and feedback are always welcomed.

We receive personal encounters from all over the world. Many are scary, some are touching, but they are always profound. If you would like to share your own experience, please click >>here<<. Since our last newsletter, we added the following new encounters:

Portrait of a Funny Old Man - Hull, England

Little Dancing Girl - Baltimore, Maryland

The Haunted Mansion - Reading, Pennsylvania

Haunted Newport News - Newport News, Virginia

Tormented in Our Apartment - Brooklyn, New York

The White Dove and Heavenly Voice - Toms River, New Jersey

Lights Flashes in the Night - Pigeon Forge, Tennessee

The Ghostly Mom is Still Here - Everett, Washington

A Young Man's Spirit - Hudson, Michigan

Trying to Get Our Attention - England

The Moving Knocks - Rochester, New York

Hearing My Name Three Times - Walnut Creek, California

The Ghostly Skeleton - Coast Range, Northern Oregon

Teaspoon and Grandpap - Bentleyville, Pennsylvania


This is the place to find press releases and news items on paranormal happenings around the world. If you have a news item you'd like to submit, please see our guidelines.

Eighth-Annual Paranormal Conference Set For June 16-18 in Milford, Connecticut [CONFERENCE WATCH]

2006 California Ghost Hunters Conference Set for April 28, 29, and 30 [CONFERENCE WATCH]

Chicago Ghost Investigations are expected to set the standard for the tour industry in Chicago

Second Annual Las Vegas Paranormal Conference - October 1-2 [CONFERENCE WATCH]



Our "Features" section is a place for editorials, research articles, open letters to our readers, and other content of interest to Ghostvillagers. If you have a topic on your mind, agree or disagree with something you read recently, we want to hear from you! For guidelines, click here.

New features added since our last newsletter:

Billy Bob Firestone and the Ghosts of Pythian Castle - by Lee Prosser - April 15, 2006 [COLUMN]

Cryptobotany: The Search for Lost Plants by Richard Senate - April 7, 2006

Vedanta and Durga - by Lee Prosser - April 2, 2006 [COLUMN]

Ritual, Resonance, and Ghost Research: The Play in the Fields by John Sabol - March 27, 2006

Celtic This, Druid That, Saint Patrick Hit Me With a Wiffle-Ball Bat - by Marcus Foxglove Griffin - March 21, 2006 [COLUMN]




Jeff Belanger's Upcoming Events

This is the place to find out where author and Ghostvillage.com founder Jeff Belanger will be speaking on the subject of the supernatural. If you're interested in booking Jeff for a conference or other event, please email us for more information.

Events Scheduled:

New Jersey Ghost Conference 2006 - Hackettstown, New Jersey - April 22, 2006

Revelations: The Eastern Massachusetts Paranormal Ghost Conference and Seminar - Methuen, Massachusetts - May 6, 2006

SGRA's 8th Annual Paranormal Conference - Milford, Connecticut - June 16-18, 2006

2006 New England Ghost Conference - South Portland, Maine - October 13-15, 2006

Charlie the Butler's Ghost Party at the Sprague Mansion - Cranston, Rhode Island - October 26, 2006



There's only one place where you can tune in to the leading paranormal radio programs available online, and that's right here on Ghostvillage.com's Paranormal Radio: http://www.ghostvillage.com/resources/ghostradio.shtml

Tune in to: A.P.S.R. Talk Radio, Exploring Unexplained Phenomena, The Ghost Chronicles, Ghostly Talk Radio, The Graveyard Shift, Magick Mind Radio, Nightwatch, Weird Stuff Happens, and The 'X' Zone Radio Show.




Hot Threads in the Community

If you have registered for our message boards but haven't validated your account yet, it's simple to do! Look for the email that was automatically sent to you when you registered and click on the account activation link in the email (note: some bulkmail filters may block this email, so you'll need to check your bulkmail folder if the validation email didn't immediately come through). There are always great discussions going on in our huge message board community. We hope you'll get involved. It's free to register if you're not already a member. Here are some of the hot topics this month:

Beware of Your Plants: Hidden Horrors
http://www.ghostvillage.com/ghostcommunity/index.php?showtopic=13229
What exactly are you bringing into your house along with the plants you buy?

Read any good supernatural books?
http://www.ghostvillage.com/ghostcommunity/index.php?showtopic=13020
Read a good piece of supernatural fiction? Tell us all about it! Recommend one that you think others would enjoy too.

Haunted House in Horicon, Wisconsin
http://www.ghostvillage.com/ghostcommunity/index.php?showtopic=5594
Relive the facts and legends of this famous haunting that made national headlines.

Gospel of Judas
http://www.ghostvillage.com/ghostcommunity/index.php?showtopic=12646
"New" gospel sheds a more positive light on Judas.

Were they real?
http://www.ghostvillage.com/ghostcommunity/index.php?showtopic=13122
Childhood fears and friends.

Fear of Black Cats: Why are people scared of them?
http://www.ghostvillage.com/ghostcommunity/index.php?showtopic=13264
There are many myths surrounding black cats, so much to the point that some people are biased against them and fear them. What would make people feel this way?

Supernatural Short Stories
http://www.ghostvillage.com/ghostcommunity/index.php?showtopic=12878
Feeling creative? Share your own ghostly prose.


Board of the Month -- Reincarnation
http://www.ghostvillage.com/ghostcommunity/index.php?showforum=27
Come in and discuss past lives, the circle of life, and what it means to be born again.

In the last month, the following people have joined our ghostly community -- now more than 10,000 strong! Please welcome:

willky77777, aaurone, blonde_gurl2006, Pisces, blairwitch, gothgirl, Libi83, tjefferson005, AkhetsShadow, Caryubank ghostfiend, kristen419, Lkfarkas, feydamsel, plt89, texcelt, trixiemerc, antheaanne, cuicospirit, MMett, MoonStar, rorrimkcalb, justinpk, DejaVu822, greyghost, kelniko, debinnc, Moubis, lilly, .Jason, nighthawk01, neverscared, CelticVision, tropical, sassyme, sparky, sammyoh36, rescuejohnson, vjsearcy, civilwarbuff, caz, Medicus, Louisianna Hot Sauce, haunted_bedroom, Isa, Dot1249, Nu el ma, hay, geddy, geddy1971, ravengirl, SupernaturalGift84, aks_84, butterflychick, house1864, jenmiltan, Phantomchik, Barbara D, tickles8981, aaa, nonpoint00, CarpeSalmon, amber lyk wo, Pseudolife, memento mori, grincher, atlas1thyme, Faerlim, jlm78, miggles_san26, un4given, cady, AntTQ757, userdoug, paintITblack, caelen, lorie, FLYINGDUTCHMAN33, Beendead, twinklestar, HannaF, +EvilApparition+, LostLenore, dovesong, patriciahn, CTGHS, rossg, mizz twisted, fantastic5, eric, kyky3236, alienfroggy, Darkbloodlycan, Rowan, GB1863, RainaWolfe, pamela gunnings, Miss Missi, holly97, 25thmustang, Underfaith, gaemt, asaka, wiskyears, deftones333, harlequin, SaloonGhostSuz, tfish, jbentz1966, sindyrae562005, damcmn7, Dingo, EcceNova, julieb, vozville, ghosthuntess, nickthetiger, LHOOVLER9433, kumibutch, JDS, kellyinnct, Ryans4ever08, coolmagic, tauruslady666, DONNA_MAE, MadamX, thoreau, Cascading_Annihilation, harmonyheart62, cduc, deth, bigpants, metehan, bulis, ladyfuzz, blithespirit, pockit1, brine99, anthony, paulchang, jimbo, Panozzo, Azumi_chan, beckyX03, MiseryTomb13, aj_camp, Nitewulf, jimbob, ali08, LycanGhost, vickiejn, White Light, azraellevith, Demon1, Incubus___pestilence, ohiogal, jpenna49, cookie120301, dewkim2, LBinPA, athena-godess, yani_inay08, roserave, sooz_e, dianarobbins, Emmy10470, gregalbr, sarahwolfe, maggiemoons, Baby Summoner, Dilated_Pupilz, gregory0723, loverlass, pixiepiratess, lisa bonell, huby123uk, dalejrsgoddess@yahoo.com, Suko, cactiphil18, inquisitive, lostmyghost, alicia1, innerear, Goddess, pazuzu, montgomery68, oklahoma_cheyenne, Enjoythesilence, dixieghost24, Cisco911, brightjade, kkaplan, cassie_rae, nikkikat, Mdv2, Danadoos, alcoholicost, zafo, sydg, zappymagoo, labrat, neesin, borderhopper1988, withinreason, mistynightblues, Jen Verdi, TheMackIntoshclan, LittleSpirit, MissSpirit, spookysouthcoast, MelissaH, BrianC, GAGEDOG14, ckr4u, ham man3692, txcpscap, katnjust, girlsruleboys101, dan_41, Keenan, okatokat_mhad15@yahoo.com, Tanja, kdvirgo, karen18, ps2guyfromicf, bergie777, hellier80, justin, nycghosthunter, Gldnphoenix, pkburke, Dukey, blondie2001_69, Sherri Brake-Recco, ms_strange41225, spookums, Majew10, ajax, sweetbabee4eva, dwanar, manduh726, Luvkittys7, Cutieloveangel, Believer_of_The_Supernatural, Lightening, Amadahy, darkstrat37, MikeC06, evittjk, Goleon_Son, hngover, roarrke, boom_blues, roger, lindal39, seven0a, cjwalker130, TangledWishes, Maleficia, BugX, nastia, snunnelley, Nanna28, martinlova, CaliforniasWeird, Ghost_girl1993, Deanflorida, redchild, tattoomom, kmaher415, netballemz, Healey, sunny_duran, ellah, btmbunk223, 1parker1, cheryl-houston, Tisha13, Nate, GoruLolita, Verizoff, alexbookman, chakram110103, mangolinger, smittykitty678, roaddr23, spiritseeker, bubbles2suppi, Ichabodspumpkin, brett rayburn, Lady_Gigi, AliaAngelusEverto, elly1964, tempest88, NRPG, aneedforanswers, Phantoms_Girl, Disquieting Muse, mvickery, danalinakate, lotus_blossom, anna maree, billesque, sherryreanna, alex1234, eimaj, emily rose, bentinnocence, daojavante, LASPIRITS, joe'sgrl0521, HollyDay, fotobug, LdySW357, Noodles, Americaneagle, Dragons_of_Primrose, everie, Rayven, tattooedmustang, gurlface76, kingofcats, arahtay, TWTP, sussanne, Keely, Xbeliverofluv666X, jamiems1, Shattered Sanity, supernaturalfart, ND042, buddyblue47, Donherardo, charles hall, creepela, IdleWolf, Irene A Burns, adamglowka06, lilmiss, scathe vernal, charmed2916, natlguardbrat, JW42, ldebrd, imanampatuan, viktor, tvanderlaan, Rowan Mayfair, hauntedpennsylvania, ginajames, Chuck58, cj82989, Enchantress, gremlin1968, Tomonthefirst, velcro, Dawnie, Tempest, ghoster0309, coma_white, steven_allen, timls, Di-Manes, and chelsea.



Ghostvillage.com Quick Stats:

178,430 Messages in the Town Square Message Boards
10,333 Members in the Town Square
487 "Personal Encounters" published on Ghostvillage.com
494 Paranormal Web sites in the Ghost Links directory
19,325 Subscribers to this newsletter
3,987,276 total Web site "hits" for Ghostvillage.com in March



---
All material is © 2006 Ghostvillage.com
REMOVAL INSTRUCTIONS: To be removed from the mailing list, please go to www.ghostvillage.com/subscribe.shtml.