Shop at Ghostvillage.com | Support Ghostvillage.com | Ghost Chat | Supernatural Auction

Be sure to have your friends subscribe to the newsletter >>here<<
---
You are receiving this email because you or a friend signed you up at http://www.ghostvillage.com. If you would like to be removed from this mailing list, please see the instructions at the bottom.
View this newsletter online at: http://www.ghostvillage.com/newsletters/Aug01_03.htm
---
Dear Ghostvillagers,

All people need spirituality in their lives just as much as they need human contact, love, friendship, and so on. Yesterday afternoon I was visited by two Jehovah's Witnesses who were going door-to-door offering literature on their religion. I generally don't take too kindly to door-to-door anything, but people with strong supernatural convictions have a special place in my heart. I listened to what the two young ladies had to say, and I took their pamphlet entitled "What Does God Require of Us?" I even read it -- closely enough to spot an inaccuracy in the pamphlet's comments on the book of Genesis.

These two girls couldn't have been older than 16 or 17, and yet they believe in their religion so much that they are willing to march right up to where I live and tell me about it.

During my years of studying the supernatural, I have met many ghost researches/hunters/enthusiasts, and I often ask questions about their religious upbringing. I find that many didn't have a lot of religious influences growing up -- it makes me wonder if ghost hunting is their method of exploring spirituality in a very active and tangible way. I think we would all like proof of an afterlife. Some people can find that proof in reading religious texts, or in a house of worship, and others find that proof in coming face-to-face with a ghost.

Though we may never be able to see the cause of spirituality (at least not while we're alive, anyway), the effect is absolutely profound -- whether you're spreading the word door-to-door, dancing around a fire, meditating, or lurking in the attic of a 300-year-old house with an Electro Magnetic Field meter.

We had a great month for Ghostvillage -- a bunch of new personal encounters were added, thousands of new posts in the message boards, new auction items, and a lot of new subscribers. Thanks for your continued support! Enjoy the rest of the newsletter below.

Supernaturally yours,



Jeff Belanger
info@ghostvillage.com
Mayor of Ghostvillage.com

Congratulations to Melody Engle of Preston, Maryland! Melody was last month's winner of an autographed copy of Tamara Thorne's chilling new Sorority trilogy of books.



The "winner" icon on the left has been hidden somewhere on Ghostvillage.com. If you're the first to find it, email us with the page it's on, and you win this month's prize. The graphic could be on any page on the Web site -- maybe at the top of the page, maybe the bottom, etc. Once we have a winner, we will announce it on our home page right away. By clicking on the "winner" icon within Ghostvillage.com, it should launch your email with the appropriate subject. If not, email info@ghostvillage.com, and in the subject or body, put the URL of the page you found the icon on. Good luck!



This month's prize: Laura Ruby's first book, Lily's Ghosts, is a children's book based on a true ghost story. Thirteen-year-old Lily Crabtree is infuriated when she's forced to move again after her mother's breakup with the latest loser boyfriend. Now they're broke and they'll have to spend the winter in Uncle Wes's spooky summer house in Cape May, New Jersey... and the place is crawling with ghosts.

Didn't win? Want to buy the book? Click on the graphic above.

Our new calendar is certainly filling up with events, television shows of interest, conferences, and more! Our calendar is the place where thousands will learn about your events. The service is only available to registered members of the message boards. Here's some of what is going on in August:

Friday, August 1: Holiday: Lughnasadh
Saturday, August 2: Meeting: Leslie Rule; Birthday: amy
Saturday, August 9: Sprucevale Campout
Sunday, August 10: Sprucevale Campout
Tuesday, August 12: Holiday: GITA WEEK (begins)
Friday, August 15: Conference: Horrorfind Weekend
Saturday, August 16: Conference: Horrorfind Weekend
Sunday, August 17: Conference: Horrorfind Weekend



Who's Who in the Town Square?

Get to know some of your fellow Ghostvillagers...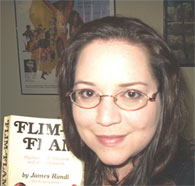 >>Camille<<

What is your name?
Stephanie Lane

How old are you?
32

Where are you from?
Cleveland, Ohio

Have you ever had an experience with a ghost?
I cannot truthfully say that I've had a "paranormal experience." I did have some pretty creepy experiences, but I cannot rule out a rational explanation for any of them. For instance, I spent the night in an old farmhouse in the Cuyahoga Valley. I woke up suddenly in the middle of the night, certain that a little boy was standing in front of a closet across from me in the bedroom, staring at me in the dark. In the morning, I told my friends, and the three of us went into the closet. There, we found an old, rusty blue tricycle. Of course, I could have subconsciously seen that tricycle the prior day, since I had packed my things in the closet before I went to bed. Still, that was a creepy experience.

As a lawyer, do you think there is enough evidence to prove the existence of ghosts in court?
That depends on the issue and the evidence, as well as the audience (judge or jury). Since state courts vary in terms of rules of evidence, I will use the Federal Rules of Evidence as a guideline. "Relevant evidence" as it's defined by the Federal Rules of Evidence is "evidence having any tendency to make the existence of any fact that is of consequence to the determination of the action more probable or less probable than it would be without the evidence." Overall, this standard would seem pretty liberal, right? After all, the evidence need only suggest "any tendency" to prove the existence of the fact more or less probable. But not all relevant evidence is admissible.

Anecdotal evidence (i.e., witness testimony about what he or she saw, heard, experienced, etc.) can present some problems. For instance, if part of your "case" includes witness testimony about communicating with a ghost or spirit, that evidence may theoretically be inadmissible because it is hearsay, involving out-of-court statements of a third party (the spirit). Of course, there is a "dead man" rule, but I wonder if it would be applicable here. This is also a form of "Spectral evidence," which was used during the Salem witch trials to condemn the accused. Needless to say, it was quite easy to obtain a conviction based on this type of testimonial evidence. Thankfully, spectral evidence was later barred from those courts, after realizing how unreliable such evidence turned out to be.

Other types of evidence—spiritography, EVPs, EMF readings, etc.—have their own problems. For instance, there may be foundation/authentication and chain of custody issues, meaning, "Was this evidence actually obtained in the course of the hunt and, if so, was there anything that occurred later that could taint the integrity of the evidence?" By way of example, in DUI defense cases, one of the first things you want to verify is calibration of the breathalyzer machines used by the police to ensure that they were functioning properly. The same could be applied in the case of ghost equipment.

Notwithstanding those issues, if the existence of ghosts is disputed, then the other side can present their own evidence to refute that position. Most likely, this will involve introduction of expert witnesses, including scientists and photography professionals, to offer their own expert opinion.

There actually has been a case out of New York in 1991, where the Appeals Court ruled that a house was haunted by a poltergeist. Stambovsky v. Ackley, 169 A.D.2d 254; 572 N.Y.S.2d 672 (N.Y. Sup.Ct. App. Div. 1991). In that case, the Plaintiff sued to rescind a real estate deal after learning that the house was reputedly haunted, and the owner failed to disclose that fact. The owner had previously reported to the newspapers and Reader's Digest that her house had a poltergeist, but neglected to tell the buyer when she tried to sell it. The owner tried to deny it, but was stopped from doing so since she contributed to the ghostly reputation of the house.

Do you ever find a conflict with your interest in the supernatural and in your profession (i.e., a concern a client may think you're nuts)? If so, how do you deal with that?
No. Actually, some of my clients are Wiccan, and another used to work at a factory that she believed was haunted by a former worker who was killed there. I have a website that covers haunted places and abandoned cemeteries, and have even received good tips from a couple who lived in an abandoned cemetery area supposedly haunted by a ghost train. Funny, after finishing a hearing on one of their cases, I drove out to the cemetery and took pictures.

Normally though, the issue just doesn't come up. Most of my practice involves employment, bankruptcy, and real estate, and many clients are business owners. In the course of representing clients, I don't let my interest get in the way of my job any more than any other attorney who is Christian or Jewish, for instance. If anything, my clients are worried that I think that THEY are nuts for some of their beliefs or eccentric behavior. That can actually cause a problem, in that it can affect their judgment as to how to proceed with a case (pure faith vs. the facts). But that's just human nature, really.


Ghostvillage.com's book reviewer, Lee Prosser, has brought us three new book reviews in July, plus we have the transcript from our "Ghost Chat" with Troy Taylor! Have you read one of these books? Want to add your own review? Click >>here<<.

July's Book Reviews:

The Song That Never Ended: A Jazz Musician's Journey to a Love Beyond Life by John Novello
Wicca for Life: The Way of the Craft-From Birth to Summerland by Raymond Buckland



Origins of Modern Witchcraft: The Evolution of a World Religion by Ann Moura



The Ghosthunter's Guide Book by Troy Taylor





Legends of the Supernatural

Since our last newsletter, the following columns have run:

Astral Travel Agents - People Who Teach Astral Projection, or Willed Out-of-Body Experiences (OBE) - July 26, 2003

What's Your Sign? - An Interview with Astrologer Christopher Renstrom - July 12, 2003

If you know of a publication that may be interested in running this column, drop me a line for pricing information. >>email<<

It was a busy month for the encounters section -- 12 new personal accounts! We've been a little light on photos and EVPs -- if you have some good samples of either, please share them by clicking >>here<<. The following encounters have been added in July:

Swallow Hill Road Haunted House - Pittsburgh, Pennsylvania

Slapped in the Face - New York, New York

Shadow Figure at a German Manor House - Outside of Hamburg, Germany

Visit From the Angel of Death - Tel-Aviv, Israel

Ouija Board Warning - Ontario, Canada

Psychic Energy Cloud - Los Angeles, California

Heavy Breathing and a Flying Penny - San Roman and Edinburg, Texas

Scratching Around the Room - Walnut Creek, California

Ghostly House Guests - Arizona

Family's Guardian Angels - Mesa, Arizona

Eerie Premonition - Paralowie, South Australia

Angry Spirit with Black Eyes - Columbus, Kansas


Our >>Supernatural Auction<< has a lot of ghost hunting equipment, books, and videos on it right now. Check out these new and used products today! If you have a product or service to sell, remember, basic listings are still free -- you have no risk in trying to sell your items on our auction.

New members receive $1.00 credited to their account -- this credit can be used for the extras such as bold listings. This supernatural marketplace is a great way to connect with people who are interested in your products and services.

Besides books, ghost hunting equipment, psychic readings, and computer equipment, here are some current featured auctions:



Chicago's Ghosts (What is a Ghost?) Documentary

Since our last newsletter, the following people have joined us in the Town Square. Please welcome:
didi, blackmustang, CallMeNightshade, angel4u7875, SnuggleBuggs, Dr.Dru, joe_kickbox, drkissfan, BrycenJ, Gregory, slayerfan, akbarsfez, Elana, starrymom123, cjspicer, Cheese, eskimolady, SpiritChime, Ghostinvestigator, mebbc5, Aaron, darkangel, Reven_Neswyn, Angel_of_Death, heatherjean17, knowitall, raventlynn, dwizard23, ash, Tigerlilli, magicmyst, Justlookin53, Gladys, christan, Pandora801, amk1604, rnw308, Scared2Death, Country Angel, ghostjigga, sararush, roxxter, GhostQueenE, SPQR, kingramsey, Quiggs, Jacynda, spikey225, spikey1203, djFaZY, wythenshaweblue, SixthSense, The Purgatory Project, pepper, SpiritVision, buki, ECARRUBBA, Mind_Of_A_Ghost, lena54321, Kellerz, KuCo4594, waterbearer69, CatWeezle, demic, RogueDemonHunter, OakRaven, Martin, stardani, ancient_one, picti, Worship, tomo1811, tomo86, dtherkilds, celaschi, Breathe, Cindy87, oakman29, amk1962, Fluglebinders, Bleever, strega, Michael, evilindisguise, namnik, yamarraliz, gocanes84, mingusboomdaddio, Spooky01013, GHOSMLADY, Cheshire, GhostbusterWoody, holliskid9, rozadotcom3, rah6655, asscracker, zicrona, augie1979, Yellowsta, Holyripper, suwll, HauntedLady34482, dnwittig, canadian_gurl, nikita, fionahaygreen, looking2believe_12, Ghostly_Girls, dai_uk, sparks1, trainreck8, MikeyV4182, Mikey4182, Tbird, dreamer, gothlady, chelle021802, jesseloo9439, peace5150, ISeeDeadPeople, Cindy_DeRosa, Smoochy, jade244, andrus_inc, misplaced_okie, smokeclover, victoriaamaris, sharain, cphilruns, DemonicDiva, HexxMusicAndFilm, toconnx, LuckyGirl180, amyschue, josh_harrngton, winterkoolaid, peekaboo, cleoshank, witchofgreenwood, paranormalsurveys, spooklens, APACHE, greeneyes19414, me, unclestinkyfingers, GiveMeLv, givemegucc, ghsthuntr, gypsyqueen1979, TKE448, daniharris, sPaRkEl_iZz, butterfly, alleen, ScottyDont, Dragon_Angel, nette2127, debbie, Alek, smps69, and Midnyte.



Ghostvillage.com Quick Stats:

21,718 Messages in the Town Square Message Boards
1,972 Members in the Town Square
48 "Encounters" listed in 2003 so far
303 Paranormal Web sites in the Ghost Search directory
4,223 Subscribers to this newsletter
1,508,647 total Web site "hits" for Ghostvillage.com in July

Running Ghostvillage.com takes a lot of time and money. You can help by donating, shopping, using our new auction, or by buying a Ghostvillage.com t-shirt. Every little bit helps run our servers and helps the site get bigger and better -- your support will keep the growth going!

Please email us anytime at info@ghostvillage.com. Your comments, questions, and feedback are always welcomed.