GHOSTVILLAGE.COM NEWSLETTER #138 - August 20, 2013

Buy Books by Jeff Belanger | Jeff Belanger's Official Web site | Visit UFOvillage.com | Like us on Facebook | Paranormal for Kids | Meet the Staff | Advertise with Ghostvillage.com

32,316 Subscribers to this newsletter!

Be sure to forward this on to your friends who are interested in the supernatural!

The Newtown Memorial Fund's mission is to provide support for those affected by the Sandy Hook Elementary School Tragedy, build a memorial, and provide long-term academic scholarships in the names of the victims. http://newtownmemorialfund.org/
---
You are receiving this email because you or a friend signed you up at http://www.ghostvillage.com. If you would like to be removed from this mailing list, please see the instructions at the bottom.
View this newsletter online at: http://www.ghostvillage.com/newsletters/Aug20_13.htm
---
Dear Ghostvillagers,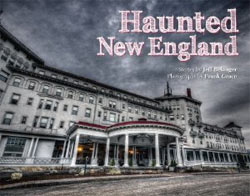 2014 is going to be spooky! I know August may seem a bit early to be looking ahead to next year, but I'm thrilled to announce my 2014 Haunted New England wall calendar with photography by Frank Grace. This gorgeous calendar features twelve haunts from New England. Each month has a write-up on the history and the ghosts, plus Frank Grace's amazing and creepy photography. I'm sure all of your ghostly friends will want one for the holidays, so get 'em now!

This summer has been full of adventures and investigations for me. I'm also working on a new project that I will be able to announce this fall. My objective -- as with everything I do -- is to take you into the haunts and legends like never before. The experience involves exploring history, it's visual, and auditory, and sensory. I can't wait to tell you about what's next!

The other day I was in the card store picking up a birthday card for my sister. I stepped around the aisle and saw Halloween decorations everywhere. Mid-August, and ghosts and monsters are already on the minds of retailers! I'm not going to lie to you: I love it! Each year we start this season a little earlier because the subject is everywhere. It's seeping into popular culture and everyday life. The discussion is the most important thing: that we talk about what these experiences mean to us as individuals, as a community, and as people.

My busy fall season has already started. I have dozens of lectures and events booked so far and am still adding new ones. Please do come by and see me at one of them.

Supernaturally yours,

Jeff Belanger
Mayor of Ghostvillage.com
Twitter: @THEJeffBelanger
Facebook: Jeff Belanger
YouTube: www.youtube.com/legendtripping






Jeff Belanger's Upcoming Events

This is the place to find out where author and Ghostvillage.com founder Jeff Belanger will be speaking on the subject of the paranormal. If you're interested in booking Jeff for a conference or other event, please visit: http://www.jeffbelanger.com/lectures.php for more information.

Events Scheduled:

Dead of Summer at Lizzie Borden's - Fall River, Massachusetts - August 24, 2013
USS Salem: Dead in the Water - Quincy, Massachusetts - August 31, 2013
Parafest 2013 - Bethlehem, Pennsylvania - September 6-8, 2013
SouthCoast Paranormal and Psychic Faire - Fairhaven, Massachusetts - September 22, 2013, 11:00 AM to 7:00 PM
A Supernatural Afternoon with Jeff Belanger at UMASS Dartmouth - North Dartmouth, Massachusetts - September 26, 2013, 3:30PM
Weird Massachusetts Evening with Jeff Belanger - Berkley, Massachusetts - September 26, 2013, 7:00PM
Graveyard Shift: Overtime at Slater Mill - Pawtucket, Rhode Island - September 28, 2013
A Supernatural Evening with Jeff Belanger - Bellingham Public Library - Bellingham, Massachusetts - September 30, 2013, 7:00PM
Chicago Ghost Conference 5 - Chicago, Illinois - October 4-5, 2013
Wareham Haunted History Night 2013 - Wareham, Massachusetts - October 12, 2013
A Supernatural Evening with Jeff Belanger - Medford Public Library - Medford, Massachusetts - October 17, 2013, 7:00PM
A Supernatural Evening with Jeff Belanger - Indianapolis Public Library - Indianapolis, Indiana - October 19, 2013, 7:00PM
A Supernatural Evening with Jeff Belanger - Wingate Healthcare, Inc. - Haverhill, Massachusetts - October 23, 2013, 7:00PM
A Supernatural Evening with Jeff Belanger - Uxbridge Public Library - Uxbridge, Massachusetts - October 24, 2013, 7:00PM
A Supernatural Evening with Jeff Belanger - New Braintree Public Library - New Braintree, Massachusetts - October 26, 2013, 7:00PM
A Weird Massachusetts Afternoon with Jeff Belanger - Hanover Senior Center - Hanover, Massachusetts - October 28, 2013, 1:00PM
Animals and the Afterlife Conference - Boxborough, Massachusetts - November 3, 2013
The Spirits of the S.K. Pierce Mansion - Gardner, Massachusetts - November 9, 2013
The Spirits of The St. Nicholas Hotel – Cripple Creek, Colorado - November 14-17, 2013





Graveyard Shift: Overtime at Slater Mill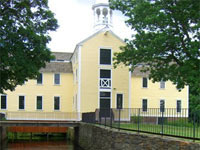 The creepy giggling of a little girl. The horrible shouts of a young boy in pain. Shadowy figures seen roaming about the grounds.

All in a day's work at Slater Mill.

Join us for an investigation of a great New England haunt! For more than 200 years, Slater Mill has sat on the banks of the Blackstone River. It was built in 1793 by Samuel Slater and was the first successful water-powered, cotton-spinning mill in North America. It is considered by many to be the birthplace of American industry.

Click here for more information: http://www.legendtrips.com/slatermill2013.shtml



How to win: Entries will be accepted up until 5:00 PM (eastern time) tomorrow (August 21, 2013). At 5:00 PM, we will draw a winner at random from the correct entries that have been received. You no longer have to be the first, but you only have until 5:00 PM to get your answer in. If you click on this link: http://www.ghostvillage.com/index.shtml#winner, you see today's date, and "We have a winner!" that means the contest has ended. Sorry, please try again next month. To submit your entry, simply reply to this email with the correct answer.

On to this month's question: This question can be answered by reading a page on Ghostvillage.com. Remember, reply by 5:00 PM tomorrow to be eligible to win.

What happened in Rev. Sherrie James's strange dream?

At 5:00 PM tomorrow, we will announce the winner on our home page. Good luck! (Only Ghostvillagers who have not won a prize from us in the last year are eligible.)



This month's prize: We're giving away an autographed copy of Jeff Belanger's 2014 Haunted New England Wall Calendar and a Ghostvillage.com window sticker!


Didn't win? Want to buy a copy? Click on the graphic.



Our "Features" section is a place for editorials, research articles, open letters to our readers, and other content of interest to Ghostvillagers. If you have a topic on your mind, agree or disagree with something you read recently, we want to hear from you! For guidelines, click here.

New features added since our last newsletter:

Was it Paranormal -- Or Just Me? August 19, 2013
Beyond Area 51 with Mack Maloney July 16, 2013 [VIDEO]
Mermaids with Varla Ventura June 25, 2013 [VIDEO]
Covering the Unexplained in the Media June 18, 2013 [VIDEO]





Ghostvillage.com Advertising Opportunities

Each month Ghostvillage.com reaches tens of thousands of people interested in the paranormal. We offer the most effective and best-valued advertising and sponsorship packages of any paranormal media outlet. Please visit: http://www.ghostvillage.com/advertising.htm for details.

If you're ready to put Ghostvillage.com to work for your company or organization, send us an email to get started.


We receive personal encounters from all over the world. Many are scary, some are touching, but they are always profound. If you would like to share your own experience, please click >>here<<. Since our last newsletter, we added the following new encounters:

The Floating Hand -- Buckeye, Arizona
Pilgrim Ghosts? -- Plymouth, Massachusetts
Strange Kids in the Neighborhood -- El Paso, Texas
The Blessing My Uncle Left Me -- Washington, Indiana
A Crisis Apparition in Minnesota -- Mentor, Minnesota
The Shaking Mailbox -- Northwest Minnesota





Ghostvillage.com Quick Stats:

325,210 Posts in the Town Square Message Boards
30,276 Members in the Town Square
1,119 "Personal Encounters" published on Ghostvillage.com
1,823 Paranormal Web sites in the Ghost Links directory
32,159 Subscribers to this newsletter


Ghostvillage.com is the Web's largest supernatural community, the central place where people come to share their experiences, thoughts, and research. Please help us continue to grow by buying a copy of The World's Most Haunted Places, Communicating With the Dead, The Encyclopedia of Haunted Places, The Nightmare Encyclopedia, Our Haunted Lives, Ghosts of War, The Ghost Files, Weird Massachusetts, Who's Haunting the White House?, The Mysteries of the Bermuda Triangle, Picture Yourself Legend Tripping, or Chasing Spirits. Every little bit helps run our servers and helps the site get bigger and better! Please also click on our banner ads and support our advertisers -- when you do business with someone who advertises with Ghostvillage.com, let them know you saw their ad with us and thank them for the support.

Please email us anytime at info@ghostvillage.com. Your comments, questions, and feedback are always welcomed.


---
All material is © 2013 Ghostvillage.com
REMOVAL INSTRUCTIONS: To be removed from the mailing list, please go to www.ghostvillage.com/subscribe.shtml or click on the link below.