GHOSTVILLAGE.COM NEWSLETTER #48
August 16, 2005

Shop at Ghostvillage.com | The World's Most Haunted Places | Communicating With the Dead | The Encyclopedia of Haunted Places

Be sure to forward this on to your friends who are interested in the supernatural!

Click here for the first directory written by scores of the world's leading paranormal investigators: http://www.amazon.com/exec/obidos/ASIN/1564147991/ghostvillagecom
---
You are receiving this email because you or a friend signed you up at http://www.ghostvillage.com. If you would like to be removed from this mailing list, please see the instructions at the bottom.
View this newsletter online at: http://www.ghostvillage.com/newsletters/Aug16_05.htm
---
Dear Ghostvillagers,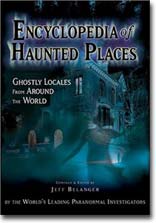 We have very big news to announce this month -- The Encyclopedia of Haunted Places: Ghostly Locales from Around the World is here! This book is a true first for the field of supernatural research. Not only does the book include photographs, eyewitness accounts, and investigation research notes from hundreds of haunted locations from around the globe, it's also the first book to be written by the local paranormal investigators who know these locations best.

I'm proud to have been the editor and compiler of this massive book. Scores of the world's leading investigators wrote about the history and ghosts from some of their favorite haunts, and the result is a directory that can serve as a haunted travel guide, a book of ghost encounters, and in the back is a region-by-region directory including contact information for paranormal investigators from all over the United States, Canada, Europe, the Far East, and Australia. Inside, there are interviews with some of the most renowned ghost investigators including: Dr. Hans Holzer, Ed and Lorraine Warren, Troy Taylor, and Loyd Auerbach.

Our field of study is organizing, growing, and doing some fantastic work, and this book is a celebration of that growth. I hope you'll pick this book up and show your support for the many people doing this work. As with all of my books, your purchase also helps Ghostvillage.com grow -- and grow we have!

This past month we've added several new feature articles and news items, and we've welcomed hundreds of new Ghostvillagers. We've also added several new paranormal talk radio programs to our radio page. If you haven't checked this out yet, run, don't walk... to: http://www.ghostvillage.com/resources/ghostradio.shtml. There are great paranormal shows going on every day of the week, and you can tune in directly from our site. Think of us as your haunted radio on the Web.

Folks, we're about to enter our busy Halloween season and there are huge things in the works! Thanks for being a part of our village and enjoy the rest of the newsletter below.

Supernaturally yours,

Jeff Belanger
info@ghostvillage.com
Mayor of Ghostvillage.com


Congratulations to Joe D. from the Island of Malta, who was last month's winner of an autographed copy of Jeff Belanger's book, Communicating With the Dead: Reach Beyond the Grave and a Ghostvillage.com t-shirt!

This month, we're doing the contest again, but we ask that you first click this link: http://www.ghostvillage.com/index.shtml#winner. If it says, "The search is on" then we don't have a winner yet and go ahead and send in your answer. If you see today's date and "We have a winner!" that means you weren't the first to email us. Sorry, please try again next month.

On to this month's question: This question can be answered by reading a page on Ghostvillage.com. The first person to reply to this email with the correct answer will win this month's prize.

What are the four names of the members of Lord Foxglove's investigation team?

Once we have a winner, we will announce it on our home page as soon as possible. Good luck! (Only Ghostvillagers who have not won a prize from us in the last year are eligible.)



This month's prize: We're giving away an autographed copy of Jeff Belanger's brand new book, The Encyclopedia of Haunted Places: Ghostly Locales from Around the World, a Ghostvillage.com window sticker, and a Ghostvillage.com t-shirt!


Didn't win? Want to buy a copy? Click on the graphic.



The Supernatural Calendar is the place where thousands will learn about your events of interest to the supernatural world. The service is only available to registered members of the message boards, and it's free! We'd like your help filling our calendar in -- so add your events for thousands of Ghostvillagers to see. Here's some of the conferences, happenings, and meetings going on in the next two months:

August 17: Jeff Belanger on X-Zone Radio
August 19: Ghosts of Griffin Gate, Jeff Belanger on Magick Mind Radio, Paranormal Conference
August 20: Book Signing-Cape Encounters: Contempora, 1st Annual Paranormal Conference, Haunted Overnight-Waverly Hills
August 27: Haunted Heartland Ghost Tour
September 10: Haunted Heartland Ghost Tour
September 16: 2005 Tulsa Ghost Conference
September 17: San Diego Pagan Pride Day
September 24: Haunted Heartland Ghost Tour
October 1: Ghosts of Griffin Gate
October 2: Las Vegas Paranormal Conference - Jeff Belanger will be speaking at this conference




Who's Who in the Town Square?

Get to know some of your fellow Ghostvillagers.



>>juliet_keller<< - member since January 1, 2003

What is your name?
Juliet Marie Keller

How old are you?
Ugh... 29 + 1

Where do you live?
Wadsworth, Ohio

What do you do for a living?
I'm a State Tested Nursing Assistant, but getting ready for school to be a Licensed Practical Nurse.

How did you get interested in the supernatural?
My aunt was a dream interpreter and got me interested in the paranormal when I was 7 years old. I had been doing investigation on my own for two years until I met Dave and now we have been working as a team called "The Spirit Stalkers" for about a little over two and a half years together doing paranormal investigations. I also still like to delve into Ouija boards and tarot cards as well, from time to time, and I seem to have picked up on my aunt's sense of dream abilities, too.

In your opinion, what is the most critical piece of equipment to bring along in an investigation?
Dave, because he makes me laugh... no, seriously... that's a toughie. Either a 35mm camera with 400 speed film or a regular voice recorder -- either one or the other are just basic pieces of equipment that you can use on any ghost hunts.

Favorite ice cream flavor?
Another toughie... I'm not one for ice cream, but if it would have to be anything, it would have to be just a plain chocolate milk shake.


Ghostvillage.com's book reviewer, Lee Prosser, has brought us several new book reviews since our last newsletter.


This past month's Library additions:

Abrahadabra: Understanding Aleister Crowley's Thelemic Magick by Rodney Orpheus

The Holy Books of Thelema by Aleister Crowley

Atlantis AND Lemuria and Atlantis by Shirley Andrews

Douglas De Long interview by Lee Prosser [AUTHOR INTERVIEW]

Kitchen Witch's Guide to Brews and Potions by Patricia Telesco

Trespassing Time by Barbara J. Baldwin, Jerri Garretson, Linda Madl, and Sheri L. McGathy

Book of the Law by Aleister Crowley

Awakening Kundalini For Health, Energy, and Consciousness, Sounds of the Chakras, and Sacred Sounds of Santeria [AUDIO REVIEW]

Beyond Reincarnation by Joe H. Slate, Ph.D.

Taking Up The Runes by Diana Paxson



We receive personal encounters from all over the world. Many are scary, some are touching, but they are always profound. If you would like to share your own experience, please click >>here<<. Since our last newsletter, we added the following new encounters:

The Man in the Pool - Marietta, South Carolina [PIC]

The Girl at the End of My Bed - Louisiana

Fog of Spirits on the Graveyard Shift - Springfield, Pennsylvania

Floyd and the Walking Horse Hotel - Wartrace, Tennessee

Rattling Cabinets From Mom - Pensacola, Florida

The Basement Girl - Eau Claire, Wisconsin

Scarborough Beach Restaurant Apparition - Scarborough Beach, Western Australia [PIC]

The Ghostly Ballroom - Delevan, Wisconsin

The Haunted Garden - Cornwall, England, UK

Gale Force Phantom Winds - Sussex, England, UK

Tomkins Square Park Apparition - New York, New York [PIC]

The Girl in the Pilgrim Dress - Griffin, Georgia

A Late-Night Visitor - Loveland, Colorado


This is a new section we have added to Ghostvillage.com. This is the place to find press releases and news items on paranormal happenings around the world. If you have a news item you'd like to submit, please see our guidelines.

1st Annual Paranormal Ghost Hunting Conference to Be Held in Cedar Key, Florida, August 20th and 21st - August 15, 2005 [CONFERENCE WATCH]

San Diego Pagan Pride Day 2005 to Be Held September 17th - August 12, 2005

Philip Gardiner's Forbidden Knowledge Conference to be Held July 1, 2006 - July 25, 2005 [CONFERENCE WATCH]

The Learning Channel Seeks People With Haunted Possessions - July 19, 2005


Our "Features" section is a place for editorials, research articles, open letters to our readers, and other content of interest to Ghostvillagers. If you have a topic on your mind, agree or disagree with something you read recently, we want to hear from you! For guidelines, click here.

This month we'd like to welcome our newest columnist, Lord Foxglove! Lord Foxglove is author of the book, Advancing The Witches' Craft: Aligning Your Magical Spirit Through Meditation, Exploration And Initiation Of The Self. Foxglove's monthly column is called "The Witchcraft Connection" and will feature his ghost investigations using intuitive abilities and Witchcraft as a means of gathering details about each haunting. Check out the first column below!

New features added since our last newsletter:

Bide One's Time - High Spirits - by Lee Prosser - August 15, 2005 [COLUMN]

CBS Introduces the Ghost Whisperer by Jeff Belanger - August 5, 2005

Bide One's Time - Ghostly Encounter - by Lee Prosser - August 1, 2005 [COLUMN]

The Witchcraft Connection - Welcome - by Lord Foxglove - July 20, 2005 [COLUMN]




Jeff Belanger's Upcoming Events

This is the place to find out where author and Ghostvillage.com founder Jeff Belanger will be speaking on the subject of the supernatural. If you're interested in booking Jeff for a conference or other event, please email us for more information.

Events Scheduled in 2005 so far:

Ghost Convention International 2005 on the Queen Mary in Long Beach, California - September 9-11 [Please note this event has been canceled]

Las Vegas Paranormal Conference in Las Vegas, Nevada - October 2-4

A haunted dinner and ghost talk with Jeff Belanger and the New England Ghost Project at The Windham Restaurant in Windham, New Hampshire - October 12th - details coming soon!

A Supernatural Evening With Jeff Belanger in Bellingham, Massachusetts - October 25th

A haunted dinner and ghost talk with Jeff Belanger at Stone's Public House in Ashland, Massachusetts - October 27th call +1.508.881.1778 for details/reservations




Hot Threads in the Community

If you have registered for our message boards but haven't validated your account yet, it's simple to do! Look for the email that was automatically sent to you when you registered and click on the account activation link in the email (note: some spam filters may block this email, so you'll need to check your spam folder if the validation email didn't immediately come through). There are always great discussions going on in our huge message board community. We hope you'll get involved. It's free to register if you're not already a member. Here are some of the hot topics this month:

Cold Readings
http://www.ghostvillage.com/ghostcommunity/index.php?showtopic=9176
What are they and are they real?

You have to hear this
http://www.ghostvillage.com/ghostcommunity/index.php?showtopic=9547
One of the most clear EVP ever to date!

Test yourself
http://www.ghostvillage.com/ghostcommunity/index.php?showtopic=9517
Is this ghostly phenomena or simply a trick played by the camera? Take a look at this poll and see what you think.

Which percentage are you?
http://www.ghostvillage.com/ghostcommunity/index.php?showtopic=9165
At least one-third of Americans believe in ghosts. How about you?

Scientology
http://www.ghostvillage.com/ghostcommunity/index.php?showtopic=2220
The Church that L. Ron Hubbard Built

Cryptzoology - Bigfoot Encounters
http://www.ghostvillage.com/ghostcommunity/index.php?showtopic=8795
Discuss Bigfoot encounters and exchange theories.

Horror Movie Trivia
http://www.ghostvillage.com/ghostcommunity/index.php?showtopic=9061
Test your knowledge of scary movies.

Queen Mary
http://www.ghostvillage.com/ghostcommunity/index.php?showtopic=8546
A haunted ship with great history

Express your love
http://www.ghostvillage.com/ghostcommunity/index.php?showtopic=9504
What do you love about Ghostvillage?

Shoutbox Update
http://www.ghostvillage.com/ghostcommunity/index.php?showtopic=9643
How and when will the shoutbox change?



In the last month, the following people have joined our ghostly community. Please welcome:

sarahrogers, athinea, jeff_jubb, sarahbird, ejwd, kitty101, Claud8270, WannaCghosts, satans_babygirl666, lovelygemini2004, bcrich213, Greywolf73, mystery_lady, AutumnWolf, MowMowsGirl, SpookyChic, Ambra, livingdeadgirl, gypsyrose, Hellboy!, ComfortInDarkness, joenny, boikori, Buddy, dragonlady, wabbit, randy, tware, annie24311, vortexguy2006, florda23, karipolsom04, zydeceaux, Blackviolett, Bill, ashencrumbs, Andi, llion, Leila, rock_your_minions, laurann1765, Fernando, mindsplintersfilms, mccurley8715, moonwolf, Tezex, eeed1, greattenchim, razor_sharp_raven, hauntednewyorkstate29, Sapphrina, hauntedgirl23, robin k, spiritwheel, whenbothofourcarscollide, ghosthunter_uk, Angel_eyes_, frickie, yokuso, cardinalsyn, justonemorenut, lwilde, phantomshadow, julianbaye, lolli, Ferez1, cherryb4428, hackersdream, GillGal, StarJenn, ozdreamer, elf, guitarbabe18, spiritinthesky, Grant, How_Wrong_We_Were, LINDACROSSON, aaaaa, The Ghost, Kathie, Jamie_s_1981, Dan Man, shecutekat, starlighter, wrappedupinchains, tonebone, Kstornado11, texasav8r, Nightangel1282, Philip Gardiner, Ghost_believer_, Rambone, BeckyRay, FireCrusher_15, FreakNWitch, Sophies_world, moregon, babyface77, MissLafay, wicken witch, skitz, TeeTud_99, Ledian, cat, leighanno, sinister, hershey, GhostVamp, Omeriah, mas4ja, Clickit, markmidi, whitehawk77, chakobr, Flormarina, BernardDrgn, SaintBoogie, courtneyb, ghost huntress, ohioghosts, speedy3500, SouthernSpirits, ladyizcrazy, hitoride, titchy12, Diozo, madelynalt, mollybear, tarbabi, taijiya, watcher, caralee, ghosthuntergrandma, Rocksteady, bettyboop, bloodybernie, sisterwind2, ghosthunterz, Galaz20, gablefan, wish, Secretplague, rjbarnett, aimsyf, londlonliz38, mormon223, rosequartz9, enigma0324, merlengwen, msmousie, Evan6, shell, ahlzienen, andrewgrahan7@btinternet.com, bergkate, RockyHorror6, kingo'mountain, SachiSachi, The Chosen One, Renenet05, Grigori Priest, DEVILPHOENIXRAM, Blood Goth7, populacex, cntgtenf, johnnyk, superd, PDOOBEPD, Demostar, gilbey_69, Psychicrod, ssierocki, RyeBread, new to this 2005, dove, romero, Odyssey, MY_GUIDE, sledd67, Nokywho, MoGryph, GhostGuyDan, death_is_painless, mechanical_animal, Avinash, Vennie, HCMB1415, suzyl, kellyb, Rjay81, jamescb, PeteG, white_fawn_84, smac, virgosun10, paulie761, ranmasaotome120484, dark_angel1134, gettynut93, Dark Whispers, Delwynn, storycollector, sneeuwwitje00000, FELETHIA, arno110490, from the darkside, AnnEnigmaCA, mrumstay21274, le_baron, Ying Yang, Mystic_bunghole, choochie, Katarina, BootstrapQuellee, bloody mary, galvins2, Bran ap Llywelyn, brandon5748, ghostHOST, pamipoo, heatherk3185, NocturnalDezire, S_Fragger, angeling8, Glitterbunny, Voyager, Ravenwolfe, Hunter 555, stormo, hunter 55, Socalhunter, DreamWhispers, KenaGirl, LoveMMonroe, SOLBERDING, UConnLaw25, will21, kingy7, annesion, BlueRainbow, ghostluva_of_pluto, lacasso32, SoulsOfBlack, linds516, path_seeker, MSghostseeker, bewsbud, mystiquemonique, seekghost, skeiilon, Lostsoul1, sapphire29, bazranz, academic, losvil46, SDPPD, brewking78, shadowkiss, naughty_surfer, frontier33, bchapman992, HERMESIEL, mspilgrim_420, RIPLarry, Fairygothmommy, Meow?, DustyStrawberry, shadowmens, sieeramist_90, MikeHunter007, DDChick, scot, ghostlywoman, avi, spookybones, Drew_Arizona, ghostecho, El Stephanika, kkolupa, papaul, aerofan63, jsuzannesmith, SeanL, azghost, bharathsu, gill30v, AAangel420, garzu, crimsonette, squidge, Xerasia, MBrown9297, the_haunting_girl, MaidenInFlames, somewhatskeptical, Hoffbonics, Logan_M., welshpercy, tammy379, and mecop186.



Ghostvillage.com Quick Stats:

140,836 Messages in the Town Square Message Boards
8,542 Members in the Town Square
390 "Personal Encounters" published on Ghostvillage.com
318 Paranormal Web sites in the Ghost Links directory
15,799 Subscribers to this newsletter
5,920,919 total Web site "hits" for Ghostvillage.com in July


Ghostvillage.com is the Web's largest supernatural community, the central place where people come to share their experiences, thoughts, and research. Please help us continue to grow by donating, buying a copy of The World's Most Haunted Places: From the Secret Files of Ghostvillage.com, Communicating With the Dead: Reach Beyond the Grave, The Encyclopedia of Haunted Places, shopping, or by buying a Ghostvillage.com t-shirt. Every little bit helps run our servers and helps the site get bigger and better! Please also click on our banner ads and support our advertisers -- when you do business with someone who advertises with Ghostvillage.com, let them know you saw their ad with us and thank them for the support.

Please email us anytime at info@ghostvillage.com. Your comments, questions, and feedback are always welcomed.


---
All material is © 2005 Ghostvillage.com
REMOVAL INSTRUCTIONS: To be removed from the mailing list, please go to www.ghostvillage.com/subscribe.shtml.