GHOSTVILLAGE.COM NEWSLETTER #142 - December 18, 2013

Buy Books by Jeff Belanger | Jeff Belanger's Official Web site | Visit UFOvillage.com | Like us on Facebook | Paranormal for Kids | Meet the Staff | Advertise with Ghostvillage.com

30,874 Subscribers to this newsletter!

Be sure to forward this on to your friends who are interested in the supernatural!

Jeff Belanger's new DVD series explores the ghosts, monsters, and mysteries of New England! http://ournewenglandlegends.com/
---
You are receiving this email because you or a friend signed you up at http://www.ghostvillage.com. If you would like to be removed from this mailing list, please see the instructions at the bottom.
View this newsletter online at: http://www.ghostvillage.com/newsletters/Dec18_13.htm
---
Dear Ghostvillagers,


The holidays are here again! 'Tis the season for joy, legends, and ghost stories. You already know about Santa Claus, but there are other legendary yuletide figures that don't get nearly enough attention. I thought we'd tip our hats this month to Krampus and the Belsnickel -- both are from the Alpine region of Europe and are a counterpart to Santa.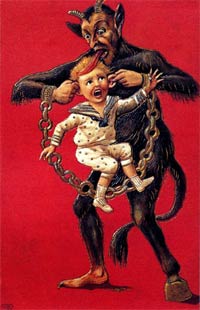 Let's start with Krampus. Krampus is a beastly creature. He's tall, thin, and covered with hair. From his head, black horns sprout like dark fountains. His long, red tongue hangs from his mouth like a panting dog. Around his body there are chains; from shoulder to shoulder and around his waist. His long tail swishes back and forth like a snake ready to strike. One of his feet is hairy, the other is a cloven hoof. Over his shoulder, the creature carries a scratchy burlap sack that he fills with naughty children. Krampus comes around each December 5th, which is the eve of Saint Nicholas' day. He gathers up all of the bad children and takes them back to his lair where he eats them!
Santa is then free to deliver toys and goodies to all of the good children. Krampus was most popular in the second half of the nineteenth century, but in more modern times, he's faded into the background. Though it would appear he's poised for a comeback these days. Forget warning your kids about lumps of coal… Krampus is much worse.
Krampus's methods may be the most extreme, but he's not alone. There's also the Belsnickel. Der Belsnickel hails from southwestern Germany. The Belsnickel is a crotchety old man who dresses in furs, rags, and wears a mask. He carries a stick in his hand… what for? To whip bad children. The Belsnickel shows up a week or two before Christmas to help spot the bad children. In some versions of the story, he may come into your home and toss some candy on the floor. If your children are greedy and jump for the treats, they get whipped with the switch. If they're good children and ask first, they're spared the beating.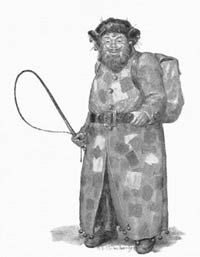 Unlike Krampus, the Belsnickel offers redemption. Bad kids are whipped and warned to correct their ways so Santa can bring them presents on Christmas.
Krampus and the Belsnickel aren't the enemies of Santa. Far from it. They both serve their purpose: a warning that there are consequences for bad behavior.
Just like Santa, we define all yuletide figures. These creatures are based on stories that have been passed around, supplemented, and augmented. They're a reflection of who we are. I love that these legends connect us not only with each other, but with our ancestors, our distant relatives from lands far away, and with history.
There was a time not so long ago when Christmas meant ghost stories. You may recall the line from the song "It's the Most Wonderful Time of the Year," that goes: "There'll be scary ghost stories and tales of the glories of Christmases long, long ago." Don't waste the opportunity to share these stories with your families and friends.
Connecting with people is a beautiful thing. There's a spirit of place. I believe there are spirits of people. But there's also a spirit of season. It possesses us each year and can make us work miracles.
From my family to yours, here's wishing you a safe and warm holiday season, and a great 2014!
Supernaturally yours,

Jeff Belanger
Mayor of Ghostvillage.com
Twitter: @THEJeffBelanger
Facebook: Jeff Belanger
YouTube: www.youtube.com/legendtripping




Dead of Winter: The Lizzie Borden House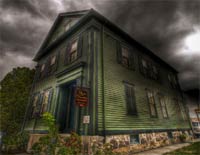 Lizzie Borden took an axe in this Fall River, Massachusetts, home and created one of New England's most renowned haunts.

Need a last-minute gift idea for your favorite ghost investigator? How about a ticket to the annual Dead of Winter event! This unsolved mystery beckons people from all over the world to become part of the story that is Lizzie Borden's. You've seen it on all of the ghost investigation television shows, now check it out for yourself on February 22, 2014. Includes dinner, snacks, a historic tour, and hours of ghost investigations!

Click here for more information: http://www.legendtrips.com/lizzieb2014.shtml





Jeff Belanger's Upcoming Events

This is the place to find out where author and Ghostvillage.com founder Jeff Belanger will be speaking on the subject of the paranormal. If you're interested in booking Jeff for a conference or other event, please visit: http://www.jeffbelanger.com/lectures.php for more information.

Events Scheduled:

Jeff Belanger TEDx talk – Spence School - New York, New York - January 28, 2014
Dead of Winter at Lizzie Borden's - Fall River, Massachusetts - February 22, 2014
A Weird Massachusetts Evening with Jeff Belanger - Norton Public Library - Norton, Massachusetts - August 12, 2014 6:30PM



How to win: Entries will be accepted up until 5:00 PM (eastern time) tomorrow (December 19, 2013). At 5:00 PM, we will draw a winner at random from the correct entries that have been received. You no longer have to be the first, but you only have until 5:00 PM to get your answer in. If you click on this link: http://www.ghostvillage.com/index.shtml#winner, you see today's date, and "We have a winner!" that means the contest has ended. Sorry, please try again next month. To submit your entry, simply reply to this email with the correct answer.

Congratulations to Greg Curtis of Mitchell, Indiana, who was last month's winner!

On to this month's question: This question can be answered by reading a page on Ghostvillage.com. Remember, reply by 5:00 PM tomorrow to be eligible to win.

How old was Maria Amador when she saw the ghostly hand in the corner of her room?

At 5:00 PM tomorrow, we will announce the winner on our home page. Good luck! (Only Ghostvillagers who have not won a prize from us in the last year are eligible.)



This month's prize: We're giving away autographed copies of Jeff Belanger's 2 new DVDs: New England Legends and a Ghostvillage.com window sticker!


Didn't win? Want to buy a copy? Click on the graphic.



Our "Features" section is a place for editorials, research articles, open letters to our readers, and other content of interest to Ghostvillagers. If you have a topic on your mind, agree or disagree with something you read recently, we want to hear from you! For guidelines, click here.

New features added since our last newsletter:

Animal Reincarnation with Alexis Brooks November 26, 2013 [VIDEO]





Ghostvillage.com Advertising Opportunities

Each month Ghostvillage.com reaches tens of thousands of people interested in the paranormal. We offer the most effective and best-valued advertising and sponsorship packages of any paranormal media outlet. Please visit: http://www.ghostvillage.com/advertising.htm for details.

If you're ready to put Ghostvillage.com to work for your company or organization, send us an email to get started.


We receive personal encounters from all over the world. Many are scary, some are touching, but they are always profound. If you would like to share your own experience, please click >>here<<. Since our last newsletter, we added the following new encounters:

The Shadow Chased Me -- Bedworth, England
The Hand in the Corner -- Buckeye, Arizona





Ghostvillage.com Quick Stats:

326,797 Posts in the Town Square Message Boards
30,276 Members in the Town Square
1,137 "Personal Encounters" published on Ghostvillage.com
1,823 Paranormal Web sites in the Ghost Links directory
30,874 Subscribers to this newsletter


Ghostvillage.com is the Web's largest supernatural community, the central place where people come to share their experiences, thoughts, and research. Please help us continue to grow by buying a copy of The World's Most Haunted Places, Communicating With the Dead, The Encyclopedia of Haunted Places, The Nightmare Encyclopedia, Our Haunted Lives, Ghosts of War, The Ghost Files, Weird Massachusetts, Who's Haunting the White House?, The Mysteries of the Bermuda Triangle, Picture Yourself Legend Tripping, Chasing Spirits, 2014 Haunted New England wall calendar. Every little bit helps run our servers and helps the site get bigger and better! Please also click on our banner ads and support our advertisers -- when you do business with someone who advertises with Ghostvillage.com, let them know you saw their ad with us and thank them for the support.

Please email us anytime at info@ghostvillage.com. Your comments, questions, and feedback are always welcomed.


---
All material is © 2013 Ghostvillage.com
REMOVAL INSTRUCTIONS: To be removed from the mailing list, please go to www.ghostvillage.com/subscribe.shtml or click on the link below.