Shop at Ghostvillage.com | Support Ghostvillage.com | Ghost Chat

Be sure to forward this newsletter on to your friends!
---
You are receiving this email because you signed up at http://www.ghostvillage.com. If you would like to be removed from this mailing list, please see the instructions at the bottom.
View this newsletter online at: http://www.ghostvillage.com/newsletters/Dec20_02.htm
---
Dear Ghostvillagers,

Happy holidays to you all! Do you know why Christmas falls on December 25th? I'll give you a hint -- it is not the day Jesus Christ was born. As with Halloween, the Catholic Church adopted its "if you can't beat 'em, join 'em" mantra to combat another Pagan holiday that wouldn't go away no matter how evil the church made it out to be. The Pagan holiday is called "Yule."

Yule is the Anglo-Saxon festival commemorating the winter solstice. Many of the Pagan practices in and around Yule are all around us every year, and some of us don't even realize it. The word "Yule" comes from a word that translates into "wheel" -- the calendar year is seen as a wheel and "Yule" is the end of one year and the beginning of the next.

Yule takes place on the longest night of the year and is a time to honor the death and rebirth of the sun. During the Yule celebration, the Druids would cut sacred mistletoe. Evergreens such as bay, rosemary, ivy, holly, and fir trees would be cut and burned to keep goblins and ghosts from haunting them in the coming year. The whole celebration is a cleansing of the past year and a look forward to coming opportunities.

2002 has certainly been a memorable year for Ghostvillage.com -- we have more members and traffic than ever before, and our community continues to grow. Thank you all for being a part of this wonderful corner of the Internet. Next year, you can look forward to more great articles, stories, and further evidence surrounding ghosts and the supernatural.

Happy holidays and have a safe and prosperous new year!



Who's Who in the Town Square?

This is a new feature that will appear in our newsletters going forward. If you would like to be profiled here, >>email us<<.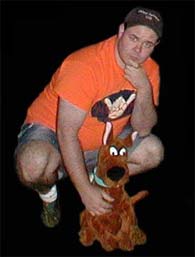 >>ghosthuntergow<<

What is your name?
Jason Gowin but most of my friends call me Gow.

Where are you from?
Right now I'm living in Honolulu, Hawaii, but I'll be returning back to Northeastern Pennsylvania soon to reunite with my ghost hunting team, Ghost Hunters Incorporated (GHI).

How old are you?
24 and counting.

What first got you interested in ghosts and the supernatural?
When you grow up on cartoons like Scooby-Doo and Ghostbusters, the supernatural is always right there, and it leaves so many unanswered questions and you just get hooked. Ghosts are addicting.

Have you ever had a supernatural experience?
As part of GHI, we've been very fortunate in the fact that we've had very, very good luck in finding supernatural experiences, from the abandoned train tunnel called "7 Steps" to the old mining cemetery on Barclay Mountain, ghosts let themselves be heard and felt by us. They make their presences known, and as you continue to have such great success with it, you get further and further sucked into finding more of them.


Author Tamara Thorne will be joining us in a special Ghost Chat on Wednesday, January 8, 2003, at 8 pm E.S.T. Tamara is an avid ghost hunter and enthusiast and is the author of six novels. She will be discussing her latest book, The Forgotten, as well as the ghostly influences in her writing. Other books by Thorne include: Bad Things, Candle Bay, Eternity, Moonfall, and Haunted.

As a special treat, we should have our new chat room in place for the Tamara Thorne chat. If you would like to suggest a topic or a guest you want to see in Ghost Chat, let us know. >>email<<



Legends of the Supernatural

Since our last newsletter, two >>Legends of the Supernatural<< columns have been published. We paid a visit to >>John Stone's Inn in Ashland, Massachusetts<< and examined the >>Old Hag Syndrome<<. Thank you to all who wrote in with comments and questions. Keep them coming!

Have you ever visited a psychic? Whether you had a good or bad experience, we would like to >>hear<< from you.

If you know of a publication that may be interested in running the column, drop me a line. >>email<<

Chris Vargo of >>The Paranormal Journal<< asked me to pass this on:

The Paranormal Journal is a collection of material researched by Chris Vargo, Jr. and his team. His material was collected through a number of sources, then compiled into an online report for the public. In their database, you will find information written by their members, along with government-issued Freedom of Information Act (FOIA) documents.

If your organization has an announcement you would like to share with our audience, >>email us<<.

If you have an encounter, please share it by clicking >>here<<.

Premonition and Returning Visits - Ventura, California
Contacting Family with a Ouija Board - Bridesburg, Pennsylvania
A Woman of Warning and Comfort - GVSU, Allendale, Michigan
USS Alabama Officer Remembered - Mobile, Alabama



Since our last newsletter, the following people have joined us in the Town Square. Please welcome:
girlsgalaxy, Ltlbrandy, AshleyNicole, Rainy, Nicole479, LucidAngel, BRIELOVESGHOSTS, ibelieve40, demonhunter, Casper 1, jolttttt, Babys_Breath2, DragonFire, saumarez, superman_07, Keller, kittie42688, hyperchicks, stickynugz, james, orchestrope, reba13, blood_curdle, Casper2, samandsarina, SlyLilFoxie, keq, ladyphoenix, Dekar72, heavenballet, zecadon, JethNur, DecayingHeart, DownLowSchiz, pyrophile, ridgerunner, catken, killhatetragedy, moonshadows, ShadowedMoon, Amyo0, Lee, kittyspaz12, Ghost, Lantana, wolfmaster, Yearbooklover, Duckfan, taintedwool, voices, Lionp, blue2, ghost_searcher, ghostchaser911, Ph33R, morgang, mmurray_1983, samara, bake57, Celine, spiritwriter, skeptic001, babygurl69, ofe#1, Dave Donley, SnowAngels, glee82, hannah-leigh, rattle_your_bones, claireisspooky, chrissiebug, azzazel, soulfilter, Aardvark47, sabrina, cookie21, LEWIS, KittenCadaver, Anadori, baron99, marshall10, firesun, sweetiepie, babygirl30, masti_unlimited43, ohhorror, spiritseek, ShyningStarr, ca9831, dizemisliz, Sweet_Spirits, ScarySherry, Jam, Sam, Cygnusia, Valentine14520, [-Nithael-], grinderwolf, and Kathisue.



Ghostvillage.com Quick Stats:

10,754 Messages in the Town Square Message Boards
1,083 Members in the Town Square
63 "Encounters" listed so far in 2002
243 Paranormal Web sites in the Ghost Search directory
1,725 Subscribers to this newsletter.

Donate, Shop, or buy a super-cool Ghostvillage.com t-shirt. It all helps make our community bigger and better.

Please email us anytime at info@ghostvillage.com. Your comments and feedback are always welcomed.

Happy Haunted Days,

Jeff Belanger
info@ghostvillage.com
Mayor of Ghostvillage.com