GHOSTVILLAGE.COM NEWSLETTER #102 - February 16, 2010

Buy Books by Jeff Belanger | Jeff Belanger's Official Web site | Visit UFOvillage.com | Visit us on MySpace | Paranormal for Kids | Meet the Staff | Advertise with Ghostvillage.com

Be sure to forward this on to your friends who are interested in the supernatural!

A new paranormal television talk show from the warped mind of Jeff Belanger. Live Thursday nights at 8 PM. View the live stream or watch previous episodes online for free. If the truth is out thereÖ 30 Odd Minutes will only find it by sheer accident. http://www.30oddminutes.com/
---
You are receiving this email because you or a friend signed you up at http://www.ghostvillage.com. If you would like to be removed from this mailing list, please see the instructions at the bottom.
View this newsletter online at: http://www.ghostvillage.com/newsletters/Feb16_10.htm
---
Dear Ghostvillagers,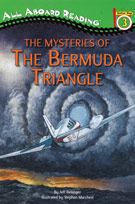 Hey kidsÖ or people who act like kids... or who are kids at heart... or who know kids... or who are reading at a fourth-grade reading level... my new book is here! Itís a childrenís book for ages 9-12 called The Mysteries of the Bermuda Triangle published by Grosset & Dunlap/Penguin. Itís only $3.99 so Iím hoping everyone on this list will buy a few dozen copies each -- you know -- to help the cause! Seriously, I appreciate all of the support you Ghostvillagers have given me on my previous ten books. Be sure to click online or check this out at your favorite local book seller!

Those of you who have subscribed to this newsletter for more than a year may recall that last year one of our themes was ďWomen in the Paranormal." The theme was so well-received that I decided to do it again this year and will continue to dedicate a month to this important topic for as long as Iím still running the show. For more than a decade now Iíve had the opportunity to correspond and meet hundreds of paranormal research groups. Iíve befriended many other people who study this field and one thing thatís evident is that thereís a lack of women in prominent roles. Iím glad to say Iíve seen a positive shift in the last two or three years, but thereís still plenty of room to grow.

This month weíll be bringing you an interview with a woman who is actively doing paranormal research and making a difference. Let me also apologize -- we will not be able to get to every woman who is doing great work -- not even a fraction, thankfully. By all means, thatís part of the reason we have a message board community and this message board of the month. Why not sound off and post something positive about a woman in the paranormal that you believe deserves some kudos!

To get us started we posted an interview with author and lecturer, Marie D. Jones. Check out her interview!

Speaking of kudos, thanks for all of the email Iíve been getting about 30 Odd Minutes. If you have yet to experience this video paranormal talk show, please do come by Tuesday night for the live broadcast over the Web. Or check out previous episodes for free on iTunes or our Web site. Weíre kind of like the Wayneís World of the paranormal. One take, live, straight throughÖ yeah, you can tell.

Enjoy the rest of the newsletter below!

Supernaturally yours,

Jeff Belanger
Mayor of Ghostvillage.com
MySpace: www.myspace.com/ghostvillager
Twitter: @THEJeffBelanger
Facebook: Jeff Belanger





Jeff Belanger's Upcoming Events

This is the place to find out where author and Ghostvillage.com founder Jeff Belanger will be speaking on the subject of the supernatural. If you're interested in booking Jeff for a conference or other event, please email us for more information.

Events Scheduled:

The Queen City Paranormal Convention - Historic Music Hall - Cincinnati, Ohio - April 9, 2010
Beyond Reality Events - The Mt. Washington Hotel - Bretton Woods, New Hampshire - April 23-26, 2010
Darkness Radio Events - Waverly Hills Sanatorium - Louisville, Kentucky - May 2-4, 2010
Houghton Mansion Ghost Conference - North Adams, Massachusetts - May 15, 2010
Ghost Adventures Crew and Darkness Events - Eastern State Penitentiary - Philadelphia, Pennsylvania - June 3-5, 2010
Beyond Reality Events - The Stanley Hotel - Estes Park, Colorado - June 13-16, 2010
2010 Haunted America East Coast Conference - Cape Cod Community College - West Barnstable, Massachusetts - August 28, 2010
A "Weird" Massachusetts Evening - Fiske Public Library - Wrentham, Massachusetts - October 19, 2010, 7 PM
A Supernatural Evening with Jeff Belanger - Beaman Memorial Library - West Boylston, Massachusetts - October 26, 2010, 7 PM


Congratulations to John Barrett of Asheboro, North Carolina, who was last month's winner of an autographed copy of Jeff Belanger's book, Encyclopedia of Haunted Places: Revised Edition, a Ghostvillage.com window sticker, and a Ghostvillage.com t-shirt!

How to win: Entries will be accepted up until 5:00 PM (eastern time) tomorrow (February 17, 2010). At 5:00 PM, we will draw a winner at random from the correct entries that have been received. You no longer have to be the first, but you only have until 5:00 PM to get your answer in. If you click on this link: http://www.ghostvillage.com/index.shtml#winner, you see today's date, and "We have a winner!" that means the contest has ended. Sorry, please try again next month. To submit your entry, simply reply to this email with the correct answer.

On to this month's question: This question can be answered by reading a page on Ghostvillage.com. Remember, reply by 5:00 PM tomorrow to be eligible to win.

What's the name of the GLBT parnaormal group featured this past month?

At 5:00 PM tomorrow, we will announce the winner on our home page. Good luck! (Only Ghostvillagers who have not won a prize from us in the last year are eligible.)



This month's prize: We're giving away an autographed copy of Jeff Belanger's book, Encyclopedia of Haunted Places: Revised Edition and a Ghostvillage.com window sticker!


Didn't win? Want to buy a copy? Click on the graphic.



The Supernatural Calendar is the place where thousands will learn about your events of interest to the supernatural world. The service is only available to registered members of the message boards, and it's free! Ghostvillage.com now syndicates our calendar of events so other Web sites can also display these supernatural happenings at no charge! To learn more about installing our calendar of events RSS feed, please visit our syndication page. Adding your own local events to our calendar is more important than ever!

February 19: Paranoramal Investigation, Cripple Creek Colorado
February 28: Psychic Readings at Haunted Mansion - Joliet, IL
March 6: Velocicon - Red Bank New Jersey!
March 12: EPIC CON, VIRGINIA BEACH VA., Texas Ghost Show 2010
March 18: Mary King's Ghost Fest 2009
March 19: Paranoramal Investigation, Cripple Creek Colorado., Virginia City Paranormal Conference
March 21: Jeff Belanger on Beyond The Edge Radio
March 25: Phenomenology 102
March 28: Paranormal Night in Willow Springs, IL
April 9: Queen City Paranormal Convention -Cincinnati, Ohio
April 16: WISP Expo, Awakenings: Psychic Abilities Unleashed





Who's Who in the Village?

Get to know some of your fellow Ghostvillagers.



>>autumnbelle<< - Ghostvillager since February 24, 2006

What is your name?
Samonia Meredith.

How old are you?
34.

Where do you live?
Oklahoma City, Oklahoma.

What do you do for a living?
Personal assistant and publisher's assistant.

What got you interested in the paranormal?
I have always been interested in the paranormal. My favorite class ever in school was parapsychology. My family for generations has been very open in its beliefs about ghosts and "the unexplained." Between my Irish/Scottish and Cherokee ancestors it's never been something to fear or deny. My grandparents' house and the places we went for most vacations growing up were all haunted.

What's the most haunted place you've ever been to?
St. Elmo, Colorado - an old mining town. One ghost there is the lady who used to own/run the Home Comfort Hotel in the early to mid-twentieth century and still keeps an eye on things from the after life... including moving mops and buckets into the center of rooms if things aren't up to her standards.

Do you believe women are more sensitive to the paranormal?
In my culture - a combination of American, Native American, and European influences - I believe women are more likely to be sensitive to the paranormal. We're allowed to "feel" more rather than having to seek a logical explanation for things, and we tend to be more in tune with our environment. That said, I can't speak for all of the world - the two genders instinctively would seem to be equal.

What's the first concert you ever saw in person?
I used to watch concerts in the park all the time - mostly for major holidays like 4th of July. Still love Tchiakovsky's 1812 Overture!



Our "Features" section is a place for editorials, research articles, open letters to our readers, and other content of interest to Ghostvillagers. If you have a topic on your mind, agree or disagree with something you read recently, we want to hear from you! For guidelines, click here.

New features added since our last newsletter:

The Haunted Slater Mill with Carl Johnson By 30 Odd Minutes February 9, 2010 [VIDCAST]
Paranormal Technology with Inventor Andy Coppock By 30 Odd Minutes February 2, 2010 [VIDCAST]
Not Your Daddy's Team: The Queer Side of the Paranormal by Deonna Kelli Sayed February 2, 2010
Shaman Steve Wilson - Ghost Chronicles January 27, 2010 [PODCAST]
Paranormal Roundtable/Debate with the Oddballs By 30 Odd Minutes January 26, 2010 [VIDCAST]
Edwidge Danticat by Lee Prosser January 25, 2010 [COLUMN]





Last Month's Theme - Featured Content

Our last month's theme was Haunted Objects. Here's what you missed if you haven't checked in since last month:

Discussion: Can ordinary objects be haunted or possesed?
Features: Episode 84: Return of the Haunted Dibbuk Box
Encounters: Bowl, Pestle, and Bad Luck





Shopping at Ghostvillage.com

Have you checked out our Ghost-Mart and Ghostvillage U.?

Ghostvillage U.: "Professor Paranormal" Loyd Auerbach and the HCH Institute's Distance Learning Certificate Course on Parapsychological Studies is now available through Ghostvillage.com. Ready to take paranormal investigation to the next level? Check out the online courses.

Ghost-Mart:
Digital Voice Recorders: Going for EVP? Think DVR.
Paranormal Books: Ghost-Mart has many of the leading paranormal titles.
EMF Meters: Check out our line of EMF meters from cell sensors to tri-field.
Closed Circuit TV: From inexpensive to the high end, we have them all.


Ghostvillage.com's book reviewer, Lee Prosser and the staff have brought you new book reviews and author interviews since our last newsletter.

This past month's Library additions:

Psychic Pets by Dinah Roseberry [AUTHOR INTERVIEW]



We receive personal encounters from all over the world. Many are scary, some are touching, but they are always profound. If you would like to share your own experience, please click >>here<<. Since our last newsletter, we added the following new encounters:

The Dog We Tried to Save - Ashland, Kentucky
The Brown-Robed Figure - Yuba City, California
An Arm Across Our Windshield - Outside Helena, Montana
The Cold, Haunted Mansion - Brevard, North Carolina
Ginger's Nightly Visits - Milwaukee, Wisconsin
One More Snuggle With Critter - Ottawa, Ontario, Canada
Bowl, Pestle, and Bad Luck - Springville, California



This is the place to find news items on paranormal happenings around the world. If you have a news item you'd like to submit, please see our guidelines.

From the Desk of Ghostvillage News Editor, Chris Balzano:
A few months ago the headlines made their way across England and over the pond to America where we touched upon it in the Ghostvillage News. More people believed in ghosts than believed in God. The results of a poll, and polls like it are being published constantly, revealed in the United Kingdom there were more people who were open to the existence of ghost than currently practiced the religion they claimed to be. We waited for the push back from religious groups, but it never really came.

The statistics these polls publish are tainted at best and have to be viewed with a critical eye. In the movie The American President a character says something to the effect that everyone cares about the environment in a poll, but they never think about it when they elect the president. Itís a matter of wording. People can be open to the idea of ghosts, but that does not mean they are willing to throw away the religion that has been a part of their personality for so long just to satisfy that open-mindedness.

A new poll published in December from the Pew Forum on Religion and Public Life has found a new trend, and in coming out with their results, they answer many of the questions about where peopleís minds are. The poll (http://pewforum.org/docs/?DocID=490) finds that people who have an interest in ghosts or who have a paranormal experience try to marry those ideas into what they already believe. Instead of replacement, it becomes a case of supplement. It also finds, like reports that have come out over the past year, that people who have a strong connect to the ideas of their religion and not just its rituals are more likely to entertain the ideas of the supernatural. It becomes a small leap from angels to ghosts.

And if this month is a time for us to think about females and the paranormal, it can also be a time to consider how females view the paranormal. The Pew Forum found a higher number of women than men held supernatural ideas, and some of the breakdowns are worth looking at more closely.

While the new release might contradict some of the ideas we previously had, it really becomes a baseline for changes that might happen in the future, although it does compare its results to similar ideas from older polls. As the ebb and flow of belief rolls on, one question intrigues me, and although I debate it with my friends, the answer is harder to come by. Does the influx of new paranormal television programming entertain us or convince us there is something in the dark?

Home Buyers Have New Option: Paranormal Inspections Salem News Salem, Oregon-February 10, 2010 [EXTERNAL NEWS]
Connecticut Ghostbuster Arrested on Theft Charge< Associated Press via FoxNews.com Enfield, Connecticut-January 28, 2010 [EXTERNAL NEWS]
The haunting of Picton-terrifying truth or ghost busted? The Daily Telegraph Picton, England-January 22, 2010 [EXTERNAL NEWS]
NY Knicks blame Skirvin ghost for loss to Thunder KFOR-TV Channel 4 Oklahoma City, Oklahoma-January 13, 2010 [EXTERNAL NEWS]
Velocicon to Offer a Unique Spin on the Paranormal Conference

WANT THESE HEADLINES ON YOUR SITE FOR FREE? Syndicate our news! If you have a Web site or blog, you can syndicate our news feeds to your site for free. Join the growing list of Web sites who carry our news by visiting our syndication page.





Hot Threads and the Ghostvillage.com Community

In the past month, hundreds of new people registered for free to join our supernatural discussion! Have you?

If you have registered for our message boards but haven't validated your account yet, it's simple to do! Look for the email that was automatically sent to you when you registered and click on the account activation link in the email (note: some bulkmail filters may block this email, so you'll need to check your bulkmail folder if the validation email didn't immediately come through). There are always great discussions going on in our huge message board community. We hope you'll get involved. It's free to register if you're not already a member. Here are some of the hot topics this month:

Personal Encounters
http://www.ghostvillage.com/ghostcommunity/index.php?showtopic=29929
Scratches and red marks.

Spirit Communication
http://www.ghostvillage.com/ghostcommunity/index.php?showtopic=28831
Was this communication?

Religion and Spirituality
http://www.ghostvillage.com/ghostcommunity/index.php?showtopic=22932
Different views on what 2012 holds for humankind.

Skeptics
http://www.ghostvillage.com/ghostcommunity/index.php?showtopic=29422
What level of skepticism do you have?

Beginner's Block
http://www.ghostvillage.com/ghostcommunity/index.php?showtopic=27002
My daughter sees "monsters" I need advice!

Haunted Mall
http://www.ghostvillage.com/ghostcommunity/index.php?showtopic=29075
Is the West Edmonton Mall in Edmonton, Alberta, Canada, haunted?

Haunted Land
http://www.ghostvillage.com/ghostcommunity/index.php?showtopic=25525
Maudslay State Park, Newburyport, Massachusetts.

Spiritography
http://www.ghostvillage.com/ghostcommunity/index.php?showtopic=29954
What do you think?

EVP
http://www.ghostvillage.com/ghostcommunity/index.php?showtopic=29848
"More" EVP - why are they talking to me?

Spirit Videos
http://www.ghostvillage.com/ghostcommunity/index.php?showtopic=29818
The Buxton Inn Shadow.


Board of the Month -- Women in the Paranormal
http://www.ghostvillage.com/ghostcommunity/index.php?showforum=27
Let's celebrate the work women are doing in the paranormal!




Ghostvillage.com Advertising Opportunities

Each month Ghostvillage.com reaches tens of thousands of people interested in the paranormal. We offer the most effective and best-valued advertising and sponsorship packages of any paranormal media outlet. Please visit: http://www.ghostvillage.com/advertising.htm for details.

If you're ready to put Ghostvillage.com to work for your company or organization, send us an email to get started.




Ghostvillage.com Quick Stats:

309,163 Posts in the Town Square Message Boards
27,291 Members in the Town Square
951 "Personal Encounters" published on Ghostvillage.com
1,457 Paranormal Web sites in the Ghost Links directory
30,696 Subscribers to this newsletter
4,843,034 Total Web site "hits" for Ghostvillage.com in Janaury


Ghostvillage.com is the Web's largest supernatural community, the central place where people come to share their experiences, thoughts, and research. Please help us continue to grow by buying a copy of The World's Most Haunted Places, Communicating With the Dead, The Encyclopedia of Haunted Places, The Nightmare Encyclopedia, Our Haunted Lives, Ghosts of War, The Ghost Files, Weird Massachusetts, Who's Haunting the White House?, The Mysteries of the Bermuda Triangleor shopping in Ghost-Mart. Every little bit helps run our servers and helps the site get bigger and better! Please also click on our banner ads and support our advertisers -- when you do business with someone who advertises with Ghostvillage.com, let them know you saw their ad with us and thank them for the support.

Please email us anytime at info@ghostvillage.com. Your comments, questions, and feedback are always welcomed.


---
All material is © 2010 Ghostvillage.com
REMOVAL INSTRUCTIONS: To be removed from the mailing list, please go to www.ghostvillage.com/subscribe.shtml or click on the link below.