NEWSLETTER #29 - January 14, 2004

Shop at Ghostvillage.com | Support Ghostvillage.com | Ghost Chat | Supernatural Auction

Be sure to forward this on to your friends who are interested in the supernatural!
---
You are receiving this email because you or a friend signed you up at http://www.ghostvillage.com. If you would like to be removed from this mailing list, please see the instructions at the bottom.
View this newsletter online at: http://www.ghostvillage.com/newsletters/Jan14_04.htm
---
Dear Ghostvillagers,

Happy New Year to you all! I can tell you without a doubt that 2004 will be our biggest year ever. Here are just a few things we're working on for this year:
Even more great content written by experts and lay people alike
Our first-ever mini-convention - a haunted campout in Gettysburg
Regularly-scheduled Ghost Chats in our chat room
A book on true ghost stories from around the world will be on bookshelves everywhere this fall!
We now have more than 3,000 registered members in our message boards, and there are well over 6,000 subscribers to our newsletters. By all accounts, our village has become a city! You have all played a big part in this growth, so I thank you all. I'd also like to take a minute to ask you to contribute even more. We're always on the lookout for open letters, essays, opinions, research, and even more people to join our community.

As a New Year's resolution, please take a minute to tell a friend or two about Ghostvillage.com. Let's get 2004 off to a huge start!

Supernaturally yours,



Jeff Belanger
info@ghostvillage.com
Mayor of Ghostvillage.com



Congratulations to Jeanne G. Pocius of East Boston, Massachusetts! Jeanne was last month's winner of an autographed copy of Tamara Thorne's books: The Forgotten and Eternity.



The "winner" icon on the left has been hidden somewhere on Ghostvillage.com. If you're the first to find it, email us with the page it's on, and you win this month's prize. The graphic could be on any page on the Web site -- maybe at the top of the page, maybe the bottom, etc. Once we have a winner, we will announce it on our home page as soon as possible. By clicking on the "winner" icon within Ghostvillage.com, it should launch your email with the appropriate subject. If not, email info@ghostvillage.com, and in the subject or body, put the URL of the page you found the icon on. Good luck! (Only Ghostvillagers who have not won a prize from us in the last year are eligible.)



This month's prize: a free one-year subscription to FATE magazine (a $29.95 value)! Each month, FATE brings you true reports of the strange and unknown. UFOs, ghosts, psychic phenomena, ancient mysteries, cryptozoology, and the paranormal since 1948.

Didn't win? Want to buy a subscription? Click on the graphic above.

The Supernatural Calendar is the place where thousands will learn about your events of interest to the supernatural world. The service is only available to registered members of the message boards, and it's free! Here's some of what is going on in January/February:

Wednesday, January 14: Birthdays: Bardok_911 , Rockhauler2k1
Thursday, January 15: Birthday: Ghostly_Girls
Friday, January 16: Birthdays: GOYO , xmasmourning
Saturday, January 17: Birthdays: Emerald_eyed, gidget , caligrl25 ,
Monday, January 19: Birthdays: Aphrodite , amyschue , keanzo2003 , Babs_13
Tuesday, January 20: Birthday: Tracer007
Wednesday, January 21: Birthdays: hmw1977 , bleunezz , Babysafire66
Friday, January 23: Birthdays: GHI-Bill , Tangnefedd , dansgirl , Netbouncer11
Saturday, January 24: Birthdays: jtree26 , maggot , rboening
Sunday, January 25: Birthdays: Seven , taeboo , wackyboogie
Monday, January 26: Birthday: T-Buck
Wednesday, January 28: Birthdays: radbaby777 , timmoy , mastermind73
Thursday, January 29: Birthdays: Anadori , Diane
Friday, January 30: Birthday: krcguns
Saturday, January 31: Birthdays: mrsspookypants , netgirl01
Tuesday, February 3: Birthdays: TrippyChick3 , raymi_46 , roxxter
Wednesday, February 4: Birthdays: FashionViktum , Kbeth
Thursday, February 5: Birthday: Gidget 965
Friday, February 6: Birthdays: shirhia , SpiritChime , animal1964 , slimtim2001
Saturday, February 7: Birthdays: Salvatore , madison , sweetleftpeg , BethinGrandRapids
Sunday, February 8: Birthdays: amy_gorg , Mikey4182 , SrpskiVampir , carrol2859
Monday, February 9: Birthdays: babyarm26 , catscradle



Who's Who in the Town Square?

Get to know some of your fellow Ghostvillagers. (Kats_god is on the left, next to actress Claudia Christian)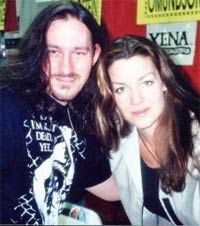 >>kats_god<<

What is your name?
Jim Demick

What do you do for a living?
I am an artist looking for work, and I detail cars to make money in the meantime.

Where do you live?
Michigan

Have you ever had an experience with a ghost? If so, what happened?
I have a friend that was living in the apartment right above me. She moved out about two weeks ago. There is nobody living there yet, but at night sometimes I can hear somebody walking around up there. Before the woman moved out, she and I talked deeply about ghosts being in this building. We both would get this strange feeling in the same spot of each other's bedroom right by the bathroom. Like something was after us, and we had to get into the next room as fast as we could. Now I am very sure we were right.

This just took place on February 25, 2003: I was sitting in bed watching TV. It was in the mid-day. My TV sits right behind the door, so I can see right through the crack between the door and the door frame if the door isn't all the way shut. Well, the door was about halfway open and I saw a figure go past the door on the other side. Right after that, the cat started freaking out. I was the only one in the apartment at that time.

Do you think there is something supernatural about artistic inspiration?
I never really thought about it. I think there may be something to it. I guess that's why not everybody can do it. It's kind of like there's a chosen few to do it.
Ghostvillage.com's book reviewer, Lee Prosser, has brought us new book reviews since our last newsletter. Have you read one of these books? Want to add your own review? Click >>here<<.

This past month's Book Reviews:

Western Seeker, Eastern Paths: Exploring Buddhism, Hinduism, Taoism and Tantra by David Pond


Celtic Astrology: How the Mystical Power of the Druid Tree Signs Can Transform Your Life by Phyllis Vega


Encyclopedia of Wicca & Witchcraft by Raven Grimassi





Legends of the Supernatural

Jeff Belanger is currently working on his book that will be due out this fall. It's about ghosts, it's about history, and you will definitely find out more in the coming months. Because of this huge undertaking, the "Legends of the Supernatural" column is going to go on a three-month hiatus. After April, the column will go back to bi-weekly. Watch this newsletter and the Web site for more information on this project. Since our last newsletter, the following column ran:

Ley Lines, Old Straight Tracks, and Earth Energies - an interview with Paul Devereux
December 13, 2003

If you know of a publication that may be interested in running this column, drop me a line for pricing information. >>email<<

We receive personal encounters from all over the world. Many are scary, some are touching, but they are always profound. If you would like to share your own experience, please click >>here<<. Since our last newsletter, we added the following new encounters:

Black-Hooded Ghost - Hamilton, Ohio

Ka Huaka'i Po (The Night Marchers) - La'ie, O'ahu, Hawai'i

The Lady in the Blue Dress at Captain Tony's Bar - Key West, Florida

Haunted House in Princeton - Princeton, West Virginia
Haunted House and Failed Exorcism - La Plata, Maryland
Mt. Iron Apparition Caught on Videotape - Mt. Iron, Minnesota



Dissolving Figure at Fort Garry Hotel - Winnipeg, Manitoba, Canada

The Dark Specter on Charles Island - Milford, Connecticut


Our new "Resources" section is a place for editorials, research articles, open letters to our readers, press releases, and other content of interest to Ghostvillagers. If you have a topic on your mind, agree or disagree with something you read recently, we want to hear from you! For guidelines, click here.

New articleThe Life of a Ghost Hunter by Brian Leffler<br> January 14, 2004 added since our last newsletter:
The Life of a Ghost Hunter by Brian Leffler - January 14, 2004

Our >>Supernatural Auction<< has a lot of ghost hunting equipment, books, and videos on it right now. Check out these new and used products today! If you have a product or service to sell, remember, basic listings are still free -- you have no risk in trying to sell your items on our auction.

New members receive $1.00 credited to their account -- this credit can be used for the extras such as bold listings. This supernatural marketplace is a great way to connect with people who are interested in your products and services.

Here is this month's featured item:

Ghost Hunter School CD

Since our last newsletter, the following people have joined us in the Town Square! Please welcome:
shensen, katorinaxlaurina, Omally, Smitty, Demon_Speeding, Liquid_Silver, hyperghost15, sammy4089, qstarletteq, Vicky, marko79, starburst, willhaven, Jamie04, europa, punkie_wayne, fuzzbrain28, Sammy_Da_Cat, angel42192, Doll_of_Antiquity, user666, Julia, supra_natural87, ARTDB, Didier, entityseeker79, thaikih, booradley, shtina71, zenreix, terrencel, LvGhsts, famous elk, shtina, ugp, blaze43713, bickolette, hypochic101, mikeymemphis, Robin, Carter C., kur4thitch, ICDEDPPL, jefflives, dawncalifornia, jonny, lolina, PRNeneChulo, ullneverknow, crzynluv461, celtichuntress, Starbrite, Crazychick, cmokland, captainhowdy973, 1900_farmhouse, Pixiegal33, xmasmourning, RichardVE, the_ripper, gstinkypete, nickik1970, tripdog4, crassdarling, Oceanfairy69, kaisersoze, errpun, kate1678, sue, mellissabasden, Jhobbs8604, MissScarlett8400, big_j, bface, NateDog, aussie427, kakkapants, mnemosyne, punky_b128, bigghost, UnkleBunny, summerstorm2100, wildflower, nav, Lawson, Prisoner41, Nyxie, tulamokom, MaraTenoh, satsumadoor, Runswithscizers, The_Watcher, cinfante, bluesnjazz, Damonica, MWritingG, ngower, psychicbabe5000, Pangolins Rock, steel_curtain, gijoePat, Robbin, DirtyDeeDz, axeplayer, Jackalope, ponder_s, the Aloha Spirit, autumnwhispers, MysticalBart, firefly, jay, Monad, luvjoep, pureirishbitc4, emzie-bab, dolphingirl, harryghost, wildberry802, mommieof4, Rudolf168, KZXMR, shazzabat, slmartin, christie, rakmagic, Big_G, OMGaGhost, bunny, Tokkien, pfnarrghmglexxxurrh, quest, hippiecowboyco, firemanswife, sarahz, dongia, Crone, Rollo, Trude, Neelloc91185, bigtruck, parasees, SpiritWalker, UK-SteveB, Serpent_Mounder, darkgoddess, Tuscarora, iluvghostz, chumley, Sylphiel, vampiregirl89, kachisa, littlesis, cemetery_xplorer, lmackey, carrol2859, sneakylilweazle, zavierucha, darkgirl, posada, racheldakasp, Thunden, nallely, bigrh, Ghost_Addict, Jim, Babs_13, dnblayde, joey_boy_224, kmnelson, bigboyrob486, celtscot, dewdrop, Aidan, ghosthunter1010, CECE39, hapeehunter, Orig122, havstar, rabid_hobbit, crashpowers, and harrish.



Ghostvillage.com Quick Stats:

23,206 Messages in the Town Square Message Boards
3,029 Members in the Town Square
95 "Encounters" listed in 2003. 4 listed in 2004 so far.
362 Paranormal Web sites in the Ghost Search directory
6,433 Subscribers to this newsletter
1,501,846 total Web site "hits" for Ghostvillage.com in December

Ghostvillage.com is growing at an incredible rate. Every day the site grows as more people come to share their experiences, thoughts, and research. Please help us continue to grow by donating, shopping, using our new auction, or by buying a Ghostvillage.com t-shirt. Every little bit helps run our servers and helps the site get bigger and better!

Please email us anytime at info@ghostvillage.com. Your comments, questions, and feedback are always welcomed.