GHOSTVILLAGE.COM NEWSLETTER #41
January 18, 2005

Shop at Ghostvillage.com | Support Ghostvillage.com | The World's Most Haunted Places

Be sure to forward this on to your friends who are interested in the supernatural!
---
You are receiving this email because you or a friend signed you up at http://www.ghostvillage.com. If you would like to be removed from this mailing list, please see the instructions at the bottom.
View this newsletter online at: http://www.ghostvillage.com/newsletters/Jan18_05.htm
---
Dear Ghostvillagers,

There's been a lot of buzz surrounding the new movie White Noise starring Michael Keaton lately. The movie uses the concept of Electronic Voice Phenomenon (EVP) as the premise behind the plot -- EVP involves capturing spirit voices using basic audio recording equipment. I saw the movie opening weekend with my wife, even though the critics mostly panned it. While I don't feel that anyone involved with the project is in any danger of winning any Academy awards, I do feel that something very important came from the film.

Universal Pictures spent most of their marketing effort teaching the public a little about the phenomenon. The trailer for the movie began with a definition of EVP followed by some real examples. In fact, the television commercials for White Noise hardly mentioned the plot of the movie at all. This marketing effort started some EVP discussion (which of course also begs the even bigger question about life after death and the existance of spirits) in the mainstream media. This is a good thing.

Secondly, Universal Pictures targeted us (that's right... I mean you and me) supernatural enthusiasts as a big demographic of people they hoped would go see the film. Many supernatural Web sites even put up free banner ads for this movie to help get the word out. Whether we want to accept the fact or not, collectively we are a viable market. And there are a lot of us... and our numbers are growing as people continue to ask their own spiritual questions. Don't stop asking these questions and don't forget that you're not alone in your quest.

Some exciting things are coming in the next month. First, we're going to start reviewing DVDs in our Library section, we have some author interviews that will be coming shortly, and there will be a new article in our Legends section. I recently had the opportunity to interview Hans Holzer about his life and work. The 85-year-old has a fascinating perspective on the supernatural, on life, and he shows no sign of slowing. Watch for those things in the next few weeks.

Supernaturally yours,

Jeff Belanger
info@ghostvillage.com
Mayor of Ghostvillage.com




Southeast Asia & Tsunami Relief Effort

Ghostvillage.com is a global community. We're comprised of people from every continent and many different countries. The tsunami disaster affected many Ghostvillagers personally.

More than 165,000 people have died, and millions of lives have been forever changed. We're asking each of you to do what you can to help by donating online directly to a charity of your choosing, or simply through prayer, healing spells, or however you ask the Divine for help.

Below are links to some reputable international charities that will help turn your financial donation into relief for the people most affected.

UNICEF
Red Cross
Oxfam
AmeriCares
Network For Good
Doctors Without Borders


Congratulations to Cathy Johnson of Naugatuck, Connecticut, who was last month's winner of an autographed copy of Jeff Belanger's new book, The World's Most Haunted Places: From the Secret Files of Ghostvillage.com!



The "winner" icon on the left has been hidden somewhere on Ghostvillage.com. If you're the first to find it, email us with the page it's on, and you win this month's prize. The graphic could be on any page on the Web site (except in the message boards) -- maybe at the top of the page, maybe the bottom, etc. Once we have a winner, we will announce it on our home page as soon as possible. By clicking on the "winner" icon within Ghostvillage.com, it should launch your email with the appropriate subject. If not, email info@ghostvillage.com, and in the subject or body, put the URL of the page you found the icon on. Good luck! (Only Ghostvillagers who have not won a prize from us in the last year are eligible.)



This month's prize: we're giving away an autographed copy of the newly-released The World's Most Haunted Places: From the Secret Files of Ghostvillage.com!


Didn't win? Want to buy a copy? Click on the graphic.





ATTENTION Paranormal Investigators

Many thanks to all who responded to last month's call! The project is moving along quickly and is getting more exciting by the day. If you are a paranormal investigator/ghost hunter, either in a group or solo, please get in touch with me!

I'm editing and compiling a directory of haunted places and paranormal investigators from all over the world, and I'd like to involve as many investigators as possible. This is your opportunity to have your work, your name, and your organization's name published in a book that will be on the shelves in 2005. Please email me for more information at: info@ghostvillage.com.

Please hurry, as this book is coming together fast.

-Jeff Belanger




Who's Who in the Town Square?

Get to know some of your fellow Ghostvillagers.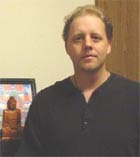 >>Sammy_Da_Cat << - member since December 8, 2003

What is your name?
Brett Henning

How old are you?
36

Where do you live?
I live in Knoxville, Tennessee. At the foot of the beautiful Smokey Mountains.

What do you do for a living?
I am a Systems Administrator for a very large media company.

Have you ever seen a ghost?
Yes I have seen, heard, and felt ghosts. Whenever someone asks me about ghosts one experience always comes to mind and causes me to chuckle. It was back when I first started dating my wife. She had just moved into a second-story apartment that was converted from an old furniture store. The whole building was not very big and, as it was in early years, the store was on the first level and the store owner and family lived on the second level. I started sleeping there in the afternoons because it was closer to work and I was on the night shift. Plus, because my wife worked on the day shift, I would be able to spend more time with her. On the first day that I slept there, I heard footsteps come up the stairs, open the back door, walk through the kitchen, through the bedroom, and into the living room. I was still half asleep, but I quickly came to the conclusion that someone had broken in. I jumped out of bed, not bothering to dress, and ran around the apartment yelling and waving around a baseball bat. I was surprised to find that no one was there and the back door was still locked. As I stood in the kitchen warming up a stale cup of coffee, I came to two conclusions. First, I really needed to put some clothes on and second that the apartment may be haunted. I decided to stay up the next day and wait for it to happen again. Sure enough, at 3:14 PM the ghost walked through again. I did not see anything but I could follow the sound as he made his rounds. I told my wife about this, and she agreed to stay home one day to see, or hear it, for herself. Well sure enough, 3:14 PM rolls around and it happens again. After I knew that we had a ghostie in the apartment, I was able to sleep right through the experience. If ghosts get together and tell human stories, I am sure that this particular ghostie makes the whole crowd laugh when he tells his tale of the strange, naked man who chased after him with a baseball bat.

Do you think mainstream religions do enough to address the afterlife?
Religion does all it can to provide answers to what happens to us when we die. But religion was never meant to give us a definite answer. The true purpose of religion is to give us a base of understanding and a method of practice that we can use to find the answers to the questions "Why are we here?" and "What happens after we die?" Too often, people look to religion and science expecting to find a direct answer that will calm the uncertainty of life. When the answers are not found, it causes fear and anger to grow within that person. It must be understood that these teachings only provide keys to the answers, not the answers themselves. It is up to the person to find within themselves the energy and the wisdom to search for the doors to which these keys fit.

What's your favorite scary movie?
I would have to say that my favorite scary movie is the newest release of Dawn of the Dead (Uncut). I always loved zombie movies, but they always seemed a bit too slow-moving to scare me. But those fast running zombies that seemed to pop out of nowhere really made me jump.


Ghostvillage.com's book reviewer, Lee Prosser, has brought us several new book reviews since our last newsletter. Keep your eyes on the Library in January -- we're going to be adding some new DVD reviews of interest to you!


This past month's Library additions:

Haunted Battlefields by Dan Asfar AND Haunted Cemeteries by Edrick Thay

Yoga: Anytime, Anywhere by Carol Blackman and Elise Browning Miller

The Gospel of Philip by Jean-Yves Leloup

Becoming Psychic by Stephen Kierulff and Stanley Krippner

Amulets: Sacred Charms of Power and Protection by Sheila Paine

Which Witch Is Which? by Patricia Telesco

Llewellyn's 2005 Witches' Spell-A-Day Almanac


We receive personal encounters from all over the world. Many are scary, some are touching, but they are always profound. If you would like to share your own experience, please click >>here<<. Since our last newsletter, we added the following new encounters:

The Front Porch Moaning - Managua, Nicaragua

The Crystal Curse - Chesapeake, Ohio

Bringing Evil Home - Denver, Colorado

Mr. Ruckman's Mansion - Runge, Texas

Brown Robed Figure - Fremont, California

The White Lady of Old Burial Point - Salem, Massachusetts [pic]

Virgin Mary with Baby Jesus in the Window - North Baker, Pennsylvania [pic]

The Little Girl in the Red Dress - San Jose, California


Our "Resources" section is a place for editorials, research articles, open letters to our readers, press releases, and other content of interest to Ghostvillagers. If you have a topic on your mind, agree or disagree with something you read recently, we want to hear from you! For guidelines, click here.

New articles since our last newsletter:

Some Musings on White Noise by Lee Prosser - January 12, 2005

India and the Supernatural by Lee Prosser - January 3, 2005


In the last month, the following people have joined our ghostly community. Please welcome:

Darkcrystal, yuri05, gypsywisdom, LUCKYTODAY, crap, I.D.D_Girl, goose, huzski, Electrician24-7, auntieteddyb, clandestine, ShimmerySprite, Cairnwood, GhostHunter0985, babymagick, Popsabopsicles, SwedishMeg, Lizzi13, Dark shadow, MissUniverse2001, cooter, darkshadows13, Dedliniteshade, mysticmarie, Aumakua, kitte, roryjamestom, Blackfrancis0708, TheProdigalSon, alaina, daygona, McGhee, Coolhand, sheilajw2002, raven881, Evalea, srvignau, younggram, april_79, bitchywitch`, Sinestro, jandenisse_makiling@yahoo.com, DownloadableSuicide, grey_lady, GoFish, bballchc1230, anastasia148, XxSanity, punkskaterbabi9, caubin2003, ghost_seeker, crystalstreak, kris123, S***** and B***, anku8025, harrfam, keepajurnl, peter arnold, deep_megh, starlightgirl1904, christina, motorcop456, Micrathena, sapper, BLACKWIDOW, plumrun, SMILEY_1981, Scottie1173, Aquarius67, skeptic11235, lilghostie402, keepitsimple, new2wicca, Super Natural Female, kayla_grl_11, Kimberlee, DestinyJStar, Czorndog, SebastiansMom, jpsy2003, sassychic68, BillysRose, MrDanzigFan, skye, MiamiSpirit, gizmo, mzlowrida, damckie, day4, kimmie, I Like Butter, TatteredxStars, bookhunter, bonniebeliver, Meowler5, butterfly05, ghghghgh, jetre777, cumminc003, Flashyferret, vicfer, dingga, redwitch357, Mr P, jennic21, TomSorny, Sensitive_To_Things, silverlineingstar, juniorghosthunter, wordwiz, brooksj107, HorrorFilmFanatic, Robi_***, sugarbaby0402, Drue, lozza, justinlovesghosts, Frauenhoffer, cyndy512, bakla, CMGB, aeisendoh, Dusk, Amkestrel, sloth571, Reef, NocturnalPrincess, nastycivic1002, ghost_chick, Koakuma, munchies1991, Georgiawitch, Walter Eichelman, devil, HURRICANE, Jescarce, Extacy91102, amanda_grl_12, lazerbear, playe, Moon Queen, lime, AdandoKoga777, angel4peace, althea30, partlycloudy, mshrop, tornado, mamajamajuju, sweetlikerain, bluEYEDgirlie, sweetasrain, booboo, ghost_cow, jalea, GruesomeTwosome, reticent1, stanley pain, ChAd, theresaheather05, tigerbiter, jamiellejasmine, goodallfrog, tamara4444, chowder, scruggs, SignGirl05, mmik7, d.berkeley, bigmichael, black_cat123, yanda, mindful, Wendy A. Walz, ghostsofgettysburg, Gwenyth_Anne, aspen, grizzly813, ghosthabit, Roseven, chrisdeleon, Mr.Jones, policeinterceptor, ratrenkamp, ™™extreme™™, Paranoodle, Mer007, munbby, shirl-silvia, bens_babe, egs022, Single, thorsmom, maryrudakas, gwangie, mrh2o4u, cheesytrudie, Honeybear, purplemonkey, LoOney CrAzY ScArY AnTOn, Delta, amybeth, dewinter, jackimo, crawgas, emilyxyz, Tamj1468, toytoy, Illyria, Bushang, kristchi, angora, ghost_chia, SugahSmacks, angeleyes46, STONEDLOTUS, Edward, tf14, hannah13, Ravensmask, Lorelei_Vega, jtprhodge5, chrissybot, CasyBerry, cute qo, rsmiller, kittycat49, evilpineapple, blu3_c0m3tz, Ghost-Rider, toughgirl, tombob32, mdbyrne, precastlovinghate, allnicksgone, jarjar, rkt, roldan Sabale, Cam, storm_coming65, ghostmagnet, cvm, Juliec947, surealkid, ShadowSeeker, matthew_weaver, DarkAngel@Ghoststudy.com, crowsblood, KathySkipper, April, ashleythompson, Ikariaoh, TSaikat, vincent, erasurefrank, damon_c_84, dankmann, Tegan, suzit, jot, ontariosunshine, cursedangel, bobbob, Jasonlost, FantasyGhost, Ghost of GAWS, Van, mommy89, biglacy420, jules_52, SIRSPEEDYNH, Ghostrider49, mord, louisecheese, PAX, babyashlie134, minati_pin, storm40462, razzaac05, redhead4u2, GhostlyAura, JensBuddy, believer22, mike24, Shadee, SlayerJoe, Vahntashmah, midwest mama, EmbraceChange2, Dan, iluvlucky1990, araby, PinkElement1387, Trina23, ghostlygothic, antiqkk, orbmagnet, spookhunter, bickerstheghostbuster, evp-catcher, ScanDalOus GiRl, jethrow, Scott1956, xxsunnydazexx, hhspotts, ydlee, Dolphin4, mnman1313, haunted76, TigerEyes13, kenco98837, crowe22, leriecuteeeeeeeeeeeeeeeee, lonewolf705, boadicea74, Chimera, jeremyluv, richie_f, ContortedImage, jhennieh, RAY, peeryu, mariella_18, LunaBean, pookiebear, elliah_mae, kris, TheOneAndOnlyREDRUM, klegh, scholastique2, natalya_08, justbarb, wngwest86, Candilee, shadowmuffin, thechoosenone, ritaraven, vampire, Ember, braveheart_60450, wickedjuggalo, tomr39, SilverBlaze57, racerx463, Medic, and razzel.



Ghostvillage.com Quick Stats:

96,412 Messages in the Town Square Message Boards
7,048 Members in the Town Square
114 "Encounters" published in 2004
214 Paranormal Web sites in the Ghost Search directory
12,639 Subscribers to this newsletter
4,836,098 total Web site "hits" for Ghostvillage.com in December


Ghostvillage.com just keeps growing and growing. We're the Web's largest supernatural community, the central place where people come to share their experiences, thoughts, and research. Please help us continue to grow by donating, buying a copy of the new book, The World's Most Haunted Places: From the Secret Files of Ghostvillage.com, shopping, or by buying a Ghostvillage.com t-shirt -- new designs are finally up! Every little bit helps run our servers and helps the site get bigger and better!

Please email us anytime at info@ghostvillage.com. Your comments, questions, and feedback are always welcomed.


---
All material is © 2005 Ghostvillage.com
REMOVAL INSTRUCTIONS: To be removed from the mailing list, please go to www.ghostvillage.com/subscribe.shtml.

SUPERNATURAL WEB HOSTING! Check out Emerging Market Web Design and tell them Ghostvillage.com sent you! http://www.emwd.com