Shop at Ghostvillage.com | Support Ghostvillage.com | Ghost Chat

Be sure to forward this newsletter on to your friends!
---
You are receiving this email because you signed up at http://www.ghostvillage.com. If you would like to be removed from this mailing list, please see the instructions at the bottom.
View this newsletter online at: http://www.ghostvillage.com/newsletters/Jan31_03.htm
---
Dear Ghostvillagers,

Happy New Year to you all! 2002 was a year of growth for Ghostvillage.com, and I only see that growth continuing in a bigger way for 2003. You can help out by forwarding this newsletter to your friends who are interested in the supernatural and encourage them to sign up for the newsletter >>here<<.

Earlier this month, we had a ghost chat with Tamara Thorne, author of The Forgotten. Tamara was a great guest, and in her chat she touched on a subject that I would like to expand on this month.

We Should All Be Skeptics
Tamara's point is that there is a vast difference between a skeptic and a disbeliever. I completely agree with her. I think we need to define our terms here. For the sake of argument, let's take a specific event -- a ghost haunting a house, and describe four states of belief:

Believer: Someone who is convinced the house is haunted. This person has either experienced the ghost firsthand, or has seen enough evidence to be convinced.

Debunker: Someone who sets out to disprove that the house has a ghost. This person is convinced there definitely is not a ghost and wants to prove it to others.

Disbeliever: Someone who does not believe the house is haunted.

Skeptic: Someone who objectively looks at the facts and accepts various possibilities.

It's important to note that each of us can fall into any one of the categories above in any given situation. I think it's important to remain open-minded and, above all, objective when researching the supernatural. One person saying a house is haunted does not necessarily make it so. Always start in the skeptic category before moving into one of the other three. And inconclusive results are okay -- but accept them as what they are -- inconclusive.

If someone writes or calls me with a very compelling story about a haunting they experience, I may believe that they believe they're dealing with a haunting. But until I either hear or see a lot more collaborating evidence, or experience the haunting firsthand, I will remain in the skeptic category.



Who's Who in the Town Square?

Get to know some of your fellow Ghostvillagers. If you would like to be profiled here, >>email us<<.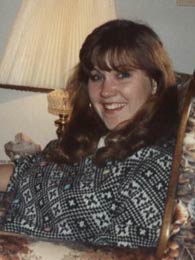 >>susmith<<

What is your name?
Susan McKinzie Smith

How old are you?
38 in February

Where are you from?
Bonaire, Georgia

What happened in your first ghost experience?
Well, I did capture a ghostly image in a cemetery that is posted on the Encounters section of Ghostvillage.com. I did not actually see this image when taking the picture, but I did become sick at my stomach after taking the picture. The other encounter was when I went to take pictures of some Indian mounds. I had finished taking the pictures and we decided to go and get something to eat. I was standing in the salad bar line and felt someone pull at my ponytail. I turned around expecting to see my husband standing there, and there was no one there. I thought that was kind of strange and turned back around. I got my salad and went back to sit with my husband and was telling him about it and it happened again. I said "Did you see that?" to my husband, and he said no. Well it happened a few more times while I was eating. Kind of like someone was playing with me. I didn't feel threatened or scared, just kind of amused.

What is your favorite part of Ghostvillage.com?
The people, definitely. We have such a great collection of people on here, and I really enjoy reading their posts and interacting with them.

Do you think religion plays a role in your own ghost research?
No, not really. I was brought up Catholic and then went on to become a Methodist. I am not a go-every-Sunday type of person, but I believe in what I believe, and this suits me and how I live. I think anyone who believes in the Holy Ghost has to believe that anything is possible when it comes to the paranormal.


Some new books have been added to our Supernatural Library since the last newsletter. If you have read a book on the supernatural recently, share your thoughts on it >>here<<:


>>Investigating the Paranormal<< by Tony Cornell

(1)



>>The Forgotten<< by Tamara Thorne

(1)






Legends of the Supernatural

Our "Legends of the Supernatural" column rolls on. I really appreciate all of the great feedback, ideas, and personal stories that some of you have shared with me. Please do keep it coming. Here are the most recent columns:

>>Funeral Practices and the Afterlife<< - January 25, 2003

>>Lawrenceville Library's Most Famous Headstone<< - January 11, 2003

Have you ever had an out-of-body experience? If so, we would like to >>hear<< from you.

If you know of a publication that may be interested in running this column, drop me a line. >>email<<

If you have an encounter, please share it by clicking >>here<<.

Back Porch Woman - Greensboro, North Carolina


Returning Grandfather - Brampton, Ontario, Canada
Ireland Ghost Bus Tour - Dublin, Ireland


Halloween Work-House - Penicuik, Scotland
Held Down Sleeping - Souderton, Pennsylvania
Christmas Mist - Fairborn, Ohio


Slapped in the Face - Coalinga, California

Since our last newsletter, the following people have joined us in the Town Square. Please welcome:
Angelica, goat_46804, Karmic_Crimewave, flyingorb, davlow, lizaloren, Sweet_as_Candy, thewhisperer_123, Pixle, spikecom, Azazel, @rchfiend, TSSI, blackcat, marshall110, thegreylady, grlyfreftr123, Trav131, Bonnie, drchud1234, scaredshitless, plarribas, sportsta69, TammiOhOh, TammiO, AnnieM, dinkydinky, Crow_Creek189, jem, Tangnefedd, jessica, john13_av, Dennis, Gunslinger, Larkins, lamb43, zion, dresmith, kimber5829, juliet_keller, dm2613, dm2634, Leigh, kita, phank82, kathl33n35, saints1, scooter, JENNY, missy, urluvofmine, Sminky, shannon2003, dc1307, PhyscoNeedsHelp, tape2, sparxz, kasketchayne, foxylady016, scott, aussieluvsyank, lil_ms_naughty, hdflh74, Julsies, amythswitch, dec57, OldBrujita, Wayne_C._Rogers, OfficerEric, classycrazychick, Darkomik, SHEENA, testing, Danas_freaked_out, redenex, jfk5351, spookygirl, katsinjams, hyunk7777, faillace, katt, Victor, JamesThompson, pitboy02, MrT10642, rockymtspirit, mahonec, blondie0665, iforbus, Violent_Beauty, Glenn, ladyinwhite, eternalambiance, maxstor76776, Dannidanni, TamaraGol, serena23, TUFFY, stacy, JPnTanz4ever, Baby-Vamos, chipcoffey, Shakti, timmoy, storm1010, tbritt62, 2dLt.Willis, gaius., Magraw, msrutybear, lil_cR1zZi3, Mysti, Dogfather, SYaeger53, Hauntess88, dreamcatcher, natashamul, Paraman, tarafuzz, Scorpnprncss, JLB, Carol, melody, Libra, vanduyn, dale_32, Ravenheart, GrimGrinningGhost, Cixelsid, d-grey, shadowcat, itzmstry, banjo, swaimus, Tonya, AllenSvcs, Dodi, mouse, Devils_daughter, and strongshar.



Ghostvillage.com Quick Stats:

11,726 Messages in the Town Square Message Boards
1,222 Members in the Town Square
64 "Encounters" listed in 2002 and 6 listed in 2003 so far.
255 Paranormal Web sites in the Ghost Search directory
1,868 Subscribers to this newsletter.

Donate, Shop, or buy a super-cool Ghostvillage.com t-shirt. Every little bit helps run our servers and helps the site get bigger and better.

Please email us anytime at info@ghostvillage.com. Your comments and feedback are always welcomed.

Supernaturally yours,

Jeff Belanger
info@ghostvillage.com
Mayor of Ghostvillage.com