Ghostvillage.com News
July 15, 2002 - #13

Shop at Ghostvillage.com | Support Ghostvillage.com | Ghost Chat

Be sure to pass this newsletter on to at least two friends!
---
You are receiving this email because you signed up at http://www.ghostvillage.com. If you received this message in error, or if you would like to be removed from this mailing list, please see the instructions at the bottom. If you have trouble viewing this newsletter you can view it online at: http://www.ghostvillage.com/newsletters/Jul15_02.htm
---
ParaCon 2002
The Smoking Gun Research Agency will be holding its paranormal conference, "ParaCon 2002," on Saturday, August 3, 2002 at the Fairfield Public Library in Fairfield, Connecticut from 10 AM to 4 PM. Admission is free. For more information, please visit: www.sgrahq.com.


Dear Ghostvillagers,

Sorry things have been running a little slow here in the months of June and July. But I have a good excuse, I swear! I was married on June 8th and went on a two-week honeymoon to Antigua and then to Bar Harbor, Maine. Some of you may be asking, "Did you see any ghosts on your honeymoon?"

And the honest answer is, "Inconclusive." When you live on a diet of pina coladas and daiquiris for two weeks, you can't be expected to give an honest account of anything, really. But I can tell you that of all of the candid wedding pictures we have seen from our wedding day, about 60% contained some kind of activity in it. As a newsletter bonus, I have included some samples below. Both pictures were taken with disposable film cameras which were placed on the tables. In the picture on the left, you'll see some orbs on the left-hand side (I blocked out the image of the beautiful bride in blue for privacy purposes), and in the picture on the right, you'll see a clear orb touching the right side of the picture. I can tell you that my grandfather passed away a few months ago, and I remember he got sick briefly before he died. I told him he had to take better care of himself, and he told me with certainty that he would be at my wedding. I believe in my heart that he kept his word—whether that is him in the picture or not is not for me to decide.

click on picture for larger view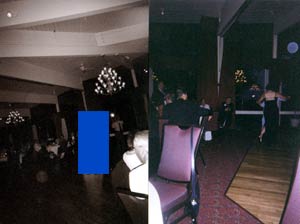 Now that I'm home and well rested, I'm ready to get back to business here at Ghostvillage.com. First, let me apologize to the many people who have been submitting "ENCOUNTERS." I am slowly getting through all of them and am posting a new one almost every day.

It's great to see the volume of "Encounters" being so high and from so many different places around the world. One of the goals for Ghostvillage.com is to become a giant library of personal encounters, pictures, and EVPs. I'm hoping that people may begin to see patterns, or may have had a very similar experience in a different location, or possibly the same location. If you have something to share, please don't be shy. You can submit your experience HERE.

Also, if you live in the Connecticut area, please visit "ParaCon 2002," August 3, 2002 from 10 AM to 4 PM at the Fairfield Public Library in Fairfield, Connecticut. Admission is free and if schedules permit, I will be there, so please stop by and say hi. I'll be the guy with the ultra-cool Ghostvillage.com t-shirt on.

Recent Encounters
Here are some Encounters that have been added since the last newsletter:

Tormented Dreams - Douglasville, Georgia
Sixth Sense - Chesapeake, Virginia
Haunted Mirror - Lindsey, Ontario, Canada
Cold Room Tapping - Hazlehurst, Georgia
Faceless Nighttime Visitor - Kuala Lumpur, Malaysia
Angry School Spirit - Chicago, Illinois
Native American Shadow Spirit - Orlando, Florida
Father's Day Spirit Energy - Denver, Colorado


Haunted Queenslander - Brisbane, Queensland, Australia
Haunted Half Cellar - North Greece, New York



Welcome New Members
Since our last newsletter we have had a lot of new people join us in the Town Square. Please welcome: tina24, WICCAN81, nitas43, Sonya, valkyrie, XHaunted4lifeX, rhiannon, CubanGhost, 13Friday, Ghsthunter700, firewalker, pandoras_box, greeneyedgirl, natgirl275, seeker, Gobrk1, esses1959, ryanne, Marlene, mean_gene, salonheather, NewJonno, XxCaSpeR1xX, waggs, Robyn226, Cute_and__Sexy1, Sketchkat, ika62999, LeoMcDermott, calvinj23, jordanj45, Ghost_Writer, krisanne301, FRiGiDDRMR, Para_Search, Boo_Boo_Boo, kaos, josmith22002, jennifer, RonsWitch9299, Ben_Mahoney, yankeegirl029, Ghost_finder, Txghostsearch, Ghost_daddy, meggles, mrfuzzy, MarchWhelp, wiccan_enchantress, icabod1898, jim_warfield, jakebud, Dees_Shadow, MeggieT07, Jonathan, Ms._Fleury, pandorad2, FashionViktum, roadguy, SGRAHQ, blondedonna, satur9, and prettynpink767.

Ghostvillage.com Quick Stats:
4,912 Messages in the Town Square Message Boards
522 Members in the Town Square
28 "Encounters" listed so far in 2002
200 Paranormal Web sites in the Ghost Search directory
920 Subscribers to this newsletter.
Support Ghostvillage.com
Please don't forget that you can make donations to Ghostvillage.com with your credit card over Amazon's secure Web site. Your contributions help fund the continued growth of this site. A big thank you to those of you who have already contributed. You can also help by Shopping at Ghostvillage.com. You won't pay anything extra by clicking through us, and a portion of your purchases will help us greatly.

And don't forget we still have Ghostvillage.com t-shirts, with more designs coming soon!
Remember, this is your ghostly community! Your input, ideas, photographs, recordings, and experiences are welcomed. Please email us anytime at info@ghostvillage.com.
Happy Hauntings,
Jeff Belanger
info@ghostvillage.com
Mayor of Ghostvillage.com
---
REMOVAL INSTRUCTIONS:
To be removed from the Ghostvillage.com mailing list, please respond to this email with the word "remove" in the subject line. You will be promptly removed.
---