GHOSTVILLAGE.COM NEWSLETTER #47
July 15, 2005

Shop at Ghostvillage.com | Support Ghostvillage.com | The World's Most Haunted Places | Communicating With the Dead

Be sure to forward this on to your friends who are interested in the supernatural!

Click here for EVP, spirit photography, Ouija, tarot, ITC, and more. Your purchase of this book helps support Ghostvillage.com http://www.ghostvillage.com/spiritcommunication/index.shtml
---
You are receiving this email because you or a friend signed you up at http://www.ghostvillage.com. If you would like to be removed from this mailing list, please see the instructions at the bottom.
View this newsletter online at: http://www.ghostvillage.com/newsletters/Jul15_05.htm
---
Dear Ghostvillagers,

A lot of people have asked me, "Jeff, what exactly is a ghost hunter? Are you one? Am I one?" The definition is different depending on who you ask, but there are certainly a few tell-tale signs that you may in fact be a ghost hunter. So I came up with a quick self-quiz.

If your family vacations involve a trip to a cemetery... you might just be a ghost hunter.

If you find yourself throwing out pictures of your children because there are no orbs or other supernatural anomalies in the images... you may just be a ghost hunter.

If you've ever asked a camera salesperson with a straight face if the lens he's selling is any good for capturing ectoplasm... you may in fact be a ghost hunter.

Finally, if you brought your hand-held electromagnetic field device to your Granny's funeral... you might just be a ghost hunter.

Maybe the summer heat here at the Ghostvillage.com world headquarters is starting to cook my brain a bit beyond well-done lately, but I wanted to share that self-quiz with you. It is summer here and that means outdoor excursions and lots of paranormal conferences. Last month I had the pleasure of speaking at the SGRA ParaCon in Stratford, Connecticut, and tomorrow I'll be speaking at the Berkshire Paranormal Conference in North Adams, Massachusetts. It's been great meeting so many Ghostvillagers in person and making new friends. I'm always in awe at the people who are out there looking for answers to many supernatural questions. I learn so much with every conversation I have, and I'm grateful that so many groups are organizing and holding conferences for the public and for other researchers to share, learn, and of course joke around a bit. Chances are there's a conference happening near you -- remember, the bigger the discussion, the better. That's why we're here -- learning and teaching is what pushes us forward.

We've had a busy month here in the Village. We completely upgraded our message boards and there's a great new feature you should check out called "Paranormal Radio." There are so many great paranormal radio programs available on the Internet and we're compiling a single location with show schedules and links to directly tune in to some of these programs. Be sure to check out this new feature: http://www.ghostvillage.com/resources/ghostradio.shtml. There is a paranormal radio program available every day, and we'll be adding more shows in the near future. Enjoy the rest of the newsletter below.

Supernaturally yours,

Jeff Belanger
info@ghostvillage.com
Mayor of Ghostvillage.com


Congratulations to Michelle Lain of Dothan, Alabama, who was last month's winner of an autographed copy of Robert Masello's new novel Vigil and a Ghostvillage.com t-shirt!

This month, we're doing the contest again, but we ask that you first click this link: http://www.ghostvillage.com/index.shtml#winner. If it says, "The search is on" then we don't have a winner yet and go ahead and send in your answer. If you see today's date and "We have a winner!" that means you weren't the first to email us. Sorry, please try again next month.

On to this month's question: This question can be answered by reading a page on Ghostvillage.com. The first person to reply to this email with the correct answer will win this month's prize.

What are Tibetan mummies called?

Once we have a winner, we will announce it on our home page as soon as possible. Good luck! (Only Ghostvillagers who have not won a prize from us in the last year are eligible.)



This month's prize: we're giving away an autographed copy of Jeff Belanger's new book, Communicating With the Dead: Reach Beyond the Grave, a Ghostvillage.com t-shirt, and a copy of Jazz guitarist John Judd's new CD, Haunted Heart!


Didn't win? Want to buy a copy? Click on the graphic.



The Supernatural Calendar is the place where thousands will learn about your events of interest to the supernatural world. The service is only available to registered members of the message boards, and it's free! We'd like your help filling our calendar in -- so add your events for thousands of Ghostvillagers to see. Here's some of the conferences, happenings, and meetings going on in the next two months:


July 15: Berkshire Paranormal Conference - Jeff Belanger will be speaking at this event
July 16: History & Hauntings Tours Extended
July 22: Ghostock - Savannah, GA
July 23: Eastern Paranormal Conference, Baltimore
July 29: Jeff Belanger on Magick Mind Radio, Jeff Belanger on APSR Radio
July 30: Haunted Heartland Ghost Tour
August 3: Brian Leffler-krcguns on MagicMind Radio
August 5: APS GhostFest 05 Red Boiling Springs, TN - Jeff Belanger will be speaking at this event
August 19: Ghosts of Griffin Gate, Paranormal Conference
August 20: Book Signing-Cape Encounters: Contempora, Haunted Overnight-Waverly Hills
August 27: Haunted Heartland Ghost Tour
September 9: 2005 Annual Paranormal Researchers Convention on the Queen Mary - Jeff Belanger will be speaking at this event September 10: Haunted Heartland Ghost Tour




Who's Who in the Town Square?

Get to know some of your fellow Ghostvillagers.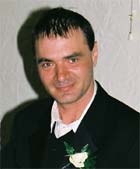 >>haunted soul<< - member since May 16, 2005

What is your name?
Victor Neil Johnson

How old are you?
38

Where do you live?
I live in Canterbury, New Zealand.

What do you do for a living?
I am a farmer.

How did you get interested in the supernatural?
I got interested in the supernatural when I was young because my sister was into black magic and voodoo.

Have you ever experienced a ghost?
When my wife and I first moved into our new house, someone or something kept hitting my wife. We just passed it off as a joke until one night I felt something lying on me and playing with my hair. We got a medium in to help, and after a few weeks we were able to help the female spirit to pass on.

Do you think people in New Zealand are more or less open to the supernatural compared with what you know of other countries?
I think Kiwis are more open to the supernatural because we are brought up to believe in the afterlife and in our elders being around us when we need them for help.


Who has better cricket players -- Australia or New Zealand?
Man, that's a hard one. I would love to say NZ, because we have a good, strong team in the Blackcaps for the one-dayers, but the Aussie team is more focused for the internationals. So it's about even, I guess.

Ghostvillage.com's book reviewer, Lee Prosser, has brought us several new book reviews since our last newsletter.


This past month's Library additions:

Coyote Wisdom by Dr. Lewis Mehl-Madrona, M.D., Ph.D.

Mystery of Reincarnation by J. Allan Danelek

The Art of the Pendulum by Cassandra Eason

Ancient Healing Techniques by Douglas De Long

Healing Herbs and Health Foods of the Zodiac by Ada Muir

Autumn Equinox by Ellen Dugan

The Serpent Myths of Ancient Egypt by William Ricketts Cooper

Speak with the Dead by Konstantinos

The Gospel of Thomas by Jean-Yves Leloup

Exploring The Northern Tradition by Galina Krasskova

The Discovery of the Nag Hammadi Texts by Jean Doresse



We receive personal encounters from all over the world. Many are scary, some are touching, but they are always profound. If you would like to share your own experience, please click >>here<<. Since our last newsletter, we added the following new encounters:

The Mohawk's Cry - Altamont, New York

Granny's Passing - Jonesboro, Arkansas

Anna Tried to Show Me - Rochester, New York

The Shadow in the Kitchen - Elgin, Illinois

Bessett House Orbs - Bannack, Montana [PIC]

My First Haunting - Wareham, Massachusetts

Our Haunted Office - Ocala, Florida

James's Last Call - Austin, Texas

Great Grandmother's Ghost - Mendoza, Argentina

Channel Road Apparition - Sanger, California

Haunted Practice Space - Massillon, Ohio [PIC]


This is a new section we have added to Ghostvillage.com. This is the place to find press releases and news items on paranormal happenings around the world. If you have a news item you'd like to submit, please see our guidelines.

Ghosts of Griffin Gate: Dinner, Ghost Hunting Workshop and Investigation - June 24, 2005

Biography Channel Launches Supernatural Series: Dead Famous: Ghostly Encounters - June 17, 2005


Our "Features" section is a place for editorials, research articles, open letters to our readers, and other content of interest to Ghostvillagers. If you have a topic on your mind, agree or disagree with something you read recently, we want to hear from you! For guidelines, click here.

New features added since our last newsletter:

Bide One's Time - Don Bachardy - by Lee Prosser - July 15, 2005

Bide One's Time - New Mexico, Land of Enchantment - by Lee Prosser - July 1, 2005

Tibetan Beliefs On Death and Beyond Part 2 of 2 by Janice Cottrill - June 20, 2005




Jeff Belanger's Upcoming Events

This is the place to find out where author and Ghostvillage.com founder Jeff Belanger will be speaking on the subject of the supernatural. If you're interested in booking Jeff for a conference or other event, please email us for more information.

Events Scheduled in 2005 so far:

2005 California Ghost Hunters Conference in San Diego, California - April 22-24

SGRA Summer Paranormal Conference in Stratford, Connecticut - June 17-18

New England Ghost Project's Berkshire Paranormal Conference in North Adams, Massachusetts - July 15-17

Adsagsona Paranormal Society GhostFest '05 in Red Boiling Springs, Tennessee - August 5-7

Ghost Convention International 2005 on the Queen Mary in Long Beach, California - September 9-11

Las Vegas Paranormal Conference in Las Vegas, Nevada - October 2-4

A Supernatural Evening With Jeff Belanger in Bellingham, Massachusetts - October 25th




Hot Threads in the Community

If you have registered for our message boards but haven't validated your account yet, it's simple to do! Look for the email that was automatically sent to you when you registered and click on the account activation link in the email (note: some spam filters may block this email, so you'll need to check your spam folder if the validation email didn't immediately come through). There are always great discussions going on in our huge message board community. We hope you'll get involved. It's free to register if you're not already a member. Here are some of the hot topics this month:

Fairies, do you believe?
http://www.ghostvillage.com/ghostcommunity/index.php?showtopic=6449
Do you believe in fairies? What are they? Who are they?

Title This Picture
http://www.ghostvillage.com/ghostcommunity/index.php?showtopic=8634
Think up a title or phrase for the picture of the day.

Ouija Helps Solve Crime?
http://www.ghostvillage.com/ghostcommunity/index.php?showtopic=9149
What do you do if a Ouija reveals details about a crime?

Which percentage are you?
http://www.ghostvillage.com/ghostcommunity/index.php?showtopic=9165
At least one-third of Americans believe in ghosts. How about you?

Do you think development has gone too far?
http://www.ghostvillage.com/ghostcommunity/index.php?showtopic=8908
New construction, urban sprawl, had enough?

Connecticut Haunts
http://www.ghostvillage.com/ghostcommunity/index.php?showtopic=4518
Information about haunted locations in Connecticut.

Know Your World
http://www.ghostvillage.com/ghostcommunity/index.php?showtopic=8909
Interesting information about where you live.



In the last month, the following people have joined our ghostly community. Please welcome:

Louisa, MANDALA51, raenla, tlvmmbshb, Becca, Darknessbocomesme, Sedo, Chilkd of the darkness, sweetpet1987, tiggerb29_18301, Aviechick, myabear, Ayame, shes_swank, Annie1057, invisaman, massagediva, pulse607, albinoape, shyleeblue, kookyloony123, tawy42, DianA, jwsees, purpleacemandy, anisha everill, mckinnet, lamdennisyang, kiki29, kboogy, DianeBoo, elmo, atarishaman, Diamond, Sexy12, Moon_Goddess, GrEmmaLyn_howLAME, spookygrl108, SMHappyface, dknight, The Oracle, JeanM, cassandra alisha, fantasyworld_31501, mtjdv, naturalseer, historysprite, AngieBinoz, Bee, RememberMe, Xx DeathAngel xX, xxcurious88xx, mal521, priscilla, goth_girl, stegowhite, Angief, oseor, tazzie, Dramonda, hockeylove, Linda - Spirit Lights, dmab, judenmatt, DevilGirl, rod c davis, gata3204, jrwatkinson, wedensday 13, Barbi Dolli, espearite, mlfl, poohbear26602, Chrltt, Clare, messenger, Yvonne5, pinkshamrock, pandorasbox, sadroddiny, faerywitch, PJ_, beachcityfirefighter, ghosthunter0791, jambliss, wyckedchica, Nevermore, Blueghost1, STORM13, lvpeaceful, destinydelivered, silversurfa, share&manna, Ghostess, jazzlovr, bluehorse776, Catwoman5049@, deb332, Ladycat2005, insight, oops_forgot_my_id_again, Lorelei2005, Katy_Kat, vivaciousspirit, barb1955, Luckycat, newhunter, kanimallover, StarryNite, wnycowboy, AnnPig, LalaCt, trumpey, groovyangel, maggiebann, qaz, AtWill, msmadden, MNPSG_Adam, wiccanleo, single_grl, griffinj, squido, lil missy, Stumpy, paolo, Irish Girl, unexplained happener, white lady, helenrose, Wez1888, cazzy, marynewbegin, mchef4u, wiria, 6equj5, crazyookie, thebrownlady, yoursweet6x3, max14165, david williams, Spazzie Gail, totopop, bac4011, weirdstone, shdght, twotut, Boashoak, lvsfroggiesndeadstuff, Ghosthunterwitch, mary c, creepsville20, Lily, sexy@79, lilmissy, musicgeek76, bounce, akash, Kandie, Greenpeptom, hotghostchic, theyfollowme, chankeily, kshsmy, Anythingbutfait, auspecious, auntpama, Ms_lolabunny, ferretlady, duncan36, WindStar, bizarre, PsychicHealer, stolen_kisses, 14m20, joneb, andrea, ShadowOfAndromeda, gurlmonkey9, venusmoon32, mi8ty, Channy, fran_lacey, clancy, Issaquah, jadepercox, gjhokan53, lakota76, Gem, lbludolphin1, artiev, i_am_your_worst_nightmare, fromtaunton, Christina Thompson, ash_spirit, Mistyswann, littlememaid1992, poolman, slayer_Ash, chrissyee, sputnik15, Woebetide_Mourn, private_marie78, treefrog, matt32, billy boo, asheycatgirl, saralove_23, newcastlegirl, cutie101, Ghosts_Are_Real_Forever, Vishus_D_Lishus, moonwitch79, Jennah71189, maizi, composer, walkerlass, Girlie, canadiannapoleon, linnett61, yuppee_guppee, StPeteNixMom, MuzikMafiaPunk, bblonde, Magenta, bathory313, Photoman, piper31176, Sockman, spirtual, MissZombie, cocostarfish, œoxy, Geezer28uk, Safire973, steverudd, jupdonklin, moondreamer84, and kcatta cinap.



Ghostvillage.com Quick Stats:

135,264 Messages in the Town Square Message Boards
8,314 Members in the Town Square
377 "Personal Encounters" published on Ghostvillage.com
300 Paranormal Web sites in the Ghost Links directory
15,413 Subscribers to this newsletter
4,852,745 total Web site "hits" for Ghostvillage.com in June


Ghostvillage.com is the Web's largest supernatural community, the central place where people come to share their experiences, thoughts, and research. Please help us continue to grow by donating, buying a copy of The World's Most Haunted Places: From the Secret Files of Ghostvillage.com, Communicating With the Dead: Reach Beyond the Grave, shopping, or by buying a Ghostvillage.com t-shirt. Every little bit helps run our servers and helps the site get bigger and better! Please also click on our banner ads and support our advertisers -- when you do business with someone who advertises with Ghostvillage.com, let them know you saw their ad with us and thank them for the support.

Please email us anytime at info@ghostvillage.com. Your comments, questions, and feedback are always welcomed.


---
All material is © 2005 Ghostvillage.com
REMOVAL INSTRUCTIONS: To be removed from the mailing list, please go to www.ghostvillage.com/subscribe.shtml.