GHOSTVILLAGE.COM NEWSLETTER #106 - July 15, 2010

Buy Books by Jeff Belanger | Jeff Belanger's Official Web site | Visit UFOvillage.com | Visit us on MySpace | Paranormal for Kids | Meet the Staff | Advertise with Ghostvillage.com

Be sure to forward this on to your friends who are interested in the supernatural!


Picture Yourself Legend Tripping: Your Complete Guide to Finding UFOs, Monsters, Ghosts, and Urban Legends in Your Own Back Yard -- Jeff Belangerís new book, DVD, and Web site. Enjoy the trip! http://www.legendtripping.com/
---
You are receiving this email because you or a friend signed you up at http://www.ghostvillage.com. If you would like to be removed from this mailing list, please see the instructions at the bottom.
View this newsletter online at: http://www.ghostvillage.com/newsletters/Jul15_10.htm
---
Dear Ghostvillagers,

This month Iím thrilled to tell you about a new movement in the paranormal, plus a new book/DVD, and Web site I launched this week. Itís called: Legend Tripping.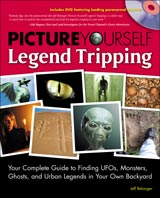 Okay, itís not really a new idea. In fact, itís been around for thousands of years. Legend tripping is a folklore insider term that refers to a rite of passage for kids and teens to try something with an often paranormal implication. For example, remember sneaking out of the sleepover when you were a kid and going to the graveyard at midnight to knock three times on the alleged cursed headstone? Thatís legend tripping. But Iím redefining the term here and now.

Itís so much more, and itís not just for kids. Legend tripping is to pursue all avenues of the paranormal. Itís time to put it all on the table together: ghosts, aliens, monsters, urban legends, and even religious legends. In our quest we will put ourselves into the story. You donít need fancy equipment (though you can go in that direction if you really want to), and you donít need to belong to a group. You do need a sense of adventure and a thirst to stand where bigfoot was said to stand, to crawl through haunted buildings, and to look at a night sky near a UFO landing site.

Any paranormal television show youíve ever seen is legend tripping. First, someone heard a compelling story, something that rang true with them and caused them to want to investigate. Bringing along thousands of dollars in equipment is okay, but my concern is that flashing lights on a meter becomes a surrogate for a real, human experience. My fear is that some people spend too much time watching their gear instead of the world around them. Some folks trust their senses less than their equipment and thus humanity is removed from the legend experience; which is the biggest tragedy of our time.

It always has been and always will be about the human experience. And itís a wild ride.

Becoming a legend tripper is arduous and not for everyone, but if you think you have what it takes, here's how to do it.

1. Grab a mirror.
2. Look in the mirror.
3. Say, "I'm a legend tripper."

Okay, you're in.

So I come to you today asking for your support. Today Iím proud to announce my latest work: Picture Yourself Legend Tripping: Your Complete Guide to Finding UFOs, Monsters, Ghosts, and Urban Legends in Your Own Back Yard -- a new book and DVD that is now available! The cover price is $24.99 but you can get it on Amazon for $17.99 right now.

Here's the big favor: I'm asking you to buy the book by this Friday (July 16th) because if a bunch of us buy the book over the next few days, the Amazon sales rank will rocket up and catch the attention of many others because it will become a hot seller. I know times are tight for many people right now, and I'm asking you to part with your hard-earned money. All I can tell you is it's worth it.

Plus, Iíve launched a brand-new Web site for us legend trippers (and if youíre on this email list, Iím guessing youíre already a legend tripper): www.legendtripping.com. Iíd like your help with the Web site too! Whatís there now is only the beginning. I want you to share your local legends, tales from your own legend trips, and read what others are doing.

The new book and DVD is a road map for what legend tripping is. This is the ground floor, and you have the opportunity to take this idea and run with it. To help shape where legend tripping goes. To become part of the story yourself.

Iím right there with you. After you read the book, Iíd love your feedback, and Iíd appreciate if youíd take the time to post a review on Amazon. All of that helps tremendously.

In this monthís ďmessage board of the monthĒ weíll be focusing on your favorite local legends and your own legend tripping experience.

In recent weeks Iíve also seen the conference calendar heating up! Iím glad to be attending so many great events. Coming up next for me is the Haunted America Conference in Cape Cod, Massachusetts, August 27-28! This will be a great event and worth checking out. I canít believe how fast the busy Halloween season is coming this year. What a great time to get out there and explore some legends!

Enjoy the rest of the newsletter below!

Supernaturally yours,

Jeff Belanger
Mayor of Ghostvillage.com
MySpace: www.myspace.com/ghostvillager
Twitter: @THEJeffBelanger
Facebook: Jeff Belanger





Jeff Belanger's Upcoming Events

This is the place to find out where author and Ghostvillage.com founder Jeff Belanger will be speaking on the subject of the supernatural. If you're interested in booking Jeff for a conference or other event, please email us for more information.

Events Scheduled:

2010 Haunted America East Coast Conference - Cape Cod Community College - West Barnstable, Massachusetts - August 28, 2010
Ghost Adventures Crew and Darkness Events - Mansfield Reformatory - Mansfield, Ohio - September 9-12, 2010
A Paranormal Retreat: Virginia City - Virginia City, Nevada - October 1-4, 2010
A Supernatural Evening with Jeff Belanger - Memorial Hall Library - Andover, Massachusetts - October 6, 2010, 7 PM
A "Weird" Massachusetts Evening - Bolton Public Library - Bolton, Massachusetts - October 7, 2010, 7 PM
A Supernatural Evening with Jeff Belanger - Bancroft Memorial Library - Hopedale, Massachusetts - October 13, 2010, 7 PM
A "Weird" Massachusetts Evening - Dighton Public Library - Dighton, Massachusetts - October 14, 2010, 6:30 PM
A "Weird" Massachusetts Evening - Fiske Public Library - Wrentham, Massachusetts - October 19, 2010, 7 PM
A Supernatural Evening with Jeff Belanger - Beaman Memorial Library - West Boylston, Massachusetts - October 26, 2010, 7 PM
Beyond Reality Events - The Stanley Hotel - Estes Park, Colorado - November 5-8, 2010
Ghost Adventures Crew and Darkness Events - The Queen Mary - Long Beach, California - December 2-5, 2010
Phenomenology 103 - Gettysburg, Pennsylvania - March 24-27, 2011



Congratulations to Kim Mitchell of Laughlin, Nevada, who was last month's winner of an autographed copy of Jeff Belanger's book, Encyclopedia of Haunted Places: Revised Edition and a Ghostvillage.com window sticker!

How to win: Entries will be accepted up until 5:00 PM (eastern time) tomorrow (July 16, 2010). At 5:00 PM, we will draw a winner at random from the correct entries that have been received. You no longer have to be the first, but you only have until 5:00 PM to get your answer in. If you click on this link: http://www.ghostvillage.com/index.shtml#winner, you see today's date, and "We have a winner!" that means the contest has ended. Sorry, please try again next month. To submit your entry, simply reply to this email with the correct answer.

On to this month's question: This question can be answered by reading a page on Ghostvillage.com. Remember, reply by 5:00 PM tomorrow to be eligible to win.

In Jeff Belanger's exclusive interview with the Ovilus on 30 Odd Minutes, what's the first word the Ovilus says that Jeff repeats?

At 5:00 PM tomorrow, we will announce the winner on our home page. Good luck! (Only Ghostvillagers who have not won a prize from us in the last year are eligible.)



This month's prize: We're giving away an autographed copy of Jeff Belanger's new book and DVD, Picture Yourself Legend Tripping and a Ghostvillage.com window sticker!


Didn't win? Want to buy a copy? Click on the graphic.



The Supernatural Calendar is the place where thousands will learn about your events of interest to the supernatural world. The service is only available to registered members of the message boards, and it's free! Ghostvillage.com now syndicates our calendar of events so other Web sites can also display these supernatural happenings at no charge! To learn more about installing our calendar of events RSS feed, please visit our syndication page. Adding your own local events to our calendar is more important than ever!

July 15: Jeff Belanger on Down at the Crossroads Radio
July 24: Jeff Belanger on Spooky Southcoast Radio
August 13: Awakenings: Developing Your Psychic Potential
August 21: Ohio Paranormal Convention, Weird 10, Jeff Belanger on UKPN RADIO
August 28: Haunted America East Coast Conference - MA
September 9: Darkness Radio and Ghost Adventures at Mansfield





Who's Who in the Village?

Get to know some of your fellow Ghostvillagers.



>>ChuckMcB<< - Ghostvillager since May 2, 2010

What is your name?
Charles J. McBrearty or Chuck

How old are you?
One month shy of 24.


Where do you live?
Hernando Beach, Florida, but I grew up in Howell, New Jersey.

What do you do for a living?
I'm a full time college student at St. Leo University, studying history and tourism.

What got you interested in the paranormal?
As far back as I can remember, several members of my family have always had various experiences so I've always been comfortable with the idea of spirits being around. I was also obsessed with the Ghostbusters as a young kid, I had all the toys and even a uniform. One of my first Halloween costumes was Slimer. I will admit that I never thought much about getting into paranormal investigation until the Ghost Hunters show came about. About two years ago a friend called me because he was experiencing a rather active haunting and I was the first person he could think of. So I picked up a cheap EMF meter, a voice recorder, and a borrowed digital camera and drove 600 miles to begin my first ever investigation. I was lucky enough to actually catch a glimpse of that spirit and I've been hooked ever since. I didn't get any actual evidence but a local team with much better equipment went in after me and got some nice EVPs.

Whatís your favorite local legend?
They actually included the Jersey Devil in my third grade class on the history of my home town. I'm still convinced that the Pine Barrens could be hiding some sort of unknown creature. Something ate all those chickens afterall.

How are the Washington Redskins football team going to do in the 2010 season?
I'm not too sure. It's very strange after ten years of mediocrity and torment to hear all the supposed experts talking about the Skins with respect now that we have a winning coach, a trusted general manager, and a true franchise quarterback. It's tough to lift a team back up from rock bottom in a single year and I don't like our schedule, but we've got a shot at the playoffs if McNabb stays upright and healthy. Right now everything seems to have changed at Redskins Park but we'll see if that's true come kickoff in September.



Our "Features" section is a place for editorials, research articles, open letters to our readers, and other content of interest to Ghostvillagers. If you have a topic on your mind, agree or disagree with something you read recently, we want to hear from you! For guidelines, click here.

New features added since our last newsletter:

Paranormal Inventor Bill Chappell By 30 Odd Minutes July 13, 2010 [VIDCAST]
Paranormal Roundtable: Part Deux By 30 Odd Minutes June 29, 2010 [VIDCAST]
Legend Tripping with Christopher Balzano By 30 Odd Minutes June 22, 2010 [VIDCAST]





Last Month's Theme - Featured Content

Our last month's theme was Nightmares. Here's what you missed if you haven't checked in since last month:

Discussion: Incubus
Features: Old Hag Syndrome
30 Odd Minutes: Your Worst Nightmare
Library: The Nightmare Encyclopedia



Ghostvillage.com's book reviewer, Lee Prosser and the staff have brought you new book reviews and author interviews since our last newsletter.

This past month's Library additions:

Hidden Realms, Lost Civilizations, and Beings from Other Worlds by Jerome Clark



We receive personal encounters from all over the world. Many are scary, some are touching, but they are always profound. If you would like to share your own experience, please click >>here<<. Since our last newsletter, we added the following new encounters:

Attacked in My Room - Malvern, Iowa
The Teddy Bear on the Floor - Milton, West Virginia
Ghosts Watching Me - Cascapedia St Jules, Quebec, Canada
The Crying Baby - Tampa, Florida
The Ghost of Nicole By the Bridge - Rochester, Illinois



This is the place to find news items on paranormal happenings around the world. If you have a news item you'd like to submit, please see our guidelines.

From the Desk of News Editor, Christopher Balzano:
Dan Gordon and Mickey Bradley could not have timed it better if he had been standing in the closet rattling chains. The two authors have just released Field of Screams, their second collection of stories chronicling the odd curses and ghost stories surrounding Americaís Game. The news hit the wire like a large, orange banner waving to upcoming traffic announcing the opening of a new restaurant -- or maybe it was more like Prince Fielder hitting a Taco Bell sign -- There are ghosts in Major League Baseball. And in case you think itís just an idea cooked up to sell copies, out comes two current players to tell you they wonít sleep in a hotel because of the spirits that reside there.

Reporting ghostly experiences always has a price to pay. One of the great things the Internet has done is allow people to realize they are not alone in what has happened to them, but there are still others who remain silent because they do not want people to think they are crazy, or in some cases cursed. The more public the figure, the higher the stakes. For a professional baseball player, it most certainly means some snickers and a lot of media coverage.

This month Pablo Sandoval and Edgar Renteria, both players for the San Francisco Giants, asked to change hotels after they had disturbing experiences at the Pfister Hotel in Milwaukee. It was reported by several outlets that both had had disturbing experiences before at the hotel, and a recent nightís stay confirmed what they both had already thought; something was not right at the Pfister. Major league players have long had a problem with ghosts disturbing sleep at the Vinoy in St. Petersburg, Florida. Scott Williamson, playing for the Red Sox at the time, came out a few years ago about his sleepless nights, only to have the community split itself about his revelation. Some said he was crazy, but others whispered about what had happened to them.

Haunted hotels are the bloodline of the paranormal consumer market. It becomes easy to dismiss reports from owners and employees because there is a dollar to be made. It becomes something very different when a celebrity not trying to promote a new ghost movie comes out to talk about what scared them in the night. There is a machismo that drifts through professional sports, unwritten rules that dictate how a man handles a situation. You donít talk about ghosts, and the fact so many of these types of stories are leaking out means there might be something to this whole haunting thing. They become the loudest mouthpiece of the lore.

Creditability comes from odd sources at times. If you wonít believe your neighbor or friend about spirits, maybe you can trust your favorite athlete.

Pythian Castle now certified as an official haunted site The News Leader Springfield, Missouri- July 12, 2010 [External News]
Jeff Belanger's Latest Book Introduces New Paranormal Movement: Legend Tripping
Who you gonna call for otherworldly rock? Boston Globe Boston, Massachusetts- July 9, 2010 [External News]
Cries of kids, self-lit fires in haunted house Arad Times Kuwait City, Kuwait - July 7, 2010 [External News]
Pandas and ghosts do not get along; two Giants flee haunted hotel NBC Sports Milwaukee, Wisconsin - July 7, 2010 [External News]
Womenís Paranormal Retreat to be held at Parastudy on July 9 and 10, 2010
HUNT FOR THE HUGE BLACK DOGS HAUNTING UK'S COUNTRYSIDE Express.UK.com Devon, United Kingdom - July 4, 2010 [External News]
Get ready for a frightening night on the seacoast NH.COM Portmouth, New Hampshire - June 30, 2010 [External News]
New keeper at Point of Ayr Lighthouse BBC Point of Ayr, Wales - June 21, 2010 [External News]

WANT THESE HEADLINES ON YOUR SITE FOR FREE? Syndicate our news! If you have a Web site or blog, you can syndicate our news feeds to your site for free. Join the growing list of Web sites who carry our news by visiting our syndication page.





Hot Threads and the Ghostvillage.com Community

In the past month, hundreds of new people registered for free to join our supernatural discussion! Have you?

If you have registered for our message boards but haven't validated your account yet, it's simple to do! Look for the email that was automatically sent to you when you registered and click on the account activation link in the email (note: some bulkmail filters may block this email, so you'll need to check your bulkmail folder if the validation email didn't immediately come through). There are always great discussions going on in our huge message board community. We hope you'll get involved. It's free to register if you're not already a member. Here are some of the hot topics this month:

Religion and Spirituality
http://www.ghostvillage.com/ghostcommunity/index.php?showtopic=2143
Religion vs. medicine - does religion have a role in medicine?

Skeptics
http://www.ghostvillage.com/ghostcommunity/index.php?showtopic=17837
Magnetic fields - can magnetic fields interfere with paranormal phenomenon?

Real Life Occurrences
http://www.ghostvillage.com/ghostcommunity/index.php?showtopic=30706
The majority of Americans still believe in global warming, do you?

What is Your Opinion on Paranormal Research?
http://www.ghostvillage.com/ghostcommunity/index.php?showtopic=30733
Is paranormal research a science or entertainment?

Spirit Communication
http://www.ghostvillage.com/ghostcommunity/index.php?showtopic=30260
Astral projection.

Personal Encounters
http://www.ghostvillage.com/ghostcommunity/index.php?showtopic=14805
Thayer Cemetery/Schoolhouse, am I crazy?

Spiritography
http://www.ghostvillage.com/ghostcommunity/index.php?showtopic=30802
432 Abercorn, Savannah.

Most Disappointing Episode - Para TV Question
http://www.ghostvillage.com/ghostcommunity/index.php?showtopic=30400
What is the most disappointing episode of a paranormal show you have seen?

Haunted Places
http://www.ghostvillage.com/ghostcommunity/index.php?showtopic=29958
EconoLodge, Gorman, California.


Board of the Month -- Legend Tripping
http://www.ghostvillage.com/ghostcommunity/index.php?showforum=27
Discuss your local legends and your own legend trips!




Ghostvillage.com Advertising Opportunities

Each month Ghostvillage.com reaches tens of thousands of people interested in the paranormal. We offer the most effective and best-valued advertising and sponsorship packages of any paranormal media outlet. Please visit: http://www.ghostvillage.com/advertising.htm for details.

If you're ready to put Ghostvillage.com to work for your company or organization, send us an email to get started.




Ghostvillage.com Quick Stats:

309,932 Posts in the Town Square Message Boards
28,031 Members in the Town Square
973 "Personal Encounters" published on Ghostvillage.com
1,521 Paranormal Web sites in the Ghost Links directory
30,320 Subscribers to this newsletter
4,101,094 Total Web site "hits" for Ghostvillage.com in June


Ghostvillage.com is the Web's largest supernatural community, the central place where people come to share their experiences, thoughts, and research. Please help us continue to grow by buying a copy of The World's Most Haunted Places, Communicating With the Dead, The Encyclopedia of Haunted Places, The Nightmare Encyclopedia, Our Haunted Lives, Ghosts of War, The Ghost Files, Weird Massachusetts, Who's Haunting the White House?, The Mysteries of the Bermuda Triangle, Picture Yourself Legend Tripping or shopping in Ghost-Mart. Every little bit helps run our servers and helps the site get bigger and better! Please also click on our banner ads and support our advertisers -- when you do business with someone who advertises with Ghostvillage.com, let them know you saw their ad with us and thank them for the support.

Please email us anytime at info@ghostvillage.com. Your comments, questions, and feedback are always welcomed.


---
All material is © 2010 Ghostvillage.com
REMOVAL INSTRUCTIONS: To be removed from the mailing list, please go to www.ghostvillage.com/subscribe.shtml or click on the link below.