GHOSTVILLAGE.COM NEWSLETTER #117 - July 18, 2011

Buy Books by Jeff Belanger | Jeff Belanger's Official Web site | Visit UFOvillage.com | Visit us on MySpace | Paranormal for Kids | Meet the Staff | Advertise with Ghostvillage.com

34,177 Subscribers to this newsletter!

Be sure to forward this on to your friends who are interested in the supernatural!


Picture Yourself Legend Tripping: Your Complete Guide to Finding UFOs, Monsters, Ghosts, and Urban Legends in Your Own Back Yard -- Jeff Belangerís new book, DVD, and Web site. Enjoy the trip! http://www.legendtripping.com/
---
You are receiving this email because you or a friend signed you up at http://www.ghostvillage.com. If you would like to be removed from this mailing list, please see the instructions at the bottom.
View this newsletter online at: http://www.ghostvillage.com/newsletters/Jul18_11.htm
---
Dear Ghostvillagers,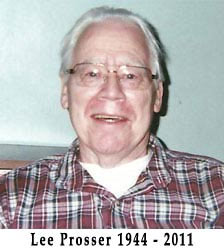 Ghostvillage.com has always been a Web site about ghosts and the paranormal. By discussing ghosts we're really exploring what comes after we pass on. Ghosts offer us a safe way to explore the topic of death without facing it head-on, but death is indeed the elephant in the haunted room, isn't it?

Youíd think a person like me who believes in an afterlife and explores ghosts full-time would have gotten so used to death that a friend's passing would be easy. It isn't.

This past week myself, the Ghostvillage community, and the greater paranormal community suffered a great loss. It's with a heavy heart that I need to announce the passing of my friend and colleague, Lee Prosser. He died July 10th at 10:30 AM and was 66 years old.

Lee has been a prolific and steady Ghostvillage contributor since 2003. He's been our book reviewer, a columnist, and more than anything, a friend to not only me but the paranormal community at large.

I recall many telephone conversations Iíve had with Lee over the years. We talked about ghosts, about books, the writing life, his art, and sundry other topics. Lee was a kind and open soul, ready to listen, eager to laugh, and fond of putting himself into lifeís mysteries. Whenever I had troubles or stress, Lee always offered to light a candle for me in the hopes that better days were coming soon. He must have lit over a hundred for me over the years. He was a Vendantist -- a person who studies an ancient Hindu text called Upanishads, and who follows a philosophical system whereby believers strive to transcend the limitations of self-identity and become one with Brahman -- the highest possible level of living and enlightenment. Lee didn't just believe this, he lived it.

Lee was also a sensitive, he could see spirits almost everywhere he went. He would use those experiences to fill some of his many books. Some of Leeís titles include: Isherwood, Bowles, Vedanta, Wicca, and Me; Night Tigers; Running from the Hunter; Desert Woman Visions: 100 Poems; Midwest Hauntings; Branson Hauntings; Missouri Hauntings; and UFOs in Missouri. We're fortunate that he's left us so much of his work to ponder.

I literally received a post card from him two weeks ago. It's so hard to believe he's gone and not available for me to just call him up anymore.

When Lee started writing his column for Ghostvillage several years ago, he decided to call it "Bide One's Time," the point being that weíre all biding our time until we pass on to whatever comes next. If anyone can reach back and give us some hints, I have no doubt it's Lee.

His writing wasn't all Lee left behind. He's survived by his wife, his children, and grandchildren. Lee was not a wealthy man. His heartbroken widow, Debra now faces a great number of bills related to Lee's untimely death, his hospital bills, and his funeral costs. In an effort to help Debra and remember Lee, Ghostvillage has set up a memorial page for Lee. On there is a PayPal donation button where you can send funds directly to Lee's widow, Debra Prosser. http://www.ghostvillage.com/library/leeprosser.shtml.

Also, if anyone wants to reply to this email with any thoughts on Lee or well-wishes, we will forward them all along to Debra who is feeling Lee's loss more than any of us ever could.

Lee had a love for music, for painting, for his many cats, and for writing -- passions I have no doubt he will continue pursuing in the next life. In the coming month we will remember Lee through his work in the paranormal and through his books.

Please keep his wife, Deb, and his family, friends, and fans in your prayers as they mourn his loss with the rest of us.

Lee, Iíve lit a candle for you, though its flame will pale in comparison to yours.

Supernaturally yours,

Jeff Belanger
Mayor of Ghostvillage.com
Twitter: @THEJeffBelanger
Facebook: Jeff Belanger MySpace: www.myspace.com/ghostvillager






Jeff Belanger's Upcoming Events

This is the place to find out where author and Ghostvillage.com founder Jeff Belanger will be speaking on the subject of the paranormal. If you're interested in booking Jeff for a conference or other event, please visit: http://www.jeffbelanger.com/lectures.shtml for more information.

Events Scheduled:

Legend Tripping with Jeff Belanger at the Agawam Public Library - Agawam, Massachusetts - August 1, 2011, 7:00 PM
2nd Annual Michigan Paranormal Convention - Sault Ste. Marie, Michigan - August 12-14, 2011
A Weird (Massachusetts) Evening with Jeff Belanger at Hubbard Memorial Library - Ludlow, Massachusetts - August 18, 2011, 6:00 PM
Darkness Radio's Dave Schrader and Jeff Belanger haunt Lizzie Borden's - Fall River, Massachusetts - August 26-27, 2011
Chicago Ghost Conference - Chicago, Illinois - September 30 - October 1, 2011
Central Texas Paranormal Conference - Austin, Texas - October 8-9, 2011
A Supernatural Evening with Jeff Belanger at the Billerica Public Library - Billerica, Massachusetts - October 13, 2011, 7:00 PM
A Supernatural Evening with Jeff Belanger at the Luna Gallery - North Conway, New Hampshire - October 22, 2011, 7:00 PM
A Supernatural Evening with Jeff Belanger at the Uxbridge Free Public Library - Uxbridge, Massachusetts - October 24, 2011, 7:00 PM
A Supernatural Evening with Jeff Belanger at the Winthrop Public Library and Museum - Winthrop, Massachusetts - October 27, 2011, 7:00 PM
A Supernatural Evening with Jeff Belanger at the Middleborough Public Library - Middleborough, Massachusetts - October 29, 2011, 6:30 PM
The Stanley Hotel Cabin Fever Event - Ghost Adventures and Darkness Radio - Estes Park, Colorado - November 3-6, 2011



Congratulations to Steve Lawson from Woodstock, Georgia, who was the June winner of an autographed copy of Jeff Belanger's book and DVD, Picture Yourself Legend Tripping and a Ghostvillage.com window sticker!

How to win: Entries will be accepted up until 5:00 PM (eastern time) tomorrow (July 19, 2011). At 5:00 PM, we will draw a winner at random from the correct entries that have been received. You no longer have to be the first, but you only have until 5:00 PM to get your answer in. If you click on this link: http://www.ghostvillage.com/index.shtml#winner, you see today's date, and "We have a winner!" that means the contest has ended. Sorry, please try again next month. To submit your entry, simply reply to this email with the correct answer.

On to this month's question: This question can be answered by reading a page on Ghostvillage.com. Remember, reply by 5:00 PM tomorrow to be eligible to win.

What was the date of Lee Prosser's first feature article on Ghostvillage.com?

At 5:00 PM tomorrow, we will announce the winner on our home page. Good luck! (Only Ghostvillagers who have not won a prize from us in the last year are eligible.)



This month's prize: We're giving away an autographed copy of Jeff Belanger's new book and DVD, Picture Yourself Legend Tripping and a Ghostvillage.com window sticker!


Didn't win? Want to buy a copy? Click on the graphic.



The Supernatural Calendar is the place where thousands will learn about your events of interest to the supernatural world. The service is only available to registered members of the message boards, and it's free! Ghostvillage.com now syndicates our calendar of events so other Web sites can also display these supernatural happenings at no charge! To learn more about installing our calendar of events RSS feed, please visit our syndication page. Adding your own local events to our calendar is more important than ever!

July 30: Paranormal/Psychic Faire
August 12: 2nd Annual Michigan Paranormal Convention
August 26: Lizzie Borden House - Private Investigation Event
September 2: Dragon*Con 2011, Jeff Belanger on Paranormal Straight Talk



Jeff Belanger on Paranormal Straight Talk

Who's Who in the Village?

Get to know some of your fellow Ghostvillagers.



>>Daewen<< - member since November 14, 2003

What is your name?
Arianne Rahmon

How old are you?
22

Where do you live?
Cleveland, Ohio

What do you do for a living?
I'm just out of college, so nothing at the moment, but if everything goes well I'll end up being one of those people who makes enough money to travel and then travels. Then repeat.

What got you interested in the paranormal?
I got interested in the paranormal after I saw a ghost in my mom's bedroom when I was little. Ever since then, I've always loved mysteries.

What do you think is the most compelling evidence of ghosts?
Personal experience. I think that if I had never seen a ghost or had any other experiences with them, I probably wouldn't believe in them, even if someone tried to convince me with photographs, EVPs, objects moving on their own, etc.

Whatís your favorite ice cream flavor?
Moose tracks.



Our "Features" section is a place for editorials, research articles, open letters to our readers, and other content of interest to Ghostvillagers. If you have a topic on your mind, agree or disagree with something you read recently, we want to hear from you! For guidelines, click here.

New features added since our last newsletter:

Living Voices: Richard Senate By Bobby Garcia July 13, 2011
What's in a Name? Let's Try "Paranormalogy!" By Rev. Sherrie James July 6, 2011
Caged and Staged by Katie Mullaly June 23, 2011



We receive personal encounters from all over the world. Many are scary, some are touching, but they are always profound. If you would like to share your own experience, please click >>here<<. Since our last newsletter, we added the following new encounters:

Cool Personal Experience - Tokeland, Washington
Dorm Room Freakiness - Pippa Passes, Kentucky
Insane Asylum Weirdness - Ontario, Canada
Ghosts Are Real - Houston, Texas
Strange Events - Provo, Utah
Phantom Burglar - Holiday, Florida
Spirit Attachment - Walsall, United Kingdom
The Anguished Man Strikes Again - Cumbria, United Kingdom
Phantom Texts and Phone Calls -- Cincinnati, Ohio



This is the place to find news items on paranormal happenings around the world. If you have a news item you'd like to submit, please see our guidelines.

From the Desk of Christopher Balzano, News Editor
What do ufologists and ghost enthusiasts have in common? To the outside world they are two sides of the same coin, odd people who spend their time looking for things that donít exist. Theyíre all weirdoes. To those on the side of that coin, there might be a great deal. The two donít always mix, to the point that infighting has occurred and both have spent time explaining why they might look for ghosts, but want nothing to do with aliens. Aliens are out there, but the soul ends at death. Lately, however, paranormal researchers have taken a staple of the ufologists and added it to their toolbox. At least on one point, ufologists and ghost hunters are on the same page.

A few months ago a small town in England announced that it had taken hundreds of calls on its version of 911 about paranormal and supernatural activity. The article passed without much thought, but then several others began reporting how much of the publicís money was being spent searching for ghosts, aliens, witches, and vampires. In early July, Nottinghamshire , England, publically released its report of over 80 instances of unexplained over the past six years, but they did not come out as part of a fluff piece to sell papers. They were forced to by the favorite law of the UFO people.

Paul Stevenson, editor of Haunted Magazine, had filed a Freedom of Information request for the statistics. The law, which is often associated with federal government records in the United States that may contain knowledge of the governmentís association with aliens and spacecrafts, can be used to solicit any information a state or federal office has that does not have a direct impact on security or agents of that office who might be undercover or in direct danger by revealing the information. In short, itís the publicís way to find out what the government knows or is looking into. Itís a relatively new technique for ghost people, who usually spend more time in the field or trying to piece together historical perspective from archives, newspaper clippings, and old stories.

Stevenson followed up this request with one to Lincolnshire which will be out in a few weeks. While he filed the reports to work on a story of modern hauntings, the method might be sound in getting other information as well. As in UFO documents, names, dates, and details of instances might lead to connecting with people who have had experiences that they might be willing to share or to making links between hauntings and their sources. It might also just reveal a heap of people who watch too much paranormal television or donít understand why their pipes make sounds and the light reflects into their bedroom a certain way.

Either way, Ghostvillage News will follow the details of the Lincolnshire report when it comes out and others that take Stevensonís model. It is important to remember that these are only reports police had to respond to because someone called them in need. In this case the importance of the filing is not in the information it gets, but in opening up a new way to canvas a local paranormal landscape. Police are more likely today to open up about an experience they themselves had on duty, and you can bet several of these follow-ups involved law enforcement coming up against something they didnít understand. Truth or just another tale for locals to turn into folklore, a new path is being cleared. It might be time to put down the thermal scanner and be more like a ufologists.

This month's headlines:
Policing the paranormal in Lincolnshire The Lincolnite Lincolnshire, England- July 12, 2011 [EXTERNAL NEWS]
Sparta kids learn about city's haunted lore LaCrosse Tribune Sparta, Minnesota- July 7, 2011 [EXTERNAL NEWS]
Nottinghamshire Police witchcraft, ghost and UFO reports BBC News Nottinghamshire, England- July 5, 2011 [EXTERNAL NEWS]
Chinese city mirage debunked Asia One News Huanshan City, China- July 1, 2011 [EXTERNAL NEWS]
5th Annual Paranormal Meet and Greet to be held in Indianapolis
Ghost hunting dog joins reality show TAPS HULIQ June 25, 2011 [EXTERNAL NEWS]
Ghostly image shocks St. John's wedding guests CBC News St. Johns, Ontario- June 21, 2011 [EXTERNAL NEWS]

WANT THESE HEADLINES ON YOUR SITE FOR FREE? Syndicate our news! If you have a Web site or blog, you can syndicate our news feeds to your site for free. Join the growing list of Web sites who carry our news by visiting our syndication page.





Hot Threads and the Ghostvillage.com Community

In the past month, hundreds of new people registered for free to join our supernatural discussion! Have you?

If you have registered for our message boards but haven't validated your account yet, it's simple to do! Look for the email that was automatically sent to you when you registered and click on the account activation link in the email (note: some bulkmail filters may block this email, so you'll need to check your bulkmail folder if the validation email didn't immediately come through). There are always great discussions going on in our huge message board community. We hope you'll get involved. It's free to register if you're not already a member. Here are some of the hot topics this month:

Paranormal Equipment
http://www.ghostvillage.com/ghostcommunity/index.php?showtopic=32160
Trifield Natural EM Meter.

Personal Encounters
http://www.ghostvillage.com/ghostcommunity/index.php?showtopic=32217
Haunted retreat center.

Religion and Spirituality
http://www.ghostvillage.com/ghostcommunity/index.php?showtopic=32228
What was Jesus when He rose from the dead?

Skeptics
http://www.ghostvillage.com/ghostcommunity/index.php?showtopic=31143

Are ghosts truly real? or is it just people wanting them to be?

Evidence Alley
http://www.ghostvillage.com/ghostcommunity/index.php?showtopic=32250
Ghost picture from a client.


Board of the Month -- Remembering Lee Prosser
http://www.ghostvillage.com/ghostcommunity/index.php?showforum=27
Remembering author and long-time Ghostvillage contributor, Lee Prosser.




Ghostvillage.com Advertising Opportunities

Each month Ghostvillage.com reaches tens of thousands of people interested in the paranormal. We offer the most effective and best-valued advertising and sponsorship packages of any paranormal media outlet. Please visit: http://www.ghostvillage.com/advertising.htm for details.

If you're ready to put Ghostvillage.com to work for your company or organization, send us an email to get started.




Ghostvillage.com Quick Stats:

317,271 Posts in the Town Square Message Boards
29,538 Members in the Town Square
1,046 "Personal Encounters" published on Ghostvillage.com
1,705 Paranormal Web sites in the Ghost Links directory
34,177 Subscribers to this newsletter
3,736,294 Total Web site "hits" for Ghostvillage.com in June


Ghostvillage.com is the Web's largest supernatural community, the central place where people come to share their experiences, thoughts, and research. Please help us continue to grow by buying a copy of The World's Most Haunted Places, Communicating With the Dead, The Encyclopedia of Haunted Places, The Nightmare Encyclopedia, Our Haunted Lives, Ghosts of War, The Ghost Files, Weird Massachusetts, Who's Haunting the White House?, The Mysteries of the Bermuda Triangle, Picture Yourself Legend Tripping or shopping in Ghost-Mart. Every little bit helps run our servers and helps the site get bigger and better! Please also click on our banner ads and support our advertisers -- when you do business with someone who advertises with Ghostvillage.com, let them know you saw their ad with us and thank them for the support.

Please email us anytime at info@ghostvillage.com. Your comments, questions, and feedback are always welcomed.


---
All material is © 2011 Ghostvillage.com
REMOVAL INSTRUCTIONS: To be removed from the mailing list, please go to www.ghostvillage.com/subscribe.shtml or click on the link below.