Shop at Ghostvillage.com | Support Ghostvillage.com | Ghost Chat | Supernatural Auction

Be sure to have your friends subscribe to the newsletter >>here<<
---
You are receiving this email because you or a friend signed you up at http://www.ghostvillage.com. If you would like to be removed from this mailing list, please see the instructions at the bottom.
View this newsletter online at: http://www.ghostvillage.com/newsletters/Jun07_03.htm
---
Dear Ghostvillagers,

In the northeastern United States, we have been rained on almost daily for the last month and a half. We don't need to watch the Weather Channel anymore -- we know what it's going to say. During weekends and days off, I've been watching the sky for breaks in the clouds so I can just run outside and catch some warm rays. It's not the best weather for getting outside for supernatural investigations, ghost story gathering, and "legend tripping," which is a term I recently learned from Michael E. Bell, author of Food for the Dead (watch for more on this in my next column). "Legend tripping" is about investigating folklore and legends, visiting historical sites, and bringing your cameras and notebooks. Of course rain, if you'll excuse the pun, puts a damper on all of these activities.

Those of us in northern climates know what to do when the weather forces us to stay indoors -- after all, we spent this past winter buried under several feet of snow. One thing this weather is conducive to is reading and research. A lot of people are ever-ready to go experience an "adventure" -- to boldly step into a haunted house, graveyard, or other locale, but so few do much work before the investigation. Sifting through books, Web pages, and magazine articles on the area you're going to investigate can be an adventure in itself. To understand the history and folklore before stepping foot into an investigation site makes the experience so much more exciting, and it enables you to bring more to the table.

Take advantage if you're rained in -- between the Internet and your local bookstores, there's a lot of great information to catch up on. Don't sell yourself short on getting the full experience of paranormal investigating by skipping the research.

This past month, Ghostvillage.com has seen the most traffic we've ever had in our almost four-year history. Our community is growing quickly, and we really appreciate all of the people who come to our village to share their wisdom and personal accounts -- you make us all better. Thanks for researching and reading Ghostvillage.com! Enjoy the rest of this month's newsletter, below.

Supernaturally yours,


Jeff Belanger
info@ghostvillage.com
Mayor of Ghostvillage.com

Congratulations to Sean Snyderman of Marblehead, Massachusetts. Sean was last month's winner of a year's subscription to FATE Magazine.

The "winner" icon on the left has been hidden somewhere on Ghostvillage.com. If you're the first to find it, email us with the page it's on, and you win this month's prize. The graphic could be on any page on the Web site -- maybe at the top of the page, maybe the bottom, etc. Once we have a winner, we will announce it on our home page right away. By clicking on the "winner" icon within Ghostvillage.com, it should launch your email with the appropriate subject. If not, email info@ghostvillage.com, and in the subject or body, put the URL of the page you found the icon on. Good luck!



This month's prize: a free one-year subscription to Mysteries Magazine. Four times a year, Mysteries explores the mysteries from modern times to yesteryear. In addition to the subscription, the winner will also get $5 credited to their Supernatural Auction account (note: this applies to auction fees only).

Didn't win? Want to buy a subscription? Click on the graphic or link above.



Who's Who in the Town Square?

Get to know some of your fellow Ghostvillagers...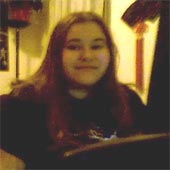 >>pandora<<

What is your name?
Yolanda

How old are you?
21

Where are you from?
Bridgeport, Connecticut

What does it mean to be a Wiccan to you?
Wicca to me is a very important thing. Before I adapted to my religion, I was very high-strung and I could blow my temper at the smallest issue. Wicca has helped me analyze the situations more carefully and respect others as well as the Earth. It's also taught me to help others with the Magikal aspect, but also that the Magik is not the only part. These eight words the Rede fulfill:

"An Ye Harm None, Do What Ye Will"

What was your first ghost experience like?
I remember I wasn't more than 11 or 12 years old. I loved sleeping in the living room. One night I was in there and I woke up at midnight. I turned off the radio and went to get back to sleep when I looked at the wall and saw 4 bright apparitions walking into the wall. *ghost hunting* Scary as hell. I think it was Fairfield Hills. My friend took us up there for no reason and, well, you could see a blue light floating in the upper window.

What's your favorite part of Ghostvillage.com?
I love the Religion Section *obviously* and I also love the Spiritography section.


The Ghostvillage.com Supernatural Library is beginning to bulk up! Have you read one of these books? Want to add your own review? Click >>here<<.

May's Book Reviews:

Coast to Coast Ghosts: True Stories of Hauntings Across America - By Leslie Rule

Ghost: Investigating the Other Side - By Katherine Ramsland


The Holy Grail Mystery Solved - By Frank C. Tribbe




Legends of the Supernatural

Since our last newsletter, the following columns have run:

It's in the Cards - May 31, 2003

Exploring Satanism - May 17, 2003

If you know of a publication that may be interested in running this column, drop me a line. >>email<<

If you have an encounter, please share it by clicking >>here<<.

Civil War Soldier Ghosts - Marietta, Georgia

Supernatural Magnet Dog - Indianapolis, Indiana



Late-Night Footsteps - Bethel Island, California

Haunted Bathroom - Orchard Park, New York

China Hutch Orb - Chisholm, Minnesota



Creepy Childhood Home - Indianapolis, Indiana

Our >>Supernatural Auction<< has been gaining momentum! I'd like to thank everyone who has registered, bought, and sold items since we launched the auction on May 9th. Just a reminder -- as of June 10, this will go to a paid service. There's still time to add a free listing (even if your auction closes after June 10). The listing prices will be as follows:

For items listing for $.01 to $49.99, a 25-cent fee will apply.
For items listing for $50.00 to $199.99, a 50-cent fee will apply.
For items listing for $200.00 to $499.99, a 75-cent fee will apply.
For items listing for $500.00 to $999.99, a $1 fee will apply.
For items listing for $1,000.00 to $9,999.99, a $1.50 fee will apply.
For items listing over $10,000.00, a $2.00 fee will apply.

As a special bonus, all current registered members and all new members who register will have $1.00 credited to their account. This supernatural marketplace is a great way to connect with people who are interested in your products and services.

Besides books, ghost hunting equipment, psychic readings, and computer equipment, here are some current featured auctions:



Modem Internal 56k v92 / V44 PCI NEW

ANTI - MONOLOPOLY II 1977 National Games INC

Psychic MEDIUM Reading - References! 1 Hour!


Since our last newsletter, the following people have joined us in the Town Square. Please welcome:
Diva, NHGhostHunter, mjgaff, Mercedes, nycore77, Dntueva, john_michael, ladymoon64, Winterpurrss, rozwizca, truebeliever21, rahulray, shellylk09, FLguy12, Christ85, haunted, averyofphy, gh35, cellardoor, gypsy8, superspook71, peacefulgrave, Luckys71Skeeto, MaryCamden, toproddj, Larry, zzzjesuszzz, dmcmmc125, Gothperson101, sarahlouiseb, tim_heff, eddieswench, gildersleeve, ghost11, rosie1223, hjt_17, summernights, taz34md, formaro, vlbino88, munga67, rhodeder, alicia, T.R.I.P.R.G., MsGhosthunter, JeniSue21, kentuckykaren, PureEvil, timmy_heff12345678, HensPreciousTreasure, alf, h1ndy22, MsPms, Moruadh, spirit03, spcegoast2, mystery03, morningstar7231, rockyroo, spiritseeker40, snorey, BelovedGoddessoftheswamp, dolly, loveyou2004, jmaronge, p8baller68, jenn8779, Liz, nuno75, shadowdude, coolmaal5, MrsGhostwatcher, GeminiVampire3169, GirlyGhost23, jenncasper, taeboo, Maxium1, poopadoo29, Sweettea, Marks_Maiden, debbiezimpelman, GHOSTTER_BOYS, lilock, nkydjh, hmw1977, kat_a_tak_1999, kittyspirit, Mattagot, daleboGHS, ghosthunterchick41, mishakant, misha, kittengirl, XxGhostChildxX, ghosthunter, dreamangel329, CHRISTINE, prettynpink, DEMON, relentless, nemeny_watts, Lisa72081, Jacque2114, Lostangel917, ParanormalLover, Lovelyleopard, dwrj, wwinds, reaper, priyadarsh, gummiebehr, and fierytemp.



Ghostvillage.com Quick Stats:

15,880 Messages in the Town Square Message Boards
1,648 Members in the Town Square
30 "Encounters" listed in 2003 so far
281 Paranormal Web sites in the Ghost Search directory
3,316 Subscribers to this newsletter
1,583,950 total Web site "hits" for Ghostvillage.com in May

Running Ghostvillage.com takes a lot of time and money. You can help by donating, shopping, using our new auction, or by buying a Ghostvillage.com t-shirt. Every little bit helps run our servers and helps the site get bigger and better -- your support will keep the growth going!

Please email us anytime at info@ghostvillage.com. Your comments, questions, and feedback are always welcomed.