GHOSTVILLAGE.COM NEWSLETTER #31
March 8, 2004

Shop at Ghostvillage.com | Support Ghostvillage.com | Ghost Chat | Supernatural Auction

Be sure to forward this on to your friends who are interested in the supernatural!
---
You are receiving this email because you or a friend signed you up at http://www.ghostvillage.com. If you would like to be removed from this mailing list, please see the instructions at the bottom.
View this newsletter online at: http://www.ghostvillage.com/newsletters/Mar08_04.htm
---
Dear Ghostvillagers,

Over the past few weeks, I've been speaking with people who work at, visit, or investigate haunted locations in Europe as part of my research for my book. I've generally found Europeans to be much more matter-of-fact about their ghostly legends compared with Americans. Probably because there are many more old houses and historical places in Europe compared to the relatively young United States.

Some interesting tidbits I've come across several times in Europe are the many legends of a White Lady, or Gray Lady, or even Green Lady that roams the grounds of old castles, estates, and other historical places. These light-colored "Lady" ghosts have been around for centuries, and they are well-known in their local areas. The Ladies glow their pale colors as they drift around trees, over hills, and by stone walls. Legends about who they were while they were alive will usually focus around some gruesome murder that happened in the area to a woman who may have been killed for adultery, or for political reasons, or maybe for no apparent reason at all. But the poor woman's ghost remains, and the folklore evolves to the point where she's clearly upset at her own untimely death.

One common thread that runs through many of these "White/Gray/Green Lady" stories is that they may have been a very low-tech, early form of security system. By telling children the local legends of an angry ghostly woman who roams around a local castle, it keeps children afraid of the castle. It stops many of them from wandering onto the grounds where they could get hurt or get into mischief. The folklore is so powerful that even adults who grew up with the stories may find themselves thinking twice before trying to disturb some of these ancient grounds.

February was a great month to be a Ghostvillager! We have brought back our regularly-scheduled Ghost Chats: Sundays at 12 Noon EST and again at 9 PM EST -- the reason for the two chat times is to accommodate Ghostvillagers in different time zones around the world. We do hope you'll stop by for one or both chats this week! We've also had 139 of you stick a pin in our global member map! The map defaults to the US, but you can select your part of the world from the drop-down list in the upper-left. We're also launching a new book club -- be sure to read about that below. Have a great March! Enjoy the rest of the newsletter.

Supernaturally yours,



Jeff Belanger
info@ghostvillage.com
Mayor of Ghostvillage.com

Congratulations to Jessica Martin of Lexington, Kentucky! Jessica was last month's winner of a "Sweetheart Basket" from Celestial Scentsations.



The "winner" icon on the left has been hidden somewhere on Ghostvillage.com. If you're the first to find it, email us with the page it's on, and you win this month's prize. The graphic could be on any page on the Web site -- maybe at the top of the page, maybe the bottom, etc. Once we have a winner, we will announce it on our home page as soon as possible. By clicking on the "winner" icon within Ghostvillage.com, it should launch your email with the appropriate subject. If not, email info@ghostvillage.com, and in the subject or body, put the URL of the page you found the icon on. Good luck! (Only Ghostvillagers who have not won a prize from us in the last year are eligible.)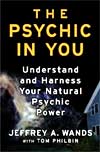 This month's prize: An autographed copy of Jeffrey Wands's new book, The Psychic in You: Understand and Harness Your Natural Psychic Power. This hardcover book walks you through tapping into your own intuition, understanding your spirit guide, making communication with the other side, and much more! Since this is also our first selection for our New Age Book Club -- we hope the winner will get a jump on reading!

Didn't win? Want to buy the book? Click on the graphic to the left.




The Supernatural Calendar is the place where thousands will learn about your events of interest to the supernatural world. The service is only available to registered members of the message boards, and it's free! Here's some of what is going on in March/April:

Monday, March 8: Birthdays: songdeva , blAcKwiDoW21 , Demon_Speeding
Tuesday, March 9: Birthdays: SEEKER2034 , moon_dancer , air4cgirl
Wednesday, March 10: Birthdays: drakeonsgirl , lamb43 , bodhi
Thursday, March 11: Birthdays: Amber , RogueDemonHunter , AMile28840
Friday, March 12: Birthdays: lemures , slackhead , Cheshire , phalynx
Saturday, March 13: Birthdays: nelly , reba13 , Wiccad1 , WaskerleyWells , sallogs , whitewolf2004
Sunday, March 14: Birthdays: No1Vampire , SpookiePookie , sweetemotions314
Monday, March 15: Birthdays: Ebonierose
Tuesday, March 16: Birthdays: TIFFANYJEAN , thorn , thorn4344
Wednesday, March 17: Holiday: St. Patrick's Day Birthdays: XHaunted4lifeX , Light_of_Hope , Midknight , Naomi_Maxwell , XxGhostChildxX , dArKcHiLd101 , myladypate
Thursday, March 18: Birthdays: wolf122 , Rexzzor
Friday, March 19: Birthdays: Kathisue , KittenCadaver
Saturday, March 20: Birthdays: sararush , GhostWriter , hapeehunter , Markey_Desade
Sunday, March 21: Birthdays: Cygnusia
Monday, March 22: Birthdays: ParanormalLover , redrum , bearcrazyeab
Tuesday, March 23: Birthdays: Sammy_Da_Cat
Wednesday, March 24: Birthdays: cryptkeeper , tammymay
Thursday, March 25: Birthdays: kelinbrewer , Jssa20
Friday, March 26: Birthdays: FaerieBad , Elana
Saturday, March 27: Conference: Muncaster Castle Birthdays: ladyviper , urluvofmine , devil_child_200369 , Angel_13
Sunday, March 28: Conference: Muncaster Castle Birthdays: goat_46804 , vestaries , freak_out55
Monday, March 29: Birthdays: DannyGirl , Indianaghosthunter , wayne2241 , ugp
Tuesday, March 30: Birthdays: Allybo
Wednesday, March 31: Birthdays: Caneleya
Thursday, April 1: Birthdays: Don Diablo
Friday, April 2: Birthdays: Tanner
Saturday, April 3: Birthdays: ProtectedBySpirits , Shelli
Sunday, April 4: Birthdays: POLTERG97 , ghostmisty , phoenixghosthunter
Monday, April 5: Birthdays: Casper 1 , no1plumbrr , Shadow_Chaser




Who's Who in the Town Square?

Get to know some of your fellow Ghostvillagers.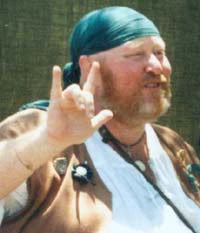 >>Mykiedave<<

What is your name?
My real name is Dave, my stage name is Mychael. Hence... Mykiedave

How old are you?
43, and I'll be 44 on July 4th. Wiiiizzzzzz...BANG.

Where are you from?
I live in beautiful Downtown Burbank, in (finally) Sunny Southern California. Yeah I know, but he can lift more than your Governor.

What do you do for a living?
I am a professional storyteller, writer, and performer. One of my employers is Universal Studios Hollywood, where I play Oliver Hardy and Santa Claus.

What first got you interested in ghosts and the supernatural?
My mother. She was a great believer, and when I had my first experience at the age of six, she explained her beliefs to me so that I wouldn't be afraid.... and I haven't been since.

Have you ever personally seen a ghost?
When I was six years old, my family moved back to California after living in Florida for several years (Navy brat). We had stopped in Texas to visit my father's family on our way home. His father had never seen us. When we arrived, my younger brother and I had bunk beds in our new home. I slept in the top bunk. One night I remember rolling off the top. I knew it was going to hurt, but I wasn't falling. I opened my eyes and an older man had caught me. He was wearing a denim work shirt and jeans. He smelled of pipe tobacco and he gently lowered me to the floor. He was laughing and I felt so completely safe. When he lowered me to the floor, he told me to be good and kissed my forehead. My mother found me on the floor the next morning, and I told her all about my dream. She went and got our family album and there was the fellow. My grandfather. My mom went to answer the phone a few moments later and it was my uncle calling to tell us that my grandfather had passed away the night before. My father was not any kind of a believer, so my mother suggested that we not mention it to him and we didn't. Not until he lay in a coma the day he died. I sat by his bed and told him the whole story. He passed peacefully a few hours later. By then, both sets of grandparents were gone, and I think they just kind of helped him over. Both my dad and my mom's father have visited me and watched me work. It was really something.

Do you believe some locations are more likely to be haunted than others?
Yes I do. I believe that some some places are just more receptive to the energy then others. I have been in some very active places and some absolute flat zones. I think the more energy poured into an area makes it more ready to accept spiritual energy. I don't think places are created good or evil, though. I think we have to provide the focus or filter for that energy and that we can get rid of negative energies (exorcism, if you will) and increase positive energies (most holy shrines or sites). I believe energies are drawn to us by our outlooks. Positive to positive and negative to negative.

Ghostvillage.com's book reviewer, Lee Prosser, has brought us new book reviews since our last newsletter. Have you read one of these books? Want to add your own review? Click >>here<<.

This past month's Library additions:

The Psychic in You: Understand and Harness Your Natural Psychic Power by Jeffrey A. Wands


Progressive Witchcraft: Spirituality, Mysteries, and Training in Modern Wicca by Janet Farrar & Gavin Bone


T'Ai Chi for Seniors: How to Gain Flexibility, Strength, and Inner Peace by Sifu Philip Bonifonte


Circle of Isis: Ancient Egyptian Magic for Modern Witches by Ellen Cannon Reed


Ghost Hunting: How To Investigate The Paranormal by Loyd Auerbach




Ghostvillage.com Book Club

Hey all you New Age readers... Ghostvillage.com has decided to start a book club! We're going to pick one book per month and meet in the chat room to discuss the book.

Our first book is going to be:

The Psychic in You: Understand and Harness Your Natural Psychic Power
By Jeffrey A. Wands
Publisher: Atria Books (February 2004)

You can read a brief interview with the author here: http://www.ghostvillage.com/library/2004/lib_wands.shtml

You can buy the book through Amazon.com through the link in our Library, or you can pick it up at your local bookstore.

We want to cover many different kinds of books, and I encourage all of you to get involved. If you would like to suggest a future book, please email your idea to: info@ghostvillage.com.

We will meet to discuss The Psychic in You in the chat room on Wednesday, March 24th, at 7 P.M. EST.


We receive personal encounters from all over the world. Many are scary, some are touching, but they are always profound. If you would like to share your own experience, please click >>here<<. Since our last newsletter, we added the following new encounters:

Haunted Statue - Punchbowl, NSW, Australia

Missing Hot Sauce and Candied Hearts - Brooklyn, New York
Ghostly Girl from the Well - Milford, Massachusetts



Precognition of Dad's Death - Southington, Connecticut

Red Dot in a Fog - Granbury, Texas

More Pennies from Heaven - Pittsburgh, Pennsylvania

Mother's Kept Promise - Reynella, South Australia


Our new "Resources" section is a place for editorials, research articles, open letters to our readers, press releases, and other content of interest to Ghostvillagers. If you have a topic on your mind, agree or disagree with something you read recently, we want to hear from you! For guidelines, click here.

New articles since our last newsletter:

The Golden Dawn by Lee Prosser - March 7, 2004

The ARC 2004 ~ Alternate Realities Conference - February 18, 2004

Wiz by Lee Prosser - February 13, 2004

Since our last newsletter, the following people have joined us in the Town Square! Please welcome:
mhuelsman, hauntedChild, chelseywebersmith, PaulsCat, CeruleanFire, LoStCoRz, scarface_13, daisysindisquise, chinda, Jacko, PinkPjs, 1lincolngirl, sugarlinda, vikram, sallogs, pandad0, dwiblin, Shadow_Chaser, TSPR_Mark, OTPI_Ghosthunter, raven41620, NickFun, AllyLoveLove, Bronxmike, sharkish, crasskitty, LadyFireHorse, ghostfaught, Mystic, shannonigans, TCDlover588, aprillynn, Tabythah, Pat, Faith, AshesSocks125, dlp192, kimbo, hypnos_m, Beverly, soccercrazy182003, midnightangel, franrolon, ZinnianWolf, Jssa20, Don Diablo, blagheart, cupid, lady_love, Rheta_Conley, caz68, mollee, scottma978, freak_out55, Darkness_Falls, Aliciasdream, Manda_Boo, ginger43, rebecca, jamie17740, paul, Jules, celticwiccan, Toppers1010, melanicus, bonswar, lescoll, dls0710, altiii, shayla, asmo1, lidasparks143, patsi, rogue_rose68, snowdocc, laurennmght, jeeping2004, pinkvodka, Corryn, tyanawyn, rammybone, sgail, JGelvin, grim, spectre, brandi, mississippighost, violettebbw, Blue79, Fred2004, sugarbaby_9_9, deadzone, April235, J-Rock, jennyjewel, NICKIOO, daphne, tashash, oxrosesthornxo, Gargoyle0134, cutewitch73, hipp, DarkFox13, Ronswitch99, RequiemEternum, Jessicaspirit, Morgaine, Hot_Angel, kkreske, Moonflower, StarDust9378, CrumpetsRok, jazmin2001, fukin_kow, southerncross04, lldunbar, Cristelle32, Alia, WABH, RueRue, honeyeyes, bramall, MOON, lacey, Avspencer, cnorth99, jhstraus, karen, mrcold038, Pegz, blondeinIL, crackraider, antalya, American_Ghost, Lianne, Fuckoff, morrow7, mtlycrw, hayleyrebecca, ghostly_girl, ghosthunter38621, ghosthunter332, jamunu01, RachelKoch23, AMile28840, Crazy, Mango, Santos, sikkNtwisted, canyouseeitnow, sparkLLs, Perkyland, cristina, Damian007, bmuixktioen18, fatsa, rochesterspooks, darkWanderer, wildmumof1, whitewolf2004, strawberrynadir, Asheligh, eva, paranormal1, EenneirdaA, HauntedHoney2u, freakCbea, MOONDANCER177, little_leanne, okitsmeagane, wifey_99, FraciaOConnor, Ducky, Amie77Tx, reaper_gal, elliewood, stonecold3693, sbur1, casper88, kelleelynn, WillowJ, blackorchid, fairy, kymmi, lestatfan, Markey_Desade, blondebombshell, strange_girl08, MoonChild, booo, Ravenwood, hauntedi0wa, squeacker, RachelManza, kellykel95, PSI_Ghosthunter_AD, ataripirate, heyhey, Beyond_Bitch, koda66, joecole25, spooky8ball, dublinpubco, The_Phenom22, sisco, HappyBunny, IzziiKat, eight_ball, TheVirg, curious23, jan, spiritwalker2004, ek8171, Babie_Ghost, AkashicNightmares, dodiebird, Donnie_Darko, apajak, bonbon, amberina19, cachoo, princed1, TxStorm1, and chrissybug.



Ghostvillage.com Quick Stats:

26,696 Messages in the Town Square Message Boards
3,425 Members in the Town Square
19 "Encounters" listed in 2004 so far.
386 Paranormal Web sites in the Ghost Search directory
7,411 Subscribers to this newsletter
1,600,087 total Web site "hits" for Ghostvillage.com in February

Ghostvillage.com is growing at an incredible rate. Every day the site grows as more people come to share their experiences, thoughts, and research. Please help us continue to grow by donating, shopping, using our new auction, or by buying a Ghostvillage.com t-shirt. Every little bit helps run our servers and helps the site get bigger and better!

Please email us anytime at info@ghostvillage.com. Your comments, questions, and feedback are always welcomed.


---
All material is © 2004 Ghostvillage.com
REMOVAL INSTRUCTIONS: To be removed from the mailing list, please go to www.ghostvillage.com/subscribe.shtml.