Shop at Ghostvillage.com | Support Ghostvillage.com | Ghost Chat | Supernatural Auction

Be sure to have your friends subscribe to the newsletter >>here<<
---
You are receiving this email because you signed up at http://www.ghostvillage.com. If you would like to be removed from this mailing list, please see the instructions at the bottom.
View this newsletter online at: http://www.ghostvillage.com/newsletters/May10_03.htm
---
Dear Ghostvillagers,

Lots of exciting happenings here at Ghostvillage.com this month! First, I want to introduce you to our new:

Our intention is to make the auction a marketplace for you. If you have items such as: books, electronics, computers, recorders, cameras, EMF meters, or services like psychic readings, you can list your items in our auction! If you're a book publisher, author, or bookstore, why not list some of your out-of-print items?

The auction will draw thousands of people who are interested in the supernatural to view your products and services. As an introductory offer, until June 10, all basic listings are free. We want you to give it a try with no risk. The extras, such as using our server to upload a picture of your item, or if you want to be a featured listing, will cost you a few cents more. After June 10, the price will go to fifty cents per listing, and everything is payable via credit card and PayPal.

This is a great opportunity to build our community even further. We have a place that thousands of people visit each week to share their stories and expertise -- now we have added a place for you buy and sell items that relate to your interest. Please note, we will accept all items in our auction, but we hope there is a natural progression toward a predominantly supernatural theme to the items.

On other fronts, we are adding new members and subscribers constantly -- and our message boards have been incredibly busy lately. I want to thank all of you for building up such a great ghostly community!

Important Notice: Ghostvillage.com will be unavailable from Monday, May 12 at 10 PM EST until about 8 AM the next morning. The site is coming down because we're moving to a better server that can handle our new auction. If you go to Ghostvillage.com and the site is down, please check back in a few hours.



Congratulations to Billy York of Terrell, Teaxs. Billy was last month's winner of: Mystery in Mind: A Collection of Stories of the Paranormal.

The "winner" icon on the left has been hidden somewhere on Ghostvillage.com. If you're the first to find it, email us with the page it's on, and you win this month's prize. The graphic could be on any page on the Web site -- maybe at the top of the page, maybe the bottom, etc. Once we have a winner, we will announce it on our home page right away. By clicking on the "winner" icon within Ghostvillage.com, it should launch your email with the appropriate subject. If not, email info@ghostvillage.com, and in the subject or body, put the URL of the page you found the icon on. Good luck!



This month's prize: a free one-year subscription to FATE magazine (a $29.95 value)! Each month, FATE brings you true reports of the strange and unknown...

Didn't win? Want to buy a subscription? Click on the graphic or link above.



Who's Who in the Town Square?

Get to know some of your fellow Ghostvillagers. If you would like to be profiled here, >>email us<<.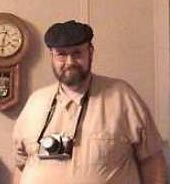 >>flyingorb<<

What is your name?
Dennis Lytle

How old are you?
I was born in 1954.

Where are you from?
Michigan

What do you do for a living?
I am a science teacher (temporarily doing case management until I go back to teaching).

Have you ever seen a ghost in person?
Yes, several times. One in particular that I will talk a bit about is the ghost "living" in my basement. This was without instrumentation (just my eyes). I have seen him appear to me as an outline (kind of like in the movie Predator), moving past my peripheral vision, and more recently as an orb floating about five feet off the ground. He has also appeared to my wife. When Sharon looked down the stairs into the basement, she saw a big, burly guy wearing a flannel shirt. She has also seen him move past as a dark shadow (she wants nothing to do with any of this!). I have had increasing communication with this spirit through dreams and through trying to interact directly. His name is Jerry (as told to me by a sensitive), and he has recently allowed me to photograph his moving orb (in infrared). Our group, GHOSM, will do an investigation this summer and help him cross into the light. I owe Jerry for being there to enhance my learning experience! Kind of like on-the-job training!

What first got you interested in the supernatural?
For a while, I rented a house that happened to have a ghost in it. This was before I decided to pursue contact with the dead. I frequently felt like someone was watching me. The TV refused to turn off at times -- I had to pull the plug out of the wall to enforce my will. My collie would visually lock on and track something moving across the room. This is when I realized the possibility of using infrared to photograph spirits. Dogs can see into the short wave infrared spectrum. An old lady stopped me outside the house one day and told me she used to do chores for a woman that used to live there. She said, "I told her to get curtains and keep them closed so he couldn't look in!" When I pushed for more details, she said that the woman was murdered by her boyfriend in that house! Kind of spooked me out at the time. I was always a bit uncomfortable in that bedroom, and now I know why!


Ghostvillage.com would like to welcome Lee Prosser as our new Supernatural Library book reviewer! Lee will keep our library stocked with reviews of all of the latest work on the supernatural.

New Review:
True Tales of the Paranormal - By Kimberly Molto



Legends of the Supernatural

Since our last newsletter, the following columns have run:

My First Ghost Hunt - May 3, 2003

Leaps of Faith - April 19, 2003

If you know of a publication that may be interested in running this column, drop me a line. >>email<<

If you have an encounter, please share it by clicking >>here<<.

Puppy Orb - Minersville, Pennsylvania



Family Spirits at a Birthday Party - Princeton, Illinois



Spectral Attack at Forest Park Cemetery - Troy, New York

Hong Kong Master, Protecting Spirit - Sai Kung, Hong Kong

Greyhound Orbs - Canastota, New York



"We'll Never Get Out of Here" - New Jersey



Louden Road Ouija Board - Fredericksburg, Texas

Midwestern Georgia Ghost Hunt - Georgia





Since our last newsletter, the following people have joined us in the Town Square. Please welcome:
GordonLee, Clarenceghost, lgibbs40, spaceygrlygrl, Shayna1, Marie15, Alaglindeiel, Silver_Wintersea, mrsme, Kyrie, Star13, kanaya, Siouxz, Pixie84, Catherine, roo182, kammy112264, ghostseer, maggot, Allasyra, freakgirl, Laalaa, spooky1, Wolfen7, Jesse, wolfchild, coolman22, Lone_Raven, LoneRaven, sabrina666, dragonsgirl, rosewynde, rosawynde, mcs728, 6thSenseSeeker, ms._kitty, missy70570, bobzoency, them, Trueghst, buttercup, TRIPRG, jvc420, psychoblonde, amityvilleresident, babyarm26, Dave_Harrington, orb, Carrie1, kevin074, Mo, cowmaven64, BaDdOlly13, steph, spritseeker69, KC, kkauling, ChiGal, ptburkett, codeman7, rock_starryeyed, ktps81, andye, MissyJ, Moose, SHandCH, SpectoralHigh, erin06, MissWinston45, gc, c_safie, jergs, Babydragonprncss, WDABN, Spellfyre, JustMe, nann_bread, Nancy, nonnie, amy_gorg, cemetery76442, serena, gail001, Gifted1, Deblyn, Miyamoto, Coglin, vestaries, 1steveh, Tatum23, radbaby777, maryoldoak, stephiekam, tybeeangel, catsovermen, xmoonxfirex, redreble, Camille426, ghosthunter_girl, lionness84, terryann, Tom123456, NOKISSES53, Tanner, sansoucie, syhtarnen, Garwich, and barbijo.



Ghostvillage.com Quick Stats:

12,702 Messages in the Town Square Message Boards
1,537 Members in the Town Square
24 "Encounters" listed in 2003 so far
276 Paranormal Web sites in the Ghost Search directory
3,093 Subscribers to this newsletter

Running Ghostvillage.com takes a lot of time and money. You can help by donating, shopping, using our new auction, or by buying a Ghostvillage.com t-shirt. Every little bit helps run our servers and helps the site get bigger and better. We have expanded quite a bit over the last three and half years -- your support will keep the growth going!

Please email us anytime at info@ghostvillage.com. Your comments, questions, and feedback are always welcomed.

Supernaturally yours,

Jeff Belanger
info@ghostvillage.com
Mayor of Ghostvillage.com