Ghostvillage.com News
May 15, 2002 - #12

Shop at Ghostvillage.com | Support Ghostvillage.com | Ghost Chat


---
You are receiving this email because you signed up at http://www.ghostvillage.com. If you received this message in error, or if you would like to be removed from this mailing list, please see the instructions at the bottom. If you have trouble viewing this newsletter you can view it online at: http://www.ghostvillage.com/newsletters/May15_02.htm
---
Dear Ghostvillagers,
Welcome to the latest edition of the Ghostvillage.com newsletter. Be sure to pass this on to people you feel will be interested, and encourage your friends to sign up at Ghostvillage.com.

Introducing the Ghostvillage.com T-Shirt
We're proud to introduce some Ghostvillage.com merchandise.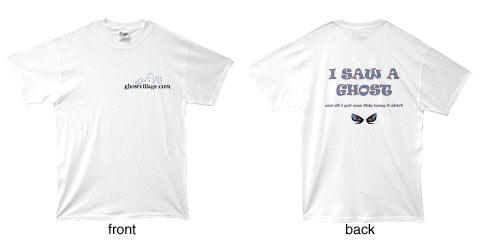 The front of the shirt has our logo and a ghost, and the back says, "I SAW A GHOST and all I got was this lousy t-shirt". Through a partnership with CafePress, we are offering t-shirts, hats, mousepads, and more. To see the new Ghostvillage.com store, click here.

A Recent Encounter - From Nancy Howell, Columbus, Ohio
Hello, my name is Nancy and I live in Columbus, Ohio. Erie things have always happened in my home. Recently, my friend and I decided to take some photo's to see if we could capture anything for proof, and well... we did. Here are a few photo's that were taken in my basement.
Click here to see Nancy's pictures.

New G-Mail Service
Unfortunately, we are no longer able to offer free email. The company that provided the email part of our service has raised their rates to the point where we can't afford it. The good news is, G-Mail is still available, and better than before. The cost is $25 per year for a POP3 email account. This means you can check your G-Mail from anywhere with no annoying pop-up ads or messages at the bottom of your email. If you would like to sign up for email service, click here.

Welcome New Members
Since our last newsletter we have had a lot of new people join us in the Town Square: LTP, Florida_Chapter, pennanglan, ShadyBoo, actorak, youngriders, Casey76, ani0325, Malenkia, jraraiza, cherishangel, ReikiMoon, HarllieQuinn, cricket92, renab, jmslcn, tienamariepollock, Tabrina, itzamejonvia, itsmejonvia, yudhishthira, Kurt Kincaid, krishna, sweetscooter69, jojo351, the_owls, robertpeterson, chingchong, stabed2death, rmh41658, hurdingcats, Tammy, ximaflounderx, 8Nutmeg, Imabeliever, CampfireMafiaGhost, Anubis, chryl, WOUNDEDEAGLE, Luminaire, MojoJojo, slimmer, septangel9, Joyfull, SystmChik, SpRiNgBrEzE, Carpony, cheekie286, trisha, wenwoo422, TakersDruidess, biggles, Janistx, sugurlipps, Anybody_Killette, Witch18, GIDGET.

Ghostvillage.com Quick Stats:
4444 Messages in the Town Square Message Boards
456 Members in the Town Square
18 "Encounters" listed so far in 2002.
195 Paranormal Web sites in the Ghost Search directory
913 Subscribers to this newsletter.

Support Ghostvillage.com
Please don't forget that you can make donations to Ghostvillage.com with your credit card over Amazon's secure Web site. Your contributions help fund the continued growth of this site. A big thank you to those of you who have already contributed. You can also help by Shopping at Ghostvillage.com. You won't pay anything extra by clicking through us, and a portion of your purchases will help us greatly.

Remember, this is your Ghostly community! Your input, ideas, photographs, recordings, and experiences are welcomed. Please email us anytime at info@ghostvillage.com.

Happy Hauntings,

Jeff Belanger
info@ghostvillage.com
Mayor of Ghostvillage.com
---
REMOVAL INSTRUCTIONS:
To be removed from the Ghostvillage.com mailing list, please respond to this email with the word "remove" in the subject line. You will be promptly removed.
---