GHOSTVILLAGE.COM NEWSLETTER #33
May 15, 2004

Shop at Ghostvillage.com | Support Ghostvillage.com | Ghost Chat | Supernatural Auction

Be sure to forward this on to your friends who are interested in the supernatural!
---
You are receiving this email because you or a friend signed you up at http://www.ghostvillage.com. If you would like to be removed from this mailing list, please see the instructions at the bottom.
View this newsletter online at: http://www.ghostvillage.com/newsletters/May15_04.htm
---
Dear Ghostvillagers,

I've been spending a lot of time in Salem, Massachusetts lately for a new book I'm working on. Salem is both famous and infamous in New Age circles. The Witch trials of 1692 certainly gave the town the infamy part of the equation, but facets of almost every part of New Age culture and subculture dwell somewhere in Salem, making it a destination for occult practitioners and the curious.

I only live an hour from Salem so I can see the town when it isn't October (i.e., when you can actually drive through it at a normal pace). I was surprised to find out Salem didn't get its New Age reputation until the late 1960s/early 1970s. There were many factors contributing to this: Arthur Miller's 1953 play The Crucible certainly played a big role in bringing the Witch trial atrocities back to modern-day light, but there was more. Parker Brothers was producing their Ouija board in Salem during this time period as well. Then some well-know witches started moving in and the wheels were set in motion.

There are some great supernatural resources in Salem, and not just in October. Like New Age shops, psychics, Tarot readers, and of course, plenty of Witches. I've had the pleasure of meeting with some of them and hope to meet many more in the near future. I'll keep you posted.

Big things are happening on the technical side of things at Ghostvillage.com. We recently moved our Web hosting to Emerging Market Web Design. The move will give us the room we need to grow in the future. Please check out the great folks at www.emwd.com for your Web hosting needs. Most Ghostvillagers may not know this, but there are secret doors, rooms, and compartments in our message boards. If you have a group that would like some hidden space that only your group can access, look here for more information. There will be some big upgrades coming in the next few weeks so be sure to click around!

Supernaturally yours,

Jeff Belanger
info@ghostvillage.com
Mayor of Ghostvillage.com

Congratulations to Charlotte DuBose of Cordova, Tennessee! Charlotte was last month's winner of a years's subscription to FATE Magazine!



The "winner" icon on the left has been hidden somewhere on Ghostvillage.com. If you're the first to find it, email us with the page it's on, and you win this month's prize. The graphic could be on any page on the Web site -- maybe at the top of the page, maybe the bottom, etc. Once we have a winner, we will announce it on our home page as soon as possible. By clicking on the "winner" icon within Ghostvillage.com, it should launch your email with the appropriate subject. If not, email info@ghostvillage.com, and in the subject or body, put the URL of the page you found the icon on. Good luck! (Only Ghostvillagers who have not won a prize from us in the last year are eligible.)



This month's prize: a Cryptique spirit board from Salem, Massachusetts! Cryptique invites you to rest your hands on the message indicator and "Let The Spirit Move You."


Didn't win? Want to buy a Cryptique spirit board? Click on the graphic above.


The Supernatural Calendar is the place where thousands will learn about your events of interest to the supernatural world. The service is only available to registered members of the message boards, and it's free! Here's some of what is going on in May/June:

Today: Birthdays: mandie515 , spiritseeker40 , scottma978
Sunday, May 16: Birthdays: Gyrfalcon , ladymoon64 , salonheather , Darkness_Falls
Monday, May 17: Birthdays: Lee , onemoftwo , angelkisses0199 , Deberk
Tuesday, May 18: Birthdays: Paul_G. , Rainy , jenncasper , jenncasper02 , vamp500 , Paul_G
Wednesday, May 19: Birthdays: Kari , wolflady67
Thursday, May 20: Other: Paranormal Event Birthdays: Caine_vampyre , Valentine14520 , dodiebird
Friday, May 21: Birthdays: morningstar , ryanne
Saturday, May 22: Birthdays: eddieswench , Jacynda , FLJeepTJ
Sunday, May 23: Birthdays: Amyh30 , spiritwriter , Kellerz , BigG , Thot
Monday, May 24: Birthdays: drkissfan , alosa1066 , bygones24 , the Aloha Spirit
Tuesday, May 25: Other: Paranormal 411 Birthdays: cali7070 , minirio
Wednesday, May 26: Birthdays: iwasfloyd , pacman67
Thursday, May 27: Birthdays: Aurelia , katt , augie1979 , Anerlin , dave_gaines21 , snowdocc
Friday, May 28: Birthdays: xbloodykissesx , dewkim , Shep , jbeavergirl
Saturday, May 29: Birthdays: Teresa529 , raventlynn , fallenangel18 , bob holley
Sunday, May 30: Birthdays: jeanne0126
Monday, May 31: Birthdays: MrT10642 , Spooky , spooky1 , offdahook4now , Didier , MaraTenoh , dweezil111
Tuesday, June 1: Birthdays: Tuscarora , LadyFireHorse , Cherrizzz
Wednesday, June 2: Birthdays: kimmieG , Sstevens7803
Thursday, June 3: Birthdays: ghost_luver , cnorth99
Friday, June 4: Birthdays: ridgerunner , BOOFHAST
Saturday, June 5: Birthdays: chez
Sunday, June 6: Birthdays: Inslaved , waddub , petunia4998 , Genkai , hans_devilwood
Monday, June 7: Birthdays: Ghost_King , kristen
Tuesday, June 8: Birthdays: Midnight_Watcher , Sootsy , sTaRgAzEr56 , pureirishbitc4
Wednesday, June 9: Birthdays: Phoenix44 , swingashock7 , angel4u7875 , ghostlovergirl , ncghosthunter , sladelaws20 , NateDog , c_yummy
Thursday, June 10: Birthdays: mario66
Friday, June 11: Birthdays: ShyningStarr
Saturday, June 12: Birthdays: Agent_Showdown , natasha , loriann
Sunday, June 13: Birthdays: DemonicDiva , wolfgirl136 , Redhead
Monday, June 14: Birthdays: Keller , hunnylou , MistDru , nightvisit , zenreix




Who's Who in the Town Square?

Get to know some of your fellow Ghostvillagers.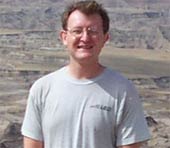 >>Paul_G<<

What is your name?
Paul Griffiths

How old are you?
32

Where are you from?
Delaware, USA

What do you do for a living?
I'm a computer programmer with a job that is right out of 'Dilbert' or 'Office Space'.

What first got you interested in ghosts and the supernatural?
I was a skeptic until my mid 20's when I got a job as a security guard working night shift, alone, at an abandoned womens prison. I was up there for insurance purposes and rarely saw another human being while I was at work unless I brought a friend up there. During the year I was there I had some experiences which were so obviously paranormal that continuing to be a skeptic would have been just silly. Since then I've had a couple more experiences which have only made me more curious as to what causes them.

I'm not a religious person at all, so I see ghosts as being the one physical proof that there is an afterlife of some kind. In my mind, to find out what causes and motivates ghosts is to find out what happens after we die.

Do you think it's possible to prove (or disprove) the existence of ghosts?
I don't think it is with our current technology, but once we learn more about the nature of ghosts and get more effective equipment we'll figure out whats going on here. So yes, I believe it's possible.

Do you think the world's major organized religions do enough to explain what happens when we pass on?
No, I think they provide a pleasant fiction. They also give people a belief system that stops them from acting like barbarians due to fear of hell or whatever equivalents the non-western religions have.



Ghostvillage.com's book reviewer, Lee Prosser, has brought us new book reviews since our last newsletter. Have you read one of these books? Want to add your own review? Click >>here<<.

This past month's Library additions:
The Golden Dawn: The Original Account of the Teachings, Rites & Ceremonies of the Hermetic Order by Israel Regardie

Real Ghosts, Restless Spirits, and Haunted Places by Brad Steiger

The Essential Golden Dawn AND Self-Initiation into the Golden Dawn Tradition by Chic Cicero and Sandra Tabatha Cicero

The Death and Afterlife Book: The Encyclopedia of Death, Near Death, and Life After Death by James R. Lewis



We receive personal encounters from all over the world. Many are scary, some are touching, but they are always profound. If you would like to share your own experience, please click >>here<<. Since our last newsletter, we added the following new encounters:

Amanda, The "Imaginary" Friend - San Jose, California

Swan Lake Cemetery Energy - Swan Lake Cemetery, Hibbing, Minnesota



Grampa's Painting - Greely, Ontario, Canada

Haunted Homes I Have Lived In - Washington D.C and Las Vegas, Nevada

The Rapping and Disembodied Voice - Troy, New York

Tall Man at My Door - Tampa, Florida


Our new "Resources" section is a place for editorials, research articles, open letters to our readers, press releases, and other content of interest to Ghostvillagers. If you have a topic on your mind, agree or disagree with something you read recently, we want to hear from you! For guidelines, click here.

New articles since our last newsletter:

Is It Ok To Cry? by Rick Hayes - May 7, 2004


Since our last newsletter, the following people have joined us in the Town Square! Please welcome:
Girley81, Huntess, MecaBro, Skeptic Spector, Shep, SarahLou, firekitty, buddhababe2000, b2klovher04_2004, c_yummy, casper34, honeypotsofluv, carolina, lolly, oneboypug, sk8ergurl_13, william_scott, kate773, quadlips, mysticalmoon, shygurl15, rhondamza, snowbreath, hannahxxx420, trekkie, weston, lone_boy_west, Anjisa, jmayer40, niki_132, racerx, ericzgurl, messanger, s2476988, bchapman, STOOCHIE36, chubby, colorado ruby, jay520, MikeW, bardo, jbeavergirl, lain4lain, bxjohnkozus, NJM91, sjchapp, tjlover, crucible, Afoxmorel, raven_8425, bigrex, celiam601, ladymorigan04, littlelinda, abathurmuzania, E.O.P.S.1, mom2jazzy, joiec, 2cansam79, kristina, random-person, dare_marjz, angel_baby0304, dbarfiel, sandroid, whozangel, yomama13, Scare_D_Cat, lebarongtc30v6, E.O.P.S.2, podboy5, Richard, chillsatnight, vickie_nolden, Satine, Shahar, lyonlady, needhelp, angel_marielou, astigboy26, alisonmelvin, sp@@ks, gypsy48048, diamonds, Creestel, unseen31, white_light, Teal_17, maggie, karol, ChrimsonRose, karollynn, cobraradu, daviddupree18, magicman18, athenawsdm, Ruthio, ennovy, caspergirl, tammar32, ceden, Jamerco, kellett, mandigurl, spunjbob321, Countess, Baby_Boo, vikivale129, kristi_32_1, chiqvicious, tim, GhostHunter2004, shaigirl, Hoaxie, SoloX, rlabombard, Katya_x, Kero, TimberW0If, silentruin66, caseycat, LostSiren, AnGeLiCcLaRiCe, lsommer1963, Cherrizzz, paranormal_inv, Ectoplazzum, GhostWolf, kacee, Tera, Entragean_Magnus, ecto1, supernatural, TheMoon, Lesleyjane57, lildochwd, Puritan_Hope, Frozenmolecules1, Janeen, Spiritulist_Medium, Kristy, LadyLisa60, digimon, babysj, foxylady2687, Grantra, KATHY, Nicci73, ghostygirl331, ghostlygirl331, Shannon9, Mst3k27, lost_soul, Katz, VenusAlexis, XghstXhntrX, psyexplorer2, Kaisho, dark_moonmaiden, nikkibaby1869, erinshewolf74, hayley, m+l, greenghost, anjalyspirit, BEVYMAN, Lugosi6, viv2000, freddy, bloodymary, Ghost_girl20042005, knappm, Gypsydream, Adiwho, tdmrrs, Fiza, peanutt1349, stardust0102, tinkerbell, waynewato, earth_spirit, kels, wsmith84, andrewcampbell007, OctoberMourn, skiboy31, overkillgirl, Hudak, descendentoffrey, shrek118, emsanto, fanta, gapplega, LuckyLuciano, Keltyc_Syren, milegone, ghostlover26, crazyprincess2004, Chulaprincess, swak19237, MirkwoodMaiden, maybelle, Wicked_Howell, wolfishgrrl, Zbigniew, Nermlkitee, ParanormalBritney, lastdimtwilight, jotem_319, Gh0stHuNtEr, lyi, Mystic_Gypsy, rick, seakla, lilpic2683, DawnRena, bedward86, kelly, renae, momofghostchild, Jamison, milkshake, hwyangel21, PoconoMouse, pmoney4life, monkeys927, GBRG927, Pamela2, beegirl, renaharp, Mystic1215, Ashley Umstead, Hurl_One, jaw_claw18, starfire1234567891, caheart2003, Spiritwalker_2, angus123, grneyesncountry, poisonette, kmitchell, jesylan, pixiedust, black_night, johnl, wolflady67, kalaichris, babygirlacid, duskshade, Angelbev, EvilMayCome, Mandee82, 3dogmom, Ariel73_04, sinbad, Creeper2004, Uji_Pimp, mhobbs22, Lasher, deedo_2, ravensraiders5, RipTheVirus, and eddiemak.




Ghostvillage.com Quick Stats:

41,614 Messages in the Town Square Message Boards
4,050 Members in the Town Square
33 "Encounters" listed in 2004 so far.
413 Paranormal Web sites in the Ghost Search directory
8,560 Subscribers to this newsletter
1,834,201 total Web site "hits" for Ghostvillage.com in March


Ghostvillage.com is growing at an incredible rate. Every day the site grows as more people come to share their experiences, thoughts, and research. Please help us continue to grow by donating, shopping, using our new auction, or by buying a Ghostvillage.com t-shirt. Every little bit helps run our servers and helps the site get bigger and better!

Please email us anytime at info@ghostvillage.com. Your comments, questions, and feedback are always welcomed.


---
All material is © 2004 Ghostvillage.com
REMOVAL INSTRUCTIONS: To be removed from the mailing list, please go to www.ghostvillage.com/subscribe.shtml.

SUPERNATURAL WEB HOSTING! Check out Emerging Market Web Design and tell them Ghostvillage.com sent you! http://www.emwd.com