GHOSTVILLAGE.COM NEWSLETTER #115 - May 18, 2011

Buy Books by Jeff Belanger | Jeff Belanger's Official Web site | Visit UFOvillage.com | Visit us on MySpace | Paranormal for Kids | Meet the Staff | Advertise with Ghostvillage.com

31,648 Subscribers to this newsletter!

Be sure to forward this on to your friends who are interested in the supernatural!


Picture Yourself Legend Tripping: Your Complete Guide to Finding UFOs, Monsters, Ghosts, and Urban Legends in Your Own Back Yard -- Jeff Belangerís new book, DVD, and Web site. Enjoy the trip! http://www.legendtripping.com/
---
You are receiving this email because you or a friend signed you up at http://www.ghostvillage.com. If you would like to be removed from this mailing list, please see the instructions at the bottom.
View this newsletter online at: http://www.ghostvillage.com/newsletters/May18_11.htm
---
Dear Ghostvillagers,

Ordinarily Iím not a wedding type of guy. I mean besides your own (hopefully), weddings are something guys get dragged to. We have to dress up, feel awkward, eat chicken (or beef), and smile and make nice for the nightówith no sports on television anywhere to be seen. Our best hope for the night is an open bar where we can talk sports (or ghost investigating if thatís the kind of crowd you roll withÖ which I do) with other guys in the same boat. I swear I have a paranormal point to make soon, stay with me.

Unless you managed to sleep through the last month, then no doubt you noticed there was this wedding that got an awful lot of attention. Prince William and Catherine Middleton trotted in to Westminster Abbey in London and got themselves hitched. Like you, my invite was also lost in the mail and I was forced to watch from my television instead of in some place of honorÖ errr, make that honour (the Queenís English and all that). The upside was there was no line for the bathroom and I could stay in my jammies for the entire affair.

Hundreds of millions of people watched and there was nary a half-time show to be seen. Letís face it: the royal wedding was big. Really BIG! And it got me thinking about a lot of things: our infatuation with famous people, royalty, tradition, and of course ghosts. Ghosts who haunt castles. Ghosts who many believe were royalty still hanging around in the locations they once ruled.

Itís really no different than the stories of former Presidents haunting the White House in America, or other politicians haunting parliamentary buildings in other countries. We hold on with a death grip to our dead leaders in case we need them once again. Royal ghosts is our theme this month. Letís discuss!

Iím already booking up many events and talks for the fall, and I'm planning some other events for the summer. One event you donít want to miss involves myself and my buddy, Dave Schrader from Darkness Radio. Dave and I will be hosting dinner, some talks, and a private ghost investigation at the Lizzie Borden House in Fall River, Massachusetts. Tickets are limited to 25 each night. Weíre doing this August 26 and 27th Ė and the 27th is already almost sold out. For more information and ticket info, please email Dave at: dave@darknessradio.com. Canít wait to see you there.

Enjoy the rest of the newsletter below!

Supernaturally yours,

Jeff Belanger
Mayor of Ghostvillage.com
Twitter: @THEJeffBelanger
Facebook: Jeff Belanger MySpace: www.myspace.com/ghostvillager






Jeff Belanger's Upcoming Events

This is the place to find out where author and Ghostvillage.com founder Jeff Belanger will be speaking on the subject of the paranormal. If you're interested in booking Jeff for a conference or other event, please visit: http://www.jeffbelanger.com/lectures.shtml for more information.

Events Scheduled:

Legend Tripping with Jeff Belanger at the Agawam Public Library - Agawam, Massachusetts - August 1, 2011, 7:00 PM
2nd Annual Michigan Paranormal Convention - Sault Ste. Marie, Michigan - August 12-14, 2011
Darkness Radio's Dave Schrader and Jeff Belanger haunt Lizzie Borden's - Fall River, Massachusetts - August 26-27, 2011
Chicago Ghost Conference - Chicago, Illinois - September 30 - October 1, 2011
Central Texas Paranormal Conference - Austin, Texas - October 8-9, 2011
A Supernatural Evening with Jeff Belanger at the Billerica Public Library - Billerica, Massachusetts - October 13, 2011, 7:00 PM
A Supernatural Evening with Jeff Belanger at the Uxbridge Free Public Library - Uxbridge, Massachusetts - October 24, 2011, 7:00 PM
The Stanley Hotel Cabin Fever Event - Ghost Adventures and Darkness Radio - Estes Park, Colorado - November 3-6, 2011



Congratulations to Marilyn Currie of Valencia, California, who was the April winner of an autographed copy of Jeff Belanger's book and DVD, Picture Yourself Legend Tripping and a Ghostvillage.com window sticker!

How to win: Entries will be accepted up until 5:00 PM (eastern time) tomorrow (May 20, 2011). At 5:00 PM, we will draw a winner at random from the correct entries that have been received. You no longer have to be the first, but you only have until 5:00 PM to get your answer in. If you click on this link: http://www.ghostvillage.com/index.shtml#winner, you see today's date, and "We have a winner!" that means the contest has ended. Sorry, please try again next month. To submit your entry, simply reply to this email with the correct answer.

On to this month's question: This question can be answered by reading a page on Ghostvillage.com. Remember, reply by 5:00 PM tomorrow to be eligible to win.

Does artist Terri Garofalo think women experience the paranormal differently than men?

At 5:00 PM tomorrow, we will announce the winner on our home page. Good luck! (Only Ghostvillagers who have not won a prize from us in the last year are eligible.)



This month's prize: We're giving away an autographed copy of Jeff Belanger's new book and DVD, Picture Yourself Legend Tripping and a Ghostvillage.com window sticker!


Didn't win? Want to buy a copy? Click on the graphic.



The Supernatural Calendar is the place where thousands will learn about your events of interest to the supernatural world. The service is only available to registered members of the message boards, and it's free! Ghostvillage.com now syndicates our calendar of events so other Web sites can also display these supernatural happenings at no charge! To learn more about installing our calendar of events RSS feed, please visit our syndication page. Adding your own local events to our calendar is more important than ever!

May 20: Jeff Belanger on Paradigm Shift Radio
May 27: Alamo Conference
June 3: Ghost Hunt in NC at America's Strangest House!
June 4: "NC and VA Paranormal Investigator Gathering"
June 10: Through the Veil, Haunted America Midwest Conference
June 15: Jeff Belanger on Hex Education Radio
June 25: Ghost Hunt Weekends with the Ghost Hunters





Who's Who in the Village?

Get to know some of your fellow Ghostvillagers.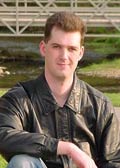 >>evp-catcher<< - member since January 31, 2005

What is your name?
Sean Dudley

How old are you?
38

Where do you live?
I live in Loudon, Tennessee (right outside of Knoxville in East Tennessee).

What do you do for a living?
I own a computer hardware sales business.

What got you interested in Electronic Voice Phenomena (EVP)?
One day I was watching Universal HD (a Hi-Definition channel on satellite) and saw a trailer for the movie White Noise. In it, they showed a real EVP that said, "Get out of my house." I had not heard of this phenomenon before, and wondered if it was really true that you could record spirits' voices. So, I figured what better way to find out for sure than to try it myself. I did, and have had much success in doing so.

Tell us about the most compelling EVP you've captured.
I am a member of the East Tennessee Paranormal Society. A fellow investigator who was in the same room with me got an EVP that said, "Micka-Nicka-Hi-Nicka-Hiney-Hiney-Lo," in a girl's voice. Then, a loud "NO!" came through, and then the whisper, "micka-nicka-hi-nicka-hiney..." came through. This one about made me fall out of my chair when I heard it! I think it is the best we have gotten as a group. As far as the best one I have personally gotten, I would have to say it is the one that is 3 EVP that came in back-to-back which goes like this, "I'm getting cranky...look behind you...you doin' alright?" The first one comes in very loud, and she sounds cranky. The 2nd one I don't think had anything to do with the first EVP, just another spirit there saying something, and the 3rd one I think was in response to the first spirit. These EVP can be heard by clicking on them.

What's your dream ghost investigation location?
I would very much like to investigate a big, old building that has lots of activity. An old war hospital or something like that. I would love to find a location where I can get video of some apparitions and video of some objects moving on their own.

What's your favorite TV show?
My favorite TV show I would have to say is Lost, but my second favorite is Ghost Whisperer.

Our "Features" section is a place for editorials, research articles, open letters to our readers, and other content of interest to Ghostvillagers. If you have a topic on your mind, agree or disagree with something you read recently, we want to hear from you! For guidelines, click here.

New features added since our last newsletter:

Two-Year Anniversary Special - May 17, 2011 [WEBCAST]
Spring of Culture at Ghostvillage - Artist Jackie Williams - May 13, 2011
Wiliford by Lee Prosser - May 12, 2011 [COLUMN]
The Spirit Box with Psychic Chris Fleming - May 10, 2011 [WEBCAST]
Violating the 13th Amendment Paranormal Style by Reverend Sherrie James - May 6, 2011
Inside the Church of Satan with Joshua P. Warren - May 3, 2011 [WEBCAST]
Spring of Culture at Ghostvillage - Terri J. Garofalo, creator of Entities-R-Us - April 28, 2011
Haunted San Francisco with Loyd Auerbach - April 26, 2011 [WEBCAST]





Last Month's Theme - Featured Content

Our last month's theme was the Leprechaun. Here's what you missed if you haven't checked in since last month:

Discussion: Leprechaun Peeked in My Window



We receive personal encounters from all over the world. Many are scary, some are touching, but they are always profound. If you would like to share your own experience, please click >>here<<. Since our last newsletter, we added the following new encounters:

Mysterious Church Yard -- Worthing, United Kingdom
Rocco the Ghost Cat -- Constance Bay, Ontario, Canada
The Glowing Entity -- New Port Richey, Florida
The Anguished Man Continues -- Cumbria, United Kingdom
Battlefield Ghost -- Chancellorsville Battlefield, Virginia
Be Careful in the Cemetery - Troy, New York
Red Eyes - San Bernardino, California



This is the place to find news items on paranormal happenings around the world. If you have a news item you'd like to submit, please see our guidelines.

Lights Go Out While El Paso County Commissioners Talk About Ghost KFOX 14 El Paso, Texas- May 16, 2011 [EXTERNAL NEWS]
Radio host hopes to meet Sinatra's ghost Fresnobee Fresno, California - May 13, 2011 [EXTERNAL NEWS]
UFOs and ghosts among paranormal activity investigated by police force STV Tayside, Scotland - May 11, 2011 [EXTERNAL NEWS]
Local invites community to view ghost: You won't believe this thing NWF Daily News Milton, Florida - April 20, 2011 [EXTERNAL NEWS]


WANT THESE HEADLINES ON YOUR SITE FOR FREE? Syndicate our news! If you have a Web site or blog, you can syndicate our news feeds to your site for free. Join the growing list of Web sites who carry our news by visiting our syndication page.





Hot Threads and the Ghostvillage.com Community

In the past month, hundreds of new people registered for free to join our supernatural discussion! Have you?

If you have registered for our message boards but haven't validated your account yet, it's simple to do! Look for the email that was automatically sent to you when you registered and click on the account activation link in the email (note: some bulkmail filters may block this email, so you'll need to check your bulkmail folder if the validation email didn't immediately come through). There are always great discussions going on in our huge message board community. We hope you'll get involved. It's free to register if you're not already a member. Here are some of the hot topics this month:

Spirit Communications
http://www.ghostvillage.com/ghostcommunity/index.php?showtopic=32124
Have you ever been to a seance?

Religion and Spirituality
http://www.ghostvillage.com/ghostcommunity/index.php?showtopic=32130
What is Spiritism?

Who is your favorite classic movie monster?
http://www.ghostvillage.com/ghostcommunity/index.php?showtopic=32121
Cast your vote in this poll about some of Hollywood's golden age of horror movies.

Evidence Alley
http://www.ghostvillage.com/ghostcommunity/index.php?showtopic=319928
Why spend time collecting evidence?

What Causes Illusions?
http://www.ghostvillage.com/ghostcommunity/index.php?showtopic=32013
Do you have an opinion on why people "see things?" Come share it with us.

Personal Encounters
http://www.ghostvillage.com/ghostcommunity/index.php?showtopic=32080
Hearing voices, sometimes whispers.


Board of the Month -- Royal Ghosts
http://www.ghostvillage.com/ghostcommunity/index.php?showforum=27
Discuss ghosts and spirit activity related to royalty.




Ghostvillage.com Advertising Opportunities

Each month Ghostvillage.com reaches tens of thousands of people interested in the paranormal. We offer the most effective and best-valued advertising and sponsorship packages of any paranormal media outlet. Please visit: http://www.ghostvillage.com/advertising.htm for details.

If you're ready to put Ghostvillage.com to work for your company or organization, send us an email to get started.




Ghostvillage.com Quick Stats:

316,536 Posts in the Town Square Message Boards
29,509 Members in the Town Square
1,032 "Personal Encounters" published on Ghostvillage.com
1,676 Paranormal Web sites in the Ghost Links directory
32,711 Subscribers to this newsletter
3,836,634 Total Web site "hits" for Ghostvillage.com in April


Ghostvillage.com is the Web's largest supernatural community, the central place where people come to share their experiences, thoughts, and research. Please help us continue to grow by buying a copy of The World's Most Haunted Places, Communicating With the Dead, The Encyclopedia of Haunted Places, The Nightmare Encyclopedia, Our Haunted Lives, Ghosts of War, The Ghost Files, Weird Massachusetts, Who's Haunting the White House?, The Mysteries of the Bermuda Triangle, Picture Yourself Legend Tripping or shopping in Ghost-Mart. Every little bit helps run our servers and helps the site get bigger and better! Please also click on our banner ads and support our advertisers -- when you do business with someone who advertises with Ghostvillage.com, let them know you saw their ad with us and thank them for the support.

Please email us anytime at info@ghostvillage.com. Your comments, questions, and feedback are always welcomed.


---
All material is © 2011 Ghostvillage.com
REMOVAL INSTRUCTIONS: To be removed from the mailing list, please go to www.ghostvillage.com/subscribe.shtml or click on the link below.