Shop at Ghostvillage.com | Support Ghostvillage.com | Ghost Chat

Be sure to forward this newsletter on to your friends!
---
You are receiving this email because you signed up at http://www.ghostvillage.com. If you would like to be removed from this mailing list, please see the instructions at the bottom.
View this newsletter online at: http://www.ghostvillage.com/newsletters/Nov23_02.htm
---
Dear Ghostvillagers,

It's getting cold here at the Ghostvillage.com world headquarters in Bellingham, Massachusetts. The leaves have all turned brown and fallen, and the frost is crisp each morning. By far, this is my favorite time of year. Some Native American tribes believe that green leaves and foliage in general keep spirits at bay and offer the living some protection. Which means in the fall and winter, supernatural activity increases. The nights are longer, and colder... all the makings of a perfect ghost story.

The Halloween rush has passed, and we have certainly gained a lot of new Villagers -- I'd like to extend a welcome to all of the new faces. We received over a million hits in October -- it was definitely exciting -- but alas, not everyone sticks around after October 31st. But, those who did stick around are those with more than just a passing fancy of the supernatural. So welcome to all you newbies. We hope you'll share your experiences and insights with us.

As you may have noticed, this newsletter is evolving. We have a new look, some new features, and I really need your help to take it further. Each month I want this to become a newsletter for every organization involved in the supernatural. If you have a conference coming up, or you are trying to form a group in a certain area, or you have an announcement that our global audience may be interested in, >>email me<<. Our mailing list grows bigger and bigger each month, and you can also help by forwarding this newsletter on to your friends and encouraging them to >>subscribe<<.



Who's Who in the Town Square?

This is a new feature that will appear in our newsletters going forward. If you would like to be profiled here, >>email us<<.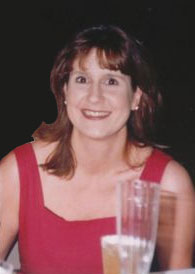 Jodi >>Town Square Profile<<

Where are you from?
I grew up in a small town in Northwestern Minnesota, but I have lived in Minneapolis for 14 years.

How old are you?
33 years old.

How did you find Ghostvillage.com?
I found Ghostvillage through a Web site search in my Sunday paper. They always focused on different topics, and they rated this as one of the best sites for any kind of paranormal research. (I strongly agree.)

What is your favorite section of Ghostvillage.com?
My favorite thing is the town square. This is the best site I know -- it has such an eclectic group of people from all walks of life. Everyone brings so much to the table, and I love to hear everyone's input on issues. You don't always have to agree with what someone writes about, but just giving them the forum to express themselves is such a powerful thing. There is always one in the crowd who makes things worse, but for the most part, I think everyone has handled themselves in an adult manner. Freedom of expression is so important. I love also, how the topics have increased and how we have expanded. If you are ever feeling low, you have a friend at Ghostvillage!

What sparked your interest in the supernatural?
Ever since I was a little girl (oh so long ago), I have always been interested in the paranormal. My parents are very conservative, so I am not sure why I have been so interested. I grew up on a small farm in the middle of nowhere, and I swear our farm was haunted, I hated the basement of our house. I never wanted to go down there by myself. Not sure if it was just spooky or if there was something there. We always played those "kid" games of Light as a Feather, Ouija Board, etc. and they always interested me, but I had a huge respect for the unknown.

Some of you know that I get easily freaked -- whenever I watch anything on TV about the paranormal, I have to have the lights on. It's like I can't get enough, but then I can't sleep for days (my husband will verify it). I know many of you want to see a ghost, but if I ever saw one, I probably would not be the same.

Have you ever had any supernatural experiences?
When I was 17 my parents decided to move into our small town. The house they bought was an old mortuary turned into a house. As you can imagine, I freaked out easily in that house! I would not sleep upstairs because when I did, I always heard someone walking up the steps to my room. I would always call out to my mom to stop checking on me and she was never there. To this day, I will not sleep up there and everyone knows why. The cellar is also very creepy.

What do you say to the skeptics?
As a science major (nursing and genetics research), I am always looking for an explanation for things. Usually, there is an answer or a reason for something occurring. In this field, there are sometimes no answers, and that is sometimes why I get frustrated with skeptics. They always think there is a reason. Sure, there may not be a reason for ghosts, orbs, out-of-body experiences, past-lives, but I think that if you believe, that is all that matters. If I should die suddenly, I will give all of you a big sign, just to prove the skeptics wrong!

I have been on this Web site almost every day for a year, and I am so happy I've made friends with many of you. Here's to many more years of happy ghost hunting!!

I would like to thank Michael Connelly, author of Riders in the Sky: The Ghosts and Legends of Philmont Scout Ranch, for joining us in a special Ghost Chat to discuss his book. Several Ghostvillagers had the opportunity to ask him questions about his book and the haunted Philmont Scout Ranch. You can read the chat transcript >>here<<.

>>Ghost Chat<< is available anytime, but scheduled Ghost Chats will only take place once or twice a month and will either feature a special guest or a specific topic. If you would like to suggest a topic or a guest you want to see in Ghost Chat, let us know. >>email<<



Legends of the Supernatural

I really appreciate all of the feedback my >>"Legends of the Supernatural"<< column has been getting from you. Your comments, questions, and suggestions are very much appreciated -- keep them coming! You never know when I may be visiting your town next.

I have some great columns coming up. You'll read about the Old Hag Syndrome, where medical experts weigh in on what they believe is happening during these very frightening nocturnal episodes, and we'll pay a visit to John Stone's Inn in Ashland, Massachusetts -- a 170-year-old restaurant that is haunted by as many as seven ghosts.

If you know of a publication that may be interested in running the column, drop me a line. >>email<<



New Books in the Supernatural Library

Our library is growing! More people have submitted reviews, and I expect more books in the mail shortly. If you are a publisher or author looking to submit your book for review, please >>contact me<<. And if you see that someone else reviewed a book that you have also read, please add your comments by >>submitting<< your own review.

>>Rider's in the Sky: The Ghosts and Legends of Philmont Scout Ranch<< by Michael Connelly
>>Grave's End<< by Elaine Mercado

If you have an encounter, please share it by clicking >>here<<.

Comforting Dark Figure - Minden, Nevada
Halloween Ghost - Auburn, Massachusetts


Driveway Mist - Hibbing, MN


Cemetery Creature - Egypt Bottom, OH
Time Flies - Morehead State University, KY
Oppressive Static - Harlingen, TX
Crybaby Bridge - Columbus, GA



Since our last newsletter, the following people have joined us in the Town Square. Please welcome:
sinloa, CLindow, Ghostmom, GentleFawn, Jhereck, lethal_diva, Susan777, waynezhao, PFC_Thomson, coldspots24, ahoyhoy, midnightskytear, brookelyn, goody2762, natasha, darkwolf1985, Psycho-Joe, angie, monkeysue520, monkeyamy520, mreed, preludebaby04, ANGENANGELIA, wikanchick, tasha, Tamara_Thorne, cindyc, tiara, archon, junerin, Indianaghosthunter, Randaldevault, cbrat01, Jheira, Dawn, Rebecca_Mae, Glyolis, vixen_2002, vicky_b, panda777, tori7435, IBelieve, kipper, Recon00, MoonMaiden, paraex, Lorr355, Racer, Paul_G., blumoon2, nowhereslow02, lucy2975, sharon_streck, Inslaved, SleepyFairy, MysteriousFaiRie, xXxJackixXx, jim1, Sarahrulz3, Phoenix44, njdeb, Dodie, lillivun, Caneleya, wolf122, lola, kasto, Murlag, Niels, tannas_angel_2001, drag_on55_2000, jampoe, Horus, themummy103, noVa_ProductionZ, alissa_jeanne, monie, ghostfreak, paranormalyp, SelobsSkeleton, talisman, Haunthunt48, Spankyjo27, dcsbh, Shelli, krcguns, LiRay, shenor3844, shawn, Ghostgirl, kicsi, snowdove, hunter, madalaine, s.carkett, SCararini, ixzion, Camille, ToledoGirl, LindaA, punkyfoos, fishing4ghosts, rui_shadow, LouieGirl03, The_Duck, neenee, pacman67, NEMOGHO, ladybird2110, Blue_Betta, TNChick831, covergirl_699, pingpong_9, hmunozbe, zombie182, Rain, and clearlyanidiot



Ghostvillage.com Quick Stats:

10,023 Messages in the Town Square Message Boards
984 Members in the Town Square
59 "Encounters" listed so far in 2002
235 Paranormal Web sites in the Ghost Search directory
1,336 Subscribers to this newsletter.

Donate, Shop, or buy a super-cool Ghostvillage.com t-shirt. It all helps make our community bigger and better.

Please email us anytime at info@ghostvillage.com. Your comments and feedback are always welcomed.

Hauntedly yours,

Jeff Belanger
info@ghostvillage.com
Mayor of Ghostvillage.com