Shop at Ghostvillage.com | Support Ghostvillage.com | Ghost Chat | Supernatural Auction

Be sure to have your friends subscribe to the newsletter >>here<<
---
You are receiving this email because you or a friend signed you up at http://www.ghostvillage.com. If you would like to be removed from this mailing list, please see the instructions at the bottom.
View this newsletter online at: http://www.ghostvillage.com/newsletters/Sep09_03.htm
---
Dear Ghostvillagers,

Yesterday, while walking through my local grocery store, I saw that the Halloween decorations and candy are out and ready for purchase. We're still almost two months away and already the stores are trying to cash in on this increasingly commercialized holiday. I'll be the last to complain, because this is the time of year when ghosts and the supernatural take center stage.

I really used to struggle with talking openly about my interest in ghosts, folklore, and the supernatural. Certainly I could always talk, chat, and email with my fellow Ghostvillagers about my beliefs, but bar-room buddies and co-workers were another thing -- after all, some people would think I'm crazy!

In recent months, I've come more to grips with what I do. When I meet someone new or an old friend who asks what I'm up to, I say, "I research and write about ghosts and the supernatural." Many times I get a laugh, or maybe a condescending smile -- but then I ask a follow-up, "So you've never personally had any unexplained experiences, or no one you know has ever encountered something supernatural they couldn't explain any other way?" The answer is always, and I mean always, "Well... you know there was this one time," or "I had this uncle..."

The good news is that the retail sector of our economy has seen fit to try and make an extended Halloween shopping season. This means for the next two months we can talk more openly about our interests with people who may not normally talk about these kinds of spiritual things. If you think you broached the subject with the wrong character, you always have, "Just trying to get into the Halloween spirit," to fall back on. You'll be excused until November first.

We're gearing up for some big things this Halloween season. First, within the next week or two, Ghostvillage.com will be getting a complete face-lift. We'll be adding a new section and a slicker interface. Also, I'm interested in putting together a Spirit Photography annual calendar. If you have taken a great ghostly photograph and want it to be considered for our calendar, please email it to me. You'll receive full credit for your submission and a free copy of the calendar if your photo is selected.

Our traffic tends to double the month or so before Halloween, so be ready for a lot of cyber "tourists" to our village. Please make them feel welcome enough to stay the entire year! Enjoy the rest of this month's newsletter below.

Supernaturally yours,



Jeff Belanger
info@ghostvillage.com
Mayor of Ghostvillage.com

Congratulations to John W. Harris of Aiken, South Carolina! John was last month's winner of an autographed copy of Laura Ruby's new book, Lily's Ghosts.



The "winner" icon on the left has been hidden somewhere on Ghostvillage.com. If you're the first to find it, email us with the page it's on, and you win this month's prize. The graphic could be on any page on the Web site -- maybe at the top of the page, maybe the bottom, etc. Once we have a winner, we will announce it on our home page right away. By clicking on the "winner" icon within Ghostvillage.com, it should launch your email with the appropriate subject. If not, email info@ghostvillage.com, and in the subject or body, put the URL of the page you found the icon on. Good luck!



This month's prize: a free one-year subscription to FATE magazine (a $29.95 value)! Each month, FATE brings you true reports of the strange and unknown. UFOs, ghosts, psychic phenomena, ancient mysteries, cryptozoology, and the paranormal since 1948.

Didn't win? Want to buy a subscription? Click on the graphic above.

Lot of events happening as we move into the busy Halloween season. We want to get to the point where if it's happening on the supernatural -- it's in our calendar. Our calendar is the place where thousands will learn about your events. The service is only available to registered members of the message boards. Here's some of what is going on in September and early October:

Friday, September 12: Meeting: WV Penitentiary 03; Conference: Ghost Convention
Saturday, September 13: Conference: Mothman Festival
Friday, September 19: Meeting: Mansfield Reform.
Sunday, September 21: Holiday: MABON
Tuesday, September 23: Holiday: LAYLATUL MERAAJ
Thursday, September 25: Conference: AIP at Sea
Friday, September 26: Conference: AIP at Sea
Saturday, September 27: Conference: Paranormal Expo; Conference: AIP at Sea; Holiday: ROSH HASHANA
Sunday, September 28: Holiday: ROSH HASHANA
Friday, October 3: Meeting: Elkton Ghost Walk
Monday, October 6: Holiday: YOM KIPPUR



Who's Who in the Town Square?

Get to know some of your fellow Ghostvillagers...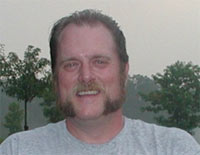 >>Rockhauler2k1<<

What is your name?
Ron Hughes

How old are you?
39

Where are you from?
Maryland

What first got you interested in the supernatural?
I've always been an inquisitive person by nature. My interest in paranormal events stems from that part of my character, more than likely. I've always been interested in the unknown on all levels but decided to focus on hauntings about 12 years ago. I personally believe that too many people close their eyes too easily and too often to things that go bump in the night. I've always been the type with the need to look when everyone else looks away. As a society, we haven't even begun to scratch the surface of a subject that is often left unstated and undone. Death is simply a part of life. It is certain we will all face that point one day. I would like to know what's in store for us before we take the journey.

Can you give some tips on taking good spirit photography?
If I could choose one topic in photography to focus on, it would be lighting. Good lighting is critical to good photography. The need to go investigating in the dark is silly to me unless it serves some other purpose. If a place is active, it is active during the day as well as in the dark. The chances of getting better results occur at dusk and late daylight hours due to the lighting conditions. Fall and early winter produce better outdoor photography due to the lack of haze found in summer months (via humidity and the pesky bugs and pollen of spring). The background tends to be clearer and crisper during fall and early winter, which usually produces better results overall.

As far as equipment, I choose a Nikon N60 35mm SLR over digital, although I do use an Olympus 3000 Zoom as a backup source in my work. Digital photography is still in its infancy as far as truly understanding results and effects. I recently posted a thread in Spiritography about the reproduction of effects often thought to be of a paranormal nature but are not. I can't say enough about the usefulness of comparison.

I really enjoy photography and have been doing it as a hobby for nearly 22 years. I develop black and white film myself and have dabbled in color work over the years as well. I love all aspects of photography.

One of the most misunderstood gifts that people overlook about all forms of photography is that by using a camera, you can freeze a moment in time and look back at it for many years to come. Photos contain our lives and the things in which we see beauty. You can tell much about a person by the pictures they shoot. It's a true gift to be able to see the beauty of the world through another person's eyes, and that's what photography allows us to do.

Given your years of study in this field, do you think society is getting more open about discussing the supernatural?
Absolutely. As a society, we have grown leaps and bounds over the last decade and have become much more open-minded. People seem to be questioning traditional beliefs more and more as time goes by. As a society, we seem to be much more comfortable with the topic of death today versus 25 years ago. This is likely due to the flood of information available to us such as the Internet (BIG ONE), magazines, newspapers, etc.

Death is certain, life is a gift, and we should treat it as such.
Ghostvillage.com's book reviewer, Lee Prosser, has brought us four new book reviews for August! Have you read one of these books? Want to add your own review? Click >>here<<.

August's Book Reviews:

Future Prospects of The World According to the Bible Code by Joseph Noah



New Daughters of the Oracle: The Return of Female Prophetic Power in Our Time by Virginia Adair



Conversations With Eternity: The Forgotten Masterpiece of Victor Hugo by Victor Hugo, John Chambers, and Martin Ebon



Dunwich's Guide to Gemstone Sorcery: Using Stones for Spells, Amulets, Rituals, and Divination by Gerina Dunwich






Legends of the Supernatural

Since our last newsletter, the following columns have run:

The Ghosts and Legends of Juneau's Alaskan Hotel - The locals speak about their ghostly neighbors - September 6, 2003

A Glimpse of the Afterlife: Near-Death Experiences - An interview with best-selling author Dr. Raymond Moody - August 23, 2003

Gargoyles: Sacred Scarecrows - A look at the history and folklore behind these gruesome sculptures - August 9, 2003

If you know of a publication that may be interested in running this column, drop me a line for pricing information. >>email<<

We are receiving a record number of personal encounters from all over the world. It's amazing how the similarities and profound nature of these experiences can cross nations, cultures, and different religious backgrounds. If you would like to share your own experience, please click >>here<<. The following encounters have been added in August:

The Haunting That Follows - Norman, Oklahoma

Woman's Mocking Laugh - York, Pennsylvania

Evil Apartment - Phoenix, Arizona

Troubled House Spirits - Mount Sterling, Kentucky

Gabrielino Indian Family of Spirits - Pico Rivera, California

Capital Memorial Parks Cemetery Mausoleum Visits - Pflugerville, Texas



Spillway Light - Cave Run Lake, East Kentucky

Rafter Man at Summer Camp - Dahlonega, Georgia

Winnipeg's Haunted Fort Garry - Winnipeg, Manitoba, Canada




Our >>Supernatural Auction<< has a lot of ghost hunting equipment, books, and videos on it right now. Check out these new and used products today! If you have a product or service to sell, remember, basic listings are still free -- you have no risk in trying to sell your items on our auction.

New members receive $1.00 credited to their account -- this credit can be used for the extras such as bold listings. This supernatural marketplace is a great way to connect with people who are interested in your products and services.

Since our last newsletter, the following people have joined us in the Town Square. Please welcome:
ghosthuntress16, Brianne, DWArmstrong, mysticaldragonfly, char_2595, Slayer213, isosceles_zen, Tracy, Grimmaldi, beekers, onemoftwo, JohnPiper, tweak, fallenangel18, FallenAngel1155, TaShY323, key2midnight, bzzzcat, clark, DEANNA, Jennifer9771, boundspirit, wolfgirl136, Granny, netgirl01, KarenSue1973, DarkChild40, laprincesa, laprincesa79, DarkStar1237, mingsstar, devil_child_200369, mjking4ever, lollapaulalooza, babyghosthunter, Astara, lilghosty, kequinoxe, lilghosty1, reese58, Nichole0469, iceiiiis, Gabrial, E.wilcox, long-red-nailz, Randy_Neutron, shellandjess, ANNIE, beezerboy, Teenie, DRIGraphics, Blebo1, funkyfresh, bigmainvane, ghostandyroe, WilliamHilton, NineBeanRows, ltinnel, ghostlovergirl, fynmara, Saltimbanco, spiritboards, Flaca, Crows, gouliegirl777, irishwaif, pheoebe, pheoebe05, icelady3469, Archamichael58, SC_Michael, Sc077y, hellohello, crushonamandabynes, bsandromeda, wildsunflower2003, blondiegrl149, himthere, snickerdoodle, Cher, heathwitch, Maurice, parapsyse_agrs, Herman, chez, HobbitGhost3350, MORTICAN, kimmieG, bobo, liaroses18, Cire, kelly79, kitten, meshew2002, fadebeforelight, cyberxkitty, Sylvirwolf, springtonTx, springtownTX, psychicdreamer, daisy_grl_7, strigoi, T-Buck, Ghostie, alosa1066, valeriev, marlowe, ghosty__bug, paul.robins, OrbitJuice, Primula, bodhi, Wiccad1, charlie, missajolly, Ghostfriend, bubba, aisu, browneyegirl, WaskerleyWells, Alva75, witchhunter, angel85, darkspirithaunting, Redbone, minx, Wonder, steveg81, yoginchelle, Andrew, billeric, CC, aseekings, rpate23, FreddyK, dark_avenger, bogeydude_duh, tilly, wiccawoman62, Bridget, _bright_shadow_, KELLIEC32, phalynx, Majestic, lor, petunia4998, myladypate, Kristellseas, dolorosa, Anerlin, audrey, lee_11, deadlyavenger, mushupork, WhyteWatcher, nat, scarlet_termite, palm4me, lindzray, hauntedinontario, angelkisses0199, solarblur, Linda_H, archangel7295, mudhugs, zee, drummer36, MarlaMigs, aquariusiscariot, LoneFeather, angel81702, BigG, MatthewG, wilkins, kayliepoo, gwen, Harmony, Raven1962, Flaka04, al_hot_tamale, mkp78, GHOST_GIRL, Jaime1976, princess0723, Stella, upsideover1884, sipernatural_teen1, wildnewcherrie, Ysgawen, Ladyofthelake40, and dbl.



Ghostvillage.com Quick Stats:

25,546 Messages in the Town Square Message Boards
2,163 Members in the Town Square
57 "Encounters" listed in 2003 so far
308 Paranormal Web sites in the Ghost Search directory
4,827 Subscribers to this newsletter
1,527,788 total Web site "hits" for Ghostvillage.com in July

Running Ghostvillage.com takes a lot of time and money. You can help by donating, shopping, using our new auction, or by buying a Ghostvillage.com t-shirt. Every little bit helps run our servers and helps the site get bigger and better -- your support will keep the growth going!

Please email us anytime at info@ghostvillage.com. Your comments, questions, and feedback are always welcomed.