Ghostvillage.com News
May 6, 2001 - #8

---
You are receiving this email because you signed up at http://www.ghostvillage.com. If you received this message in error, or if you would like to be removed from this mailing list, please see the instructions at the bottom.
---
Dear Ghostvillagers,
Thank you all for making Ghostvillage.com the fastest-growing ghostly Web site on the Internet! Please continue to help make our community grow by forwarding this email to friends you think will be interested, and have them sign up for the newsletter, too!

We have recently added a new article in the "Legends" section entitled "Spiritography"--an in-depth look at the practice of taking photographs of spirits. The article includes some of the most compelling spirit photography images ever seen. You can go directly to the article here: http://www.ghostvillage.com/legends/spiritphotography.htm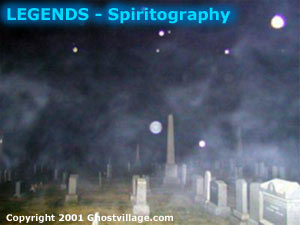 We have also redesigned our main page. The headlines have been dropped for two reasons--the main reason is that they slowed the site performance down, and the second reason is that the articles were not always very relevant to ghosts. If you find yourself missing these articles, please let me know and I will place them on a new page so it doesn't slow down the welcome page.
I recently went on a ghost hunt in Pittsburgh, Pennsylvania and took some very interesting pictures. One picture (completely unrelated to the ghost hunt) is now in the "Encounters" section at: http://www.ghostvillage.com/encounters/index.htm#jbpittpa042701
I'm hoping to add a new article in the "Legends" section on this Pittsburgh ghost hunt as soon as the research is done. I'd like to thank "Mrsspookypants" (see Town Square Message Boards) and her husband for the guided tour of this location. I promise we'll have more to come on this in the future.
Recent Town Square Posts
In the "Seeking Fellow Ghost Hunters" section, there are posts looking for people interested in starting or joining ghost hunting groups in Connecticut, Northern California, Tennessee, Seattle, Illinois, Ohio, Maryland, and Pittsburgh. You can see the posts and respond directly at: http://www.ghostvillage.com/cgi-bin/yabb/YaBB.pl?board=Ghosthunters
POSTED: May 3, 2001 by Kevin Black
Western State Hospital, in Steilacoom ,WA, was the hospital where the frontal lobotomy was perfected. A lot of screwed up research happened there. In the 30's, it was closed down, and a new hospital was built nearby. For years, the old building was left standing, and the biggest dare around was to go into the boiler room, which could only be accessed through the basement. I went in there once and couldn't stay more than 10 seconds or so. You can swear you hear screams and laughter from all around you...probably mind-games, but who knows. The structure collapsed in on itself and a 6 foot fence erected around it now.
Last week, myself and a couple of friends went up there around 2:30 AM. We walked around the perimeter and heard a noise on the inside of the fence. We went to check it out, and at the north end, above where the boiler room is, the rubble was shifting slightly. This went on maybe 30 seconds or so, then abruptly stopped. We looked at each other, then the fence in front of us started shaking VIOLENTLY. It was a cold night, but when the fence started shaking, I swear it got freezing...like December cold. This was an average April night. We decided to get out of there REAL quick, and on the 1/2 mile hike back to my car, we all commented that it felt like we were being watched. When we got back to my car, the night felt like the normal temperature again, and all creepy feelings were gone.
Ghostvillage.com Quick Stats:
725 Messages in the Town Square Message Boards - http://www.ghostvillage.com/cgi-bin/yabb/YaBB.pl
8 "Encounters" listed so far this year - http://www.ghostvillage.com/encounters/index.htm
118 Paranormal Web sites in the Ghost Search directory - http://www.ghostvillage.com/cgi-bin/ekios.pl
112 People have signed up for free Ghostvillage.com G-Mail - http://www.ghostvillage.com/gmail.htm
336 Subscribers to this newsletter - http://www.ghostvillage.com/index.htm#subscribe
Can a Ghost or Spirit Be Captured on Film?…
Take our new paranormal poll and see what your fellow Ghostvillagers think. (Be sure to read the new article on Spirit Photography before answering this one!) Take the poll at: http://www.ghostvillage.com/.
Shop at Ghostvillage.com
Your support has helped offset some of these expansion costs. Please continue to shop through Ghostvillage.com! If you regularly shop online at such stores as Amazon.com you can help ensure the growth of Ghostvillage.com by doing your online shopping through us. Just go to http://www.ghostvillage.com/shop.htm and click on a banner ad. You won't pay anything extra by clicking through us, and a portion of your purchases will help us greatly.
Remember, this is your site, too! Your input, ideas, photographs, recordings, and experiences are welcomed. Please email us anytime at info@ghostvillage.com.
Happy Hauntings,
Jeff Belanger
info@ghostvillage.com
Mayor of Ghostvillage.com
---
REMOVAL INSTRUCTIONS:
To be removed from the Ghostvillage.com mailing list, please respond to this email with the word "remove" in the subject line. You will be promptly removed.
---