GHOSTVILLAGE.COM NEWSLETTER #80 - April 17, 2008

Buy Books by Jeff Belanger | Jeff Belanger's Official Web site | Visit UFOvillage.com | Visit us on MySpace

Be sure to forward this on to your friends who are interested in the supernatural!


Think where you live is weird? You should see Massachusetts. The Bay State was a perfectly normal place... right up until about 10,000 years ago when the first people arrived. And then things started to get weird. In Jeff Belanger's new book, he explores the ghosts, UFOs, cryptids, folklore, history, and general weirdness of Massachusetts. Click here to come along for the ride: http://www.jeffbelanger.com/weirdmassachusetts.shtml
---
You are receiving this email because you or a friend signed you up at http://www.ghostvillage.com. If you would like to be removed from this mailing list, please see the instructions at the bottom.
View this newsletter online at: http://www.ghostvillage.com/newsletters/Apr17_08.htm
---
Dear Ghostvillagers,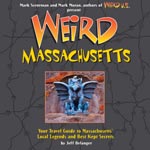 In my life I've had the opportunity to travel a pretty good distance from home. I've seen other countries, I've been all over the United States, and I've explored my own back yard. One thing I've discovered for certain is that we live on a very weird planet. To truly capture the odd folktales, ghostly legends, UFO sightings, and understand the cryptids lurking in a given area, you need to be local for a good deal of time. I was born in Massachusetts. I've lived in a few other states, but I came back. I know the locals and the locales. If I don't know the history or the witnesses, I know who to ask.

I spent most of last year exploring a bizarre place called Massachusetts. In my research I learned that life here in the Bay State was perfectly normal... right up until about 10,000 years ago. And then things started to get weird. Massachusetts has more than its share of ghosts; I knew that years ago. We're old New England, we embrace our history, and we're more apt to talk about our ghosts than some other parts of the country. But we also have our monsters: Pukwudgies, Bigfoot, the Dover Demon, Big Hairy, and the Thunderbird just to name a few. We have Salem -- arguably the world capital of all things witchy. We have Cape Cod, full of sea tales, giant serpents, and Wampanoag creation legends. Every corner of the state has something unusual to share. Sometimes you just need to scratch the surface a bit.

My year of research leads me to my latest book, Weird Massachusetts: Your Travel Guide to Massachusetts's Local Legends and Best Kept Secrets (published by Sterling). This was the most fun I've had writing a book. I crawled through caves, I trekked through swamps looking for cryptids, and I pored through history books discovering the oddities our forefathers believed in. I hope you'll pick up a copy of the new book, whether you live in Massachusetts or some other wonderfully weird place. This month we're going to dive into the weird state of Massachusetts a little deeper. You might just find a few legends that sound similar to those in your town.

Spring is springing here at the Ghostvillage.com world headquarters. Which means the ghost conference circuit is getting busy, outside investigations are in the planning stages, and I can finally shake off the winter cold.

Enjoy the rest of the newsletter below!

Supernaturally yours,

Jeff Belanger
Mayor of Ghostvillage.com
MySpace: www.myspace.com/ghostvillager


Congratulations to Jackie Kipilo of Aliquippa, Pennsylvania, who was last month's winner of an autographed copy of Jeff Belanger's new book, The Ghost Files, a Ghostvillage.com window sticker, and a Ghostvillage.com t-shirt!

This month, we're doing the contest again, but we ask that you first click this link: http://www.ghostvillage.com/index.shtml#winner. If it says, "The search is on" then we don't have a winner yet and go ahead and send in your answer. If you see today's date and "We have a winner!" that means you weren't the first to email us. Sorry, please try again next month.

On to this month's question: This question can be answered by reading a page on Ghostvillage.com. The first person to reply to this email with the correct answer will win this month's prize.

What is located in the basement of the Monumental Church in Richmond, Virginia?

Once we have our winner, we will announce them on our home page as soon as possible. Good luck! (Only Ghostvillagers who have not won a prize from us in the last year are eligible.)



This month's prize: We're giving away an autographed copy of Jeff Belanger's latest book, Weird Massachusetts, a Ghostvillage.com window sticker, and a Ghostvillage.com t-shirt!


Didn't win? Want to buy a copy? Click on the graphic.



The Supernatural Calendar is the place where thousands will learn about your events of interest to the supernatural world. The service is only available to registered members of the message boards, and it's free! Ghostvillage.com now syndicates our calendar of events so other Web sites can also display these supernatural happenings at no charge! To learn more about installing our calendar of events RSS feed, please visit our syndication page. Adding your own local events to our calendar is more important than ever!

April 19: PhenomeCon 2008 in Historic Columbus, Indiana
April 20: The Unexplained World - Internet Broadcast
April 21: Jeff Belanger on WMAS FM in Springfield, MA
April 24: Jeff Belanger on WSAR in Fall River, MA, Jeff Belanger on NECN TV
April 25: Jeff Belanger on WCTK FM in New Bedford, MA
April 27: Psychic Readings - Chicago area with Ed Shanahan
April 28: Jeff Belanger on Blogcritics Radio Live
April 29: Jeff Belanger on WUPE in Pittsfield, MA
May 3: Villisca Axe Murder House - Live broadcast.
May 5: Psychic Readings by Ed Shanahan in Chicago
May 8: GhoStock Paranormal Convention Savannah, Georgia, Jeff Belanger on WATD in Boston, MA
May 15: Jeff Belanger on The Ghosts R NEAR
May 18: The Unexplained World - Internet Radio Broadcast
May 23: Women's International Study of the Paranormal Expo
May 26: Jeff Belanger on Bridge Between Two Worlds Radio
May 30: Jeff Belanger at Cape Cod Community College




Who's Who in the Village?

Get to know some of your fellow Ghostvillagers.



>>Pfled<< - member since April 17, 2007

What is your name?
Dan Pflederer

How old are you?
35

Where do you live?
South Windsor, Connecticut

What do you do for a living?
I am the functional lead on human resources-related software systems at Wesleyan University.

What first got you interested in the paranormal?
I was in 1st or 2nd grade when I first became interested in ghosts and the paranormal. I was browsing at a book sale in the school library intent on buying a Clifford book when all of a sudden I was confronted by the most terrifying image (for a 7-year-old) on the cover of a book. It was a spooky picture of a ghost in a monk's cloak. It really freaked me out. Frightened, I quickly left the library with this disturbing image in my head. For some reason that day and later that night I could not get the image of the book's cover out of my head. So, to make a long story short, first thing the next day I walked into that book sale and bought the book. As it turns out, the book was Christopher Maynard's All About Ghosts. It described a lot about types of ghosts, theories, and also ghost hunting and debunking. It was my absolute favorite book in the world. Unfortunately, in the passing 28 years, the book has since gone missing, but it really played a major influence on my interests.

Do you think we will be able to conclusively prove the existence of the paranormal in our lifetime?
I guess my answer would be in the form of a question. That is, who do we need to prove it to other than ourselves? There will always be freedom of perception, thought and freewill. As long as these exist, there will always be someone who will see things differently, especially regarding something as intangible as ghosts or a haunting. I would however hope that within our lifetime we will find a way to quantifiably measure paranormal activity in the attempts to help predict its seemingly random nature of occurring.

What is your favorite ice cream flavor?
Edy's French Silk



Last Month's Theme - Featured Content

Our last month's theme was faeries. Here's what you missed if you haven't checked in since last month:

Book Review: The Fairy Faith in Celtic Countries
Book Review: Working With Fairies
Discussion: Case of the Cottingley Fairies
Discussion: Fairies




Shopping at Ghostvillage.com

Have you checked out our Ghost-Mart and Ghostvillage U.?

Ghostvillage U.: "Professor Paranormal" Loyd Auerbach and the HCH Institute's Distance Learning Certificate Course on Parapsychological Studies is now available through Ghostvillage.com. Ready to take paranormal investigation to the next level? Check out the online courses.

Ghost-Mart:
Digital Voice Recorders: Going for EVP? Think DVR.
Paranormal Books: Ghost-Mart has many of the leading paranormal titles.
EMF Meters: Check out our line of EMF meters from cell sensors to tri-field.
Closed Circuit TV: From inexpensive to the high end, we have them all.


Ghostvillage.com's book reviewer, Lee Prosser and the staff have brought you several new book reviews and author interviews since our last newsletter.

This past month's Library additions:

My Life with the Spirits by Lon Milo DuQuette
Psychic Dreamwalking by Michelle Belanger




Ghostvillage.com Advertising Opportunities

Each month Ghostvillage.com reaches tens of thousands of people interested in the paranormal. We offer the most effective and best-valued advertising and sponsorship packages of any paranormal media outlet. Please visit: http://www.ghostvillage.com/advertising.htm for details.

If you're ready to put Ghostvillage.com to work for your company or organization, send us an email to get started.

We receive personal encounters from all over the world. Many are scary, some are touching, but they are always profound. If you would like to share your own experience, please click >>here<<. Since our last newsletter, we added the following new encounters:

Shadows in the Closet - St. Theresa Point, Manitoba, Canada
Looking For the Bars - Williamsburg Hill, Illinois
The Man at the Top of the Stairs - Carthage, Missouri
My Fear of the Supernatural - Lebanon, Kentucky
My Friend in Time of Crisis - Waterbury, Connecticut
Old Jim on the Warehouse Floor - Rochester, New York [PIC]
My Spirit Contacts - Kentwood/Middleville, Michigan
Watch For the Lady in the Bird Cage - Tombstone, Arizona
Faces in the Camouflage - Taqqaddum, Iraq [PIC]
A Skeptic Near Pinewoods Cemetery - Troy, New York
Shoe Shopping From Beyond - Huntington Beach, California


This is the place to find press releases and news items on paranormal happenings around the world. If you have a news item you'd like to submit, please see our guidelines.

WANT THESE HEADLINES ON YOUR SITE FOR FREE? Syndicate our news! If you have a Web site or blog, you can syndicate our news feeds to your site for free. Join the growing list of Web sites who carry our news by visiting our syndication page.

Blogtalkradio's "Shadows In The Dark" One Year Anniversary Featuring 24-Hour Paranormal Extravaganza
GhoStock Paranormal Enthusiasts Convention Returns to Savannah, Georgia
Ghost Hunt Canceled at Former Asylum - WJLA - IOWA CITY, Iowa - April 10, 2008 [EXTERNAL NEWS]
Mom Stabbed Girl Because of Demon: Police - Chicago Sun-Times - Chicago, Illinois - April 9, 2008 [EXTERNAL NEWS]
Paranormal Team Checks Out Police Station - First Coast News - Homestead, Pennsylvania - April 7, 2008 [EXTERNAL NEWS]
Ghost Hunters Part I: South Jersey Research Organization Offers Sanity for Those Plagued by Ghosts - The SJU Hawk - Philadelphia, Pennsylvania - April 2, 2008 [EXTERNAL NEWS]
Paranormal Researchers Hear Voices on Tapes; Schedule Return Visit - Times-Herald - Forrest City, Arkansas - April 1, 2008 [EXTERNAL NEWS]
Professor To Explore The Paranormal Universe - Planet Blacksburg - Blacksburg, Virginia - March 25, 2008 [EXTERNAL NEWS]
Paranormal Viewer Offering His Help - Watertown Daily Times - Watertown, New York - March 22, 2008 [EXTERNAL NEWS]


Our "Features" section is a place for editorials, research articles, open letters to our readers, and other content of interest to Ghostvillagers. If you have a topic on your mind, agree or disagree with something you read recently, we want to hear from you! For guidelines, click here.

New features added since our last newsletter:

American Negro Civil War Ghosts - by Lee Prosser - April 14, 2008 [COLUMN]
Landmark Ghosts By Beth Brown - April 3, 2008
The Lizzie Borden House - Ghost Chronicles - April 2, 2008 [PODCAST]
Ghosts of Hollywood - Ghost Chronicles - March 19, 2008 [PODCAST]
On the Nature of Group Dynamics By Rick Moran - March 19, 2008





Jeff Belanger's Upcoming Events

This is the place to find out where author and Ghostvillage.com founder Jeff Belanger will be speaking on the subject of the supernatural. If you're interested in booking Jeff for a conference or other event, please email us for more information.

Events Scheduled:

Cape Cod Community College - West Barnstable, Massachusetts - May 30, 2008
Open Doors Metaphysical Shop - Braintree, Massachusetts - June 21, 2008
Mid-Atlantic Paranormal Conference - Gettysburg, Pennsylvania - June 27-29, 2008
A Weird (Massachusetts) Evening with Jeff Belanger at the Beaman Memorial Public Library - West Boylston, Massachusetts - 6:30 PM - July 23, 2008
Beyond Reality Events: The Mount Washington Hotel Conference - Bretton Woods, New Hampshire - August 23-26, 2008
MASS Monster Mash - Watertown, Massachusetts - October 18, 2008
A Supernatural Evening with Jeff Belanger at the Tewksbury Public Library - Tewksbury, Massachusetts - 7 PM - October 27, 2008
Stanley Hotel Paranormal Retreat - Estes Park, Colorado - November 9-12, 2008
Queen Mary Conference - Long Beach, California - December 7-10, 2008




Hot Threads and the Ghostvillage.com Community

In the past month, hundreds of new people registered for free to join our supernatural discussion! Have you?

If you have registered for our message boards but haven't validated your account yet, it's simple to do! Look for the email that was automatically sent to you when you registered and click on the account activation link in the email (note: some bulkmail filters may block this email, so you'll need to check your bulkmail folder if the validation email didn't immediately come through). There are always great discussions going on in our huge message board community. We hope you'll get involved. It's free to register if you're not already a member. Here are some of the hot topics this month:

Ghosts and Health
http://www.ghostvillage.com/ghostcommunity/index.php?showtopic=20892
Can ghosts affect physical health?

Real Life Occurences
http://www.ghostvillage.com/ghostcommunity/index.php?showtopic=23568
Can pets sense human illness?

Animals in Paranormal Investigations
http://www.ghostvillage.com/ghostcommunity/index.php?showtopic=23249
Has anyone ever used animals to identify the presence of spirits in the course of a paranormal investigation?

Astral Projection
http://www.ghostvillage.com/ghostcommunity/index.php?showtopic=23423
How adept are you at astral projection and vivid dreams?

Crossroads
http://www.ghostvillage.com/ghostcommunity/index.php?showtopic=22473
Do you believe in the legend?


Board of the Month -- Weird Massachusetts
http://www.ghostvillage.com/ghostcommunity/index.php?showforum=27
Discuss the strange, weird, and wonderful in Massachusetts and beyond!



Ghostvillage.com Quick Stats:

259,035 Messages in the Town Square Message Boards
20,565 Members in the Town Square
750 "Personal Encounters" published on Ghostvillage.com
972 Paranormal Web sites in the Ghost Links directory
25,672 Subscribers to this newsletter
9,039,808 Total Web site "hits" for Ghostvillage.com in March


Ghostvillage.com is the Web's largest supernatural community, the central place where people come to share their experiences, thoughts, and research. Please help us continue to grow by buying a copy of The World's Most Haunted Places, Communicating With the Dead, The Encyclopedia of Haunted Places, The Nightmare Encyclopedia, Our Haunted Lives, Ghosts of War, The Ghost Files, Weird Massachusetts, or shopping in Ghost-Mart. Every little bit helps run our servers and helps the site get bigger and better! Please also click on our banner ads and support our advertisers -- when you do business with someone who advertises with Ghostvillage.com, let them know you saw their ad with us and thank them for the support.

Please email us anytime at info@ghostvillage.com. Your comments, questions, and feedback are always welcomed.


---
All material is © 2008 Ghostvillage.com
REMOVAL INSTRUCTIONS: To be removed from the mailing list, please go to www.ghostvillage.com/subscribe.shtml or click on the link below.